4 Basics to Know about the Role of FHIR in Interoperability
What is the Fast Healthcare Interoperability Resource (FHIR), how does it work, and what does it mean for the future of health data interoperability?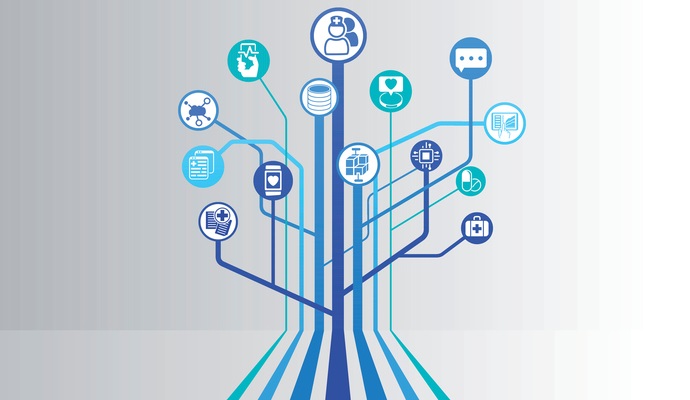 - As health data interoperability becomes an increasingly pressing concern for providers, developers and vendors are paying a great deal more attention to the data standards that will enable seamless, on-demand information exchange.
The Fast Healthcare Interoperability Resource, commonly known as FHIR, has quickly become one of the most popular protocols for joining disparate systems together, and holds great promise for the development of an application-based approach to interoperability and health information exchange.
But what is FHIR, exactly, and why is it generating so much excitement among some of the biggest vendors in the industry?
In this article, HealthITAnalytics.com breaks down the basics of one of the hottest new standards to hit healthcare and explains why the time may be right to embrace a new perspective on the importance of data exchange to patient care.
What is FHIR?
READ MORE: Can Application Programming Interfaces Inspire a Better EHR?
The Fast Healthcare Interoperability Resource is a draft data standard developed and nurtured by HL7 International. FHIR was created with the complexity of healthcare data in mind, and takes a modern, internet-based approach to connecting different discrete elements.
"The philosophy behind FHIR is to build a base set of resources that, either by themselves or when combined, satisfy the majority of common use cases. FHIR resources aim to define the information contents and structure for the core information set that is shared by most implementations," HL7 says on its website.
Data elements, or "resources," each have a tag that acts as a unique identifier, just like the URL of a web page.
"When you order something on Amazon, for example, look at your browser line," explained Micky Tripathi, CEO of the Massachusetts eHealth Collaborative and Chair of the eHI Interoperability Workgroup.
"If you're logged in and you click on something, what you'll see is a URL that says 'https' and then this huge string of nonsense. That's a query-retrieve system that's generated in your browser and sent to Amazon, and then Amazon immediately returns the results securely."
READ MORE: As FHIR Matures, Healthcare Interoperability Comes into Focus
On the internet, users across the world can access the same URL and complete the same tasks using any standard browser running on any web-enabled device, whether it's a smartphone, desktop, or tablet running a Windows, Apple, Android, or Linux operating system.
FHIR hopes to do the same thing: allow developers to build standardized "browser" applications that allow access to data no matter what EHR "operating system" underpins the user's infrastructure.
The key to this is the resource. A FHIR resource can be an individual packet of information that include metadata, text, or particular data elements, but can also be bundled into collections that create clinical documents, similar to the C-CDA, but much more flexible.
"FHIR resources can be used to build documents that represent a composition: a set of coherent information that is a statement of healthcare information, particularly including clinical observations and services," HL7 says. "A document is an immutable set of resources with a fixed presentation that is authored and/or attested by humans, organizations and devices."
By creating an accessible and standard URL for these information bundles instead of just passing individual documents back and forth between systems, a number of different applications can point to the same version of the same data each and every time.
READ MORE: Why an "Empty Desire" for Big Data is Inhibiting Value-Based Care
What makes it different from other attempts at improving interoperability?
At the moment, the majority of health information exchange and data interoperability is based on documents. Whether faxed, emailed, or sent electronically, providers typically have to choose a set of data to transmit and then generate a message that contains only that data.
While this approach does help organizations successfully communicate, it can be too limiting for meaningful care coordination, decision-making, or data analytics.
For example, the Consolidated Clinical Document Architecture (C-CDA) is a standardized document format that contains a great deal of critical information, but it is similar to a PDF: the data is relatively static, and it takes a special effort to extract the information and make it usable in any other format.
"The exchange of these documents has a certain value, because…whole documents are really important in clinical care," said Tripathi. Having complete information is important, but document-based exchange doesn't allow a provider to delve into the context of the data received.
"If you just send me some lab results or a list of allergies, that's great," he said. "I need those things, but you haven't told me the story of the patient, and that's really important for a clinician to understand. Document exchange is important, but so is that data-level exchange. Health information exchange based entirely on C-CDA XML documents doesn't allow you to access information at a data level as well."
Using standardized application programming interface (API) standards, FHIR allows developers to create apps that transcend this document-based environment. Applications can be plugged into a basic EHR operating system and feed information directly into the provider workflow, avoiding pitfalls of document-based exchange, which often requires provider to access data separately.
"Current interoperability efforts are really focused on moving data back and forth and overcoming data reconciliation challenges," said Dr. David McCallie, Senior VP of Informatics at Cerner Corporation. "But in the future, we're going to have to coordinate care plans across boundaries of systems. And to do that, you need apps."
"Unless you want to make the clinician log in to two separate systems and try to keep track of two things going on in separate places, we think the app approach is a long-range target for how we're going to approach population health management."
How are vendors and providers using it?
FHIR may still be in draft-mode, but that hasn't stopped a slew of providers, developers, and vendors from getting started on creating new tools that leverage the promising data standard. The use cases for the standard are nearly limitless, and include some of the major challenges preventing healthcare organizations from increasing patient engagement, developing robust population health management programs, and diving into advanced, intelligent clinical decision support.
With enthusiastic support from the Office of the National Coordinator and many of the biggest commercial players in the industry, FHIR is seeing action in a number of different scenarios.
Cerner Corporation and Geisinger Health System are using FHIR to expand population health management capabilities and create specialty-specific applications that break down data siloes. Epic Systems, the Mayo Clinic, and IBM Watson Health are leveraging FHIR as the basis for a new clinical decision support model that includes real-time data access for providers at the point of care.
Private industry interoperability efforts like the Healthcare Services Platform Consortium (HSPC) are making FHIR the centerpiece of their work to create an EHR-agnostic "marketplace" for apps that allow data to flow freely across disparate systems. The CommonWell Alliance, Carequality, and the Sequoia Project are also exploring FHIR's potential for creating seamless data exchange.
In fact, nearly every notable name in the electronic health record market has something to say about how FHIR will transform the current health IT landscape, and they are pouring plenty of resources into attracting third-party talent to the cause.
Hackathons, developer programs, and connect-a-thons are becoming popular ways to pick out the best and brightest ideas from the health IT community at large.
Just this week, Epic Systems and Indiana HIMSS announced that Eskanazi Health will be hosting a connect-a-thon that will bring local innovators together to use FHIR and APIs to solve longstanding clinical challenges.
"FHIR opens up exciting opportunities for developers to build across interoperable EHRs," said Janet Campbell, Vice President of Patient Engagement at Epic. "We're excited to work with Eskenazi Health and Indiana HIMSS to encourage grassroots innovation by the broader developer community."
The ONC has also launched a pair of FHIR-based app challenges, complete with hundreds of thousands of dollars in prize money. One challenge is focused on creating a best-in-show personal health record (PHR) for patients, while the other hopes to jumpstart development of an "app discovery site" for providers, similar to the marketplaces that some individual EHR vendors have created.
APIs, whether they use FHIR or not, also feature heavily in the ONC's interoperability roadmap, and form a part of the interoperability requirements in Stage 3 meaningful use, which means the app-based approach is likely to continue to mature rapidly in the near future.
What does it mean for patients and providers?
Why should patients and providers get excited about FHIR? Because it has the potential to make healthcare much more similar to the other internet-based experiences that consumers enjoy in other industries. It may also help to make all those wearable devices and monitoring gadgets worthwhile from a clinical perspective.
The healthcare Internet of Things is growing at a lightning pace, but so far there have been few tools that can connect patient-generated health data (PGHD) with streamlined provider workflows.
FHIR may be the missing link between the EHR and the millions of FitBits, Apple Watches, Bluetooth scales, blood glucose monitors, diet apps, and fitness trackers that are attracting so much consumer attention. This pool of PGHD is growing every day, but it is meaningless to providers if they can't quickly and easily access the most meaningful meat of the data, says Dr. Nick van Terheyden, Chief Medical Officer at Dell.
"It's not a data problem. It's a filter problem," he said. "Physicians want data, but they want it presented in a way that is useful and actionable for them. I think integrating that information into the existing work flow, in a secure manner, is really the goal. That's where we will start to see real value."
And that is where FHIR may shine. Situation-specific apps, built on a FHIR platform, might be able to perform analytics on patient-generated health data and present users with a summary of trends that are relevant to a particular aspect of chronic disease management or patient wellness.
Patients who see multiple providers in different health systems might no longer have to worry about having three or four patient portals from organizations using different EHRs. One single personal health record, which integrates data from different formats to deliver a comprehensive view of all medications, problems, and allergies, could link these disparate systems together to improve care coordination.
Providers may be able to customize their toolsets to meet the needs of their specialty or area of interest, pulling data from different research sources to bolster their clinical decision support capabilities, or allowing them to send deidentified information to research registries focused on cultivating a precision medicine approach for treatment of a rare cancer.
No matter what the specific use cases, FHIR is sparking a revolution in how developers view the underlying technical infrastructure that supports patient care. Just like in other areas of consumer technologies, applications are becoming a standard way of structuring systems, and may change the way EHRs look, feel, and operate in the near future.
"The future of the EHR is going to look a lot like your phone," predicts Stanley Crane, Chief Information Officer at Allscripts. "How much time do you actually spend sitting in front of the Apple or Android interface as opposed to any number of apps written by third parties? How many people use an email client that isn't written by Apple, or the Facebook app, or Twitter? Those weren't written by Apple. Apple just provides the platform."
"And I think that's what EHRs are going to look like. Eventually, we're going to stop building the Swiss Army knife, and we're just going to have a basic platform with lots of little applets sitting on top of it."
The promises of FHIR are many, and the support for the data standard is strong across the care continuum. As developers continue to investigate innovative ways to address the fundamental problems of health data interoperability, providers and patients may not have to wait much longer to gain access to an incredibly rich new set of functionalities within their health IT systems.