Understanding the Growth, Value of Healthcare Big Data Analytics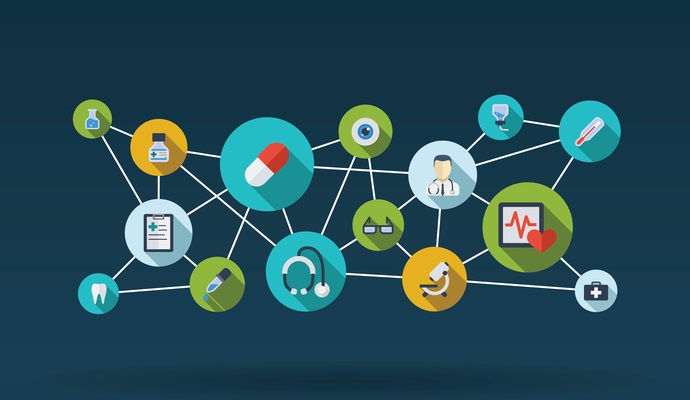 - "Healthcare big data analytics," just like "population health management," is a term that means a hundred different things to a hundred different people. Big data is such a pervasive buzzword – and such an important one – that everyone from geneticists to informaticists to patient experience experts are using the phrase to describe any and all of the information used for decision-making in a health-related setting.
The definition may be variable, but one thing remains absolutely clear: big data is growing in both volume and importance for the healthcare industry.
In a new study published this month in the IEEE Journal of Biomedical and Health Informatics, researchers Javier Andreu-Perez, Carmen C. Y. Poon, Robert D. Merrifield, Stephen T. C. Wong, and Guang-Zhong Yang volunteer their definition of big data analytics, trace its growth in popularity, and attempt to uncover the key systematic challenges that make it difficult for healthcare providers to adopt big data analytics at their desired rate.
"Big data in health is concerned with meaningful datasets that are too big, too fast, and too complex for healthcare providers to process and interpret with existing tools," the team writes. "It is driven by continuing effort in making health services more efficient and sustainable given the demands of a constantly expanding population with an inverted age pyramid, as well as the paradigm shift of delivering health services toward prevention, early intervention, and optimal management."
Since the advent of the electronic health record, healthcare organizations have been collecting and generating digital health data at a mindboggling rate. Imaging systems, medical devices, and genomic sequencing, along with more recent developments in wearables and Internet of Things technologies, are adding to the vast stores of big data living on servers and in warehouses. The volume of data in question can only be quantified with exotic categorizations like "zettabyte" and "yottabyte," so large as to be almost meaningless to the individual provider.
READ MORE: How Healthcare Big Data Analytics Helps Build Smart Societies
But the challenge of big data analytics has never stemmed from the generation of information. Every healthcare organization has data. Not every organization knows how to use it.
"Real value to both patients and healthcare systems can only be realized if challenges to analyze big data can be addressed in a coherent fashion," the researchers say, and that is what has tripped up the industry as it seeks ways to manage populations, control chronic diseases, predict adverse events, and coordinate care.
How can the industry use the big data they have, and the data they will collect in the future, to highlight that sense of value? What are the primary domains in which big data exists, and how can healthcare organizations adopt the necessary tools to extract actionable insights?
Leveraging the electronic health record
While many healthcare organizations use claims as their entry point into big data activities, the ability to generate insights from EHR data is the next step along the road to meaningful analytics. However, EHR data is subject to a number of flaws, including poor integrity, a lack of completeness, and the inherent challenges of free text, natural language documentation.
READ MORE: "Big Data Spokes" Tackle Population Health with IoT, Informatics
Organizations that succeed with mining EHR big data have found early and notable success, especially in the realm of real-time patient monitoring and predictive analytics. EHR data can also support more long-term clinical research, accountable care, event modeling, population health management, and care coordination.
But big data analytics project that center on EHR data often fare better when the relatively sporadic information collected during episodic patient encounters is supplemented by data from other broader, richer sources, as described below.
Integrating patient-generated health data and the Internet of Things
Providers may not think to turn to social media as a primary source for health data, but these less-formalized data sources, such as Twitter or patient support groups and the mHealth apps, sensors, and wearable devices that make up the nascent Internet of Things, are becoming valuable repositories of patient-generated health data.
A quarter of patients with chronic diseases now interact with online patient support groups to help manage and understand their conditions, the researchers point out, and providers must acknowledge that these non-traditional interactions are likely here to stay.
READ MORE: IoT, Analytics, HIM Push Healthcare IT VC Market Past $5B
"In addition to biological information, geolocation and social apps provide an additional feature to understand the behaviors and social demographics of patients, while avoiding resource intensive and expensive studies of large statistical sampling," the study explains. "Compared to traditional methods, such as surveys, fluctuations and regulation of emotions, thoughts and behaviors analyzed over social network platforms, such as Twitter, offer new opportunities for the real-time analysis of expressed mood and its context."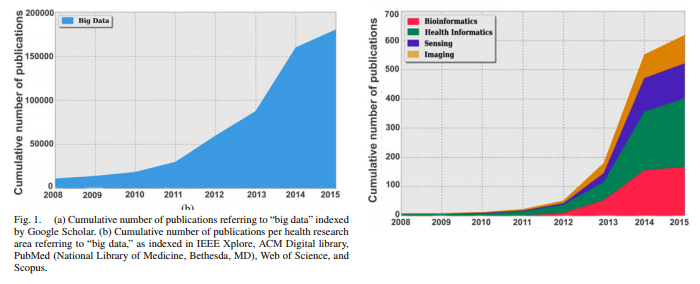 While the potential inherent in these big data sources is enormous, the difficulty lies in extracting and integrating the information with the EHR in a simple, immediately comprehensible manner. Providers do not often have the luxury of spending an hour with a patient combing through their smartphones for sleep patterns or dietary habits, and need to access patient-generated health data in a quick and compact way.
This is a relatively new niche in the market for health IT developers, and innovation is occurring rapidly in the space. As wearable devices move from consumer novelty to clinical-grade monitoring tools, the vendor community is beginning to offer new options for EHR integration, graphical interfaces for data analysis, and real-time monitoring strategies that provide tailored interactions between patients and care coordinators.
Utilizing environmental and socioeconomic sources
Big data that may not seem immediately connected to the healthcare system can also be incredibly valuable for patient care. Variable environmental information, such as air quality or temperature, may predict an influx of emergency department visits for asthma or heat stroke.
Socioeconomic factors, like access to grocery stores that sell healthy options or the availability of public transportation options that allow patients to keep their healthcare appointments, can also significantly impact population health management and individualized patient care.
Some organizations are using geographical data to "hotspot" neighborhoods with higher levels of a certain chronic condition, infection type, or communicable disease outbreak to deliver targeted education or resources to patients on a ZIP code or even a block-by-block level.
It is currently rare for providers to have the ability to create a comprehensive portrait of a patient's activities inside and outside the healthcare organization's purview, but the industry is working diligently to build the necessary competencies to bring this type of big data analytics to scale.
As the amount of available big data increases, and the healthcare ecosystem continues to push through interoperability barriers that keep data sources siloed, these holistic analyses may become more common and more valuable to providers seeking tools to deliver sophisticated population health management services.
Transforming big data into precision medicine
The goal of all this big data is to achieve very small results: personalized, tailored care to meet an individual patient's particular needs. Precision medicine, another term growing in popularity, hopes to use a patient's DNA to discover exactly how she will respond to a certain treatment, or what her risk of developing diseases in the future may be. This incredibly personal use of big data analytics is already taking root in academia, and some healthcare organizations have launched precision medicine centers to tackle the technical and clinical problems of genomics and personalized health.
Federal efforts to encourage the growth of big data analytics and precision medicine are also bringing funding and expertise into the arena, and health information management experts are attempting to ensure that data integrity, patient privacy, and industry-wide standards remain areas of particular focus for researchers and healthcare providers.
Finding value and ROI through trust and data integrity
As healthcare big data analytics branches out in all these different directions, healthcare providers charged with making care decisions based on these insights must be sure that they can trust the results presented to them. EHR data and patient-generated health data each present their own data integrity questions, and trust remains a major obstacle towards securing executive buy-in for big data analytics projects.
Even researchers caution that their studies and experiments may suffer from intrinsic flaws. "It must be emphasized that the interpretation of big data should be handled with care in all situations," the report says, noting that a large number of academic studies include warnings about drawing concrete conclusions from big data analytics due to potential errors in statistical sampling at such a large scale. "In particular, proven cases show large discrepancies between the predicted and actual values. After all, predicting the future is always difficult."
These issues of trust may produce frustration among healthcare organizations that are not seeing an immediate return on their investments in health IT infrastructure and big data analytics systems, but their faith in data may yet be strengthened as the analytics landscape evolves.
EHRs and analytics tools are both still in their infancy, and some patience may be required while the industry learns how to cope with the rapid, unprecedented, continued growth of big data.