Stage 7 "Most Wired" Cancer Hospital Leverages EHR, mHealth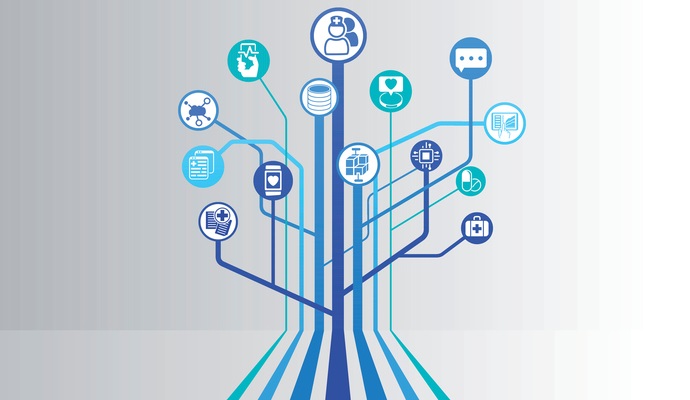 - Building a new hospital, even a small one, can be an incredibly daunting task. Building a $750 million, 300-bed HIMSS Analytics Stage 7 cancer care hospital that leverages the latest in EHR and mobile health (mHealth) technologies for complex pediatric and adult patients goes far beyond "daunting" – but that's exactly the challenge that The Ohio State University Wexner Medical Center took on when it opened the James Cancer Hospital and Solove Research Institute in December of 2014.
With the intention of building the "world's most advanced cancer hospital" to join the medical system's existing 1000 beds spread across four major medical centers, Wexner executives knew that health IT would play a central role in the new facility's ability to meet high expectations for quality care, a positive patient experience, rigorous academic research, and streamlined clinical communication.
Under the leadership of Chief Information Officer and Associate Vice President Phyllis Teater, the new cancer hospital has vaulted to the top of the American Hospital Association and Health and Hospital Network's 2015 "Most Wired" Hospitals list, receiving the prestigious Innovator Award for its advanced use of its electronic health record, patient-facing tablets, clinician communication devices, and other health IT infrastructure.
"We have an electronic medical record that goes across all of our patient care sites," Teater explained to HealthITAnalytics.com in an interview. "It services all areas that provide patient care, from primary care to heart care to cancer care and the system and processes create one integrated chart for each patient. This is very helpful to us because patients that have any one diagnosis also have other conditions that need to be addressed."
"For example, a patient who has had or is currently dealing with a cancer diagnosis could also be pregnant. So how do you manage the complexities of the interaction of the various services that a patient could need for those coexisting situations?
READ MORE: A Mere 3% of LTPAC Orgs Have Healthcare Data Analytics Tools
"That's one of the things that makes cancer care very complex," she said. "If your patient is prescribed a therapy that is making them sick such as chemotherapy, they start to have some other medical problems. In 2011 we implement a single integrated system to manage the care of our patients in the emergency department, in the outpatient offices, when they're in the cancer hospital or the heart hospital - everywhere that they would go within our organization."
Using the electronic health record as a foundation for communication across different locations helps to encourage care coordination and keep oncologists informed when one of their patients experiences an adverse event or requires a hospital admission, Teater said.
"If a patient comes to the emergency department in the middle of the night, we know from the record who their cancer doctor is. We can contact that physician, who can then log onto the system and see immediately exactly what is happening with that patient."
"They can see the ED report, and if the patient was admitted, any orders associated with the admission process. They can get an extraordinary level of detail about what's going on with that patient in real-time. The ability to coordinate care with these tools is so important for patients with complex needs."
Communication is key for all activities within the hospital, not just for alerting physicians to new patient events. With hundreds of employees operating on 21 floors in the cancer hospital, crafting the ability for coworkers to keep in touch is not as simple as it might sound. More than 8000 end-user devices and 500 miles of network cable support the hospital's operations, including personal computers located in every patient room, printers, surgical systems, and VOIP phones.
READ MORE: The 7 Step Plan to Success with Big Data Analytics in Healthcare
"In addition to the EHR, we have a technological infrastructure that supports the staff with devices such as wireless phones," said Teater. "They're not really cell phones, because we encourage them to have a phone while they're here on site that runs particularly over our wireless network and does not interfere with our equipment, which can happen on occasion with cell phones. It doesn't work outside the building, so they don't think that they can take it home, either."
"The devices allow staff members to communicate selectively, so they can send a message to all the physicians on a particular service, or everyone on a particular floor," she added. "You can use them almost like walkie-talkies with smaller groups of caregivers that you typically interact with, so that really helps our clinicians stay aware of what everyone else is doing and helps them to coordinate care."
Health information exchange capabilities are also critical for a tertiary care center like a cancer hospital. Ensuring that primary care providers stay in the loop for cancer patients is an important part of OSU's care coordination philosophy, and the health system's Epic Care Everywhere solution has contributed to the exchange of more than 100,000 patient records between OSU care sites and other Epic-based hospitals in the region, Teater says.
"We are in the final implementation phases for joining our Central Ohio HIE," she continued. "We're down to the last couple of privacy issues, frankly, which is where you always end up with these conversations."
"Because we've had some major system installs in the last couple of years where major providers are changing their EHR, we have perhaps had slower adoption than other communities. As a result, only a few organizations in central Ohio are really on a big HIE."
READ MORE: Tech Giants Give Healthcare Artificial Intelligence Start-Ups a Boost
"Some of our organizations didn't want to hook up their old EHR systems to all these HIEs when they knew they were going to switch, so they're waiting until they've finished their EHR replacements before moving forward with more health information exchange and interoperability."
Interoperability and health information exchange in Ohio may be facing the same barriers that are challenging healthcare organizations across the country, but OSU Wexner Medical Center hasn't been sitting idle on the health IT front while it waits to the community to come together. In addition to top-level EHR use, the new cancer center leverages mHealth by putting a tablet at the bedside of every patient.
Not only can patients access a wide array of personal health information from the device, including lab results and vital signs, but they can also interact with caregivers, take notes, view their daily schedules, and browse through educational materials.
The devices have had a radical effect on patient satisfaction with the ability to communicate with physicians: internal data shows that approval rates jumped from 71 percent to 99 percent for patients using bedside mHealth devices. Patients were also more likely to sign up for patient portal access when mobile devices made the process easier.
The integration of multiple technologies to foster collaboration and patient communication has put OSU's new cancer center on the "Most Wired" map, but the health system's commitment to leveraging health IT across its network has brought even more accolades.
"All of our hospitals and ambulatory clinics have reached HIMSS Stage 7 recognition on their respective scales," Teater said, justifiably proud of the achievement. "I think planning for that and striving to be in those superior categories for EHR use – all of the quality measurements and recognitions that the industry uses to measure its success are about making sure you're using your health IT infrastructure to shoot for top marks. Nobody starts out thinking they're going to be mediocre, but sometimes that happens if you lose focus or you spread yourself too thin."
"We had our big bang go-live event in 2011, and recorded the shortest time from EHR implementation to Stage 7. That was one of our goals, and we achieved it. So really striving to understand what the future could look like is important. You have to make sure that you have a vision that puts you in the stratosphere."
A comprehensive, flip-of-the-switch EHR implementation is the goal of many organizations looking to minimize the disruptive impact of a long, drawn-out conversion, but planning and coordinating such a massive project led to some unanticipated problems for such a large number of staff members spread across so much of the state.
"Implementing an electronic health record is a daunting task, but especially when you're trying to do it all at once," Teater said. "We went live with almost all of our acute care and billing and out-patient scheduling functionalities on the same day at every one of our sites. We have about 80 physical sites, including six hospitals. Developing and executing the training logistics to get ready for that was like planning for an invasion."
"We had something like twenty-seven training locations all over central Ohio, because we did not have enough space to physically hold the classes that we needed in one area," she continued. "You would think as a university health system, we'd have plenty of classroom space, but it turns out there are college students in there. So we had to rent space all over central Ohio to get the training done."
"We had to move books and equipment and training materials to all those locations so that they were there for the people who needed them. We had to figure out how we signed people in and paid them when they were showing up during office hours. I think we probably underestimated the logistical needs for such a massive event. We ended up hiring a great leader who made it all possible, but I don't think you can plan for something like that early enough."