Healthcare Big Data Analytics in Med School Marks Turning Point
"The competencies that our students need to have when they graduate from our medical schools are going to really be quite dramatically different than they were 50 or 100 years ago when medical school was structured."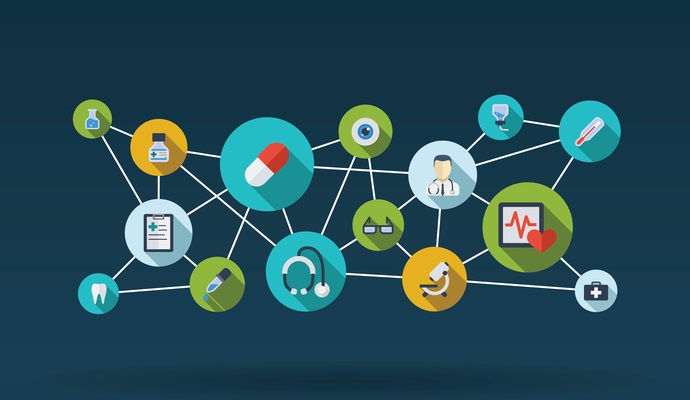 - With all of the comments made about Millennials these days – their unbreakable addiction to technology; the high value they place on meaningful, informed, predictive services; their demand for flexibility and personalized care – it seems almost redundant to require medical school students to devote extra time to healthcare big data analytics.
After all, these students have been swimming through a deeply interconnected world of smartphones, tablets, Google searches, and ubiquitous internet access before the "Internet of Things" was just a twinkle in a buzzword creator's eye. Millennials pick up new computer skills with an almost eerie rapidity, leaving less tech-savvy users in the dust as they fly through menu options and complete tasks with a minimum of fuss.
So a new program at the NYU School of Medicine, which requires students to demonstrate big data competencies like defining patient panels, using population health management data to coordinate care, and chart the evolution of the healthcare continuum may seem like it was designed for older physicians who received their education in a paper-bound, fee-for-service universe.
But the implications of NYU's "Healthcare by the Numbers" curriculum are broader than equipping a small number of graduates lucky enough to be accepted into a particular school with some extra background in big data.
It represents an important turning point for the healthcare industry's outlook on the impact and potential of big data analytics, and the necessity of training future generations of students to cope with aging populations, complex chronic disease management, and increasing patient engagement – all while navigating a payment revolution and a potentially disastrous shortage of colleagues.
READ MORE: IBM Watson Gets SNOMED CT Infusion to Enhance Data Analytics
"Our hope is that this robust curriculum will prepare our graduates to meet the future needs of the ever evolving healthcare delivery system by giving them the tools and skills necessary to care for not just an individual patient, but for an entire population of patients," said Marc Triola, MD, Associate Dean for Educational Informatics at NYU.
The project is funded by the American Medical Association's Accelerating Change in Medical Education Program. Designing the "medical school of the future" is one of the AMA's three top priorities over the next few years, as physicians complain about the burden of technology while it becomes increasingly difficult to recruit students into primary care careers.
"There is a clear need for medical students today to have access to and learn how to properly use electronic health records well before they enter practice," AMA Board Member Jesse M. Ehrenfeld, MD, said in June, as the AMA voiced its support for improved EHR training for providers during their medical school education.
"For our future physicians to successfully navigate the 21st century health care system, we must close the gaps that currently exist between how medical students are educated and how healthcare is delivered now and in the future."
EHRs have been strongly denounced by many healthcare professionals as error-prone time wasters that sap productivity, enthusiasm, and patience from frustrated providers. One survey by the American College of Physicians found that EHRs suck an average of 48 minutes from a physician's day, and even younger residents are prone to losing more than fifteen minutes per patient due to cumbersome clicking, scrolling, and typing requirements.
READ MORE: Top Healthcare Business Intelligence Companies by Hospital Users
Today's medical students may have a strong, innate foundation of technological know-how, but that doesn't make using a poorly-designed EHR any easier. Achingly confusing EHR interfaces and immutable data siloes that block adequate communication and information retrieval are quickly sapping the "joy of medicine" from overwhelmed providers, said AMA President Steven J. Stack, MD.
The AMA, in conjunction with training programs across the nation, hope to change that environment by equipping students with the skills they need to use EHRs effectively and proficiently before they leave campus.
"We're going to do three big things," Stack declared at the 2015 AHIMA Convention in September. "We're going to improve health outcomes by reducing hypertension and preventing pre-diabetics from becoming diabetics, we're going to create the medical school of the future, and we're going to restore joy to the practice of medicine," he said, eliciting sustained applause from the audience.
A focus on holistic population health management, including the incorporation of social determinants into everyday practice and the technology that supports it, will be a critical component of designing educational programs that meet the needs of new graduates, he added.
NYU isn't the first or only medical school to recognize that some of its teaching strategies are outdated. IN 2014, the University of Connecticut announced that it would be beginning a thorough overhaul of its curriculum to better align with the evolving big data landscape.
READ MORE: AMIA, Dryad Partner for Healthcare Research Big Data Access
"Medicine is changing, and so are learning methods," said Dr. Thiruchandurai V. Rajan, professor of pathology and laboratory medicine and co-chair of the Curriculum Reform Steering Panel at UConn. "We should consider whether the content we teach is really relevant."
"We already have the best and the brightest students pursuing a career in medicine, but are we teaching facts they will never remember or information they don't need? Or if there is other information, like running a business or dealing with insurance companies and federal regulations, which we should include in their training."
UConn's new strategies will include more interactive classroom settings designed with smaller groups of students collaborating more closely, to reflect the patient-centered, team-based atmosphere they will encounter in the professional realm.
Other medical programs, such as those at the Indiana University School of Medicine, are making EHR training a top priority, as well. "With our teaching electronic medical record, which is a clone of an existing electronic medical record that contains patient de-identified data, patient privacy is protected, but our students will have an electronic medical record as a learning lab," said Sara Jo Grethlein, MD, Principle Investigator and Associate Dean of Undergraduate Medical Education.
Using a separate teaching EHR may help to avoid some of the problems students encounter when trying to gain experience in a real healthcare setting: in order to prevent students from making errors that propagate through a patient's real file, trainees are often given only superficial rights to view or use EHR systems, say educators from the Association of Departments of Family Medicine.
"EHR systems have the potential to enhance quality and safety, but there is a risk that medical students are entering residencies without adequate preparation to fully and effectively use this important instrument," they said in a letter published in the Annals of Family Medicine in late 2014.
"Learning how to elicit medical histories while electronically recording key findings, using EHR-associated decision-making tools and providing management plans requires full EHR access. Unfortunately, students at many medical schools are not able to adequately access EHRs to receive this necessary training."
NYU is also allowing students to use real patient data in its big data analytics program, although the data is historical and therefore not at risk for unintentional modification errors.
Students will use nearly five million records from the New York State Department of Health Statewide Planning and Research Cooperative System (SPARCS) to dive into basic population health management puzzles like correlating ethnicity with hospital admissions for heart attacks or uncovering a relationship hospital level case-load and length-of-stay for hip replacement patients.
Training students to keep these relationships in mind as they treat patients will better prepare them to use EHRs and dedicated population health management software to their fullest capacity, and may even interest them in specializing in EHR design or big data analytics applications.
Clinical informatics became a board-certified subspecialty option at the end of 2013, and hundreds of physicians have already taken advantage of the option to test their mettle in clinical expertise, health information management, technology design, and data science.
Developing a new breed of physicians who consider big data analytics and population health management part of the basic practice of medicine may help the healthcare system rise to the challenges that await it.
Precision medicine, effective chronic disease management, accountable care, and meaningful patient engagement all require a comfort and familiarity with a big data mentality that physicians have not been required to cultivate in the past. Not only do they need to get up to speed with current technology, but they must prepare themselves for the accelerating pace of innovation that may make next decade's medical system as unrecognizable as last decade's has become today.
Programs like those at NYU, UConn, and others may mark a significant turning point in the recognition that manila folders full of photocopied documents and the one-and-done consult are truly behind us. Medicine is entering uncharted territory, and the education system must prepare its fledging students appropriately.
"The competencies that our students need to have when they graduate from our medical schools are going to really be quite dramatically different than they were 50 or 100 years ago when medical school was structured," Triola said. "Is that going to impact patient care and the health of the patients they take care of? Absolutely, yes. Is their ability to be lifelong learners and constantly adapt going to impact that care? Absolutely, yes."
"We need to make sure as a medical school that we're empowering these students to not only have the new competencies but to be lifelong learners."