Health Data Interoperability Requires Patience, Persistence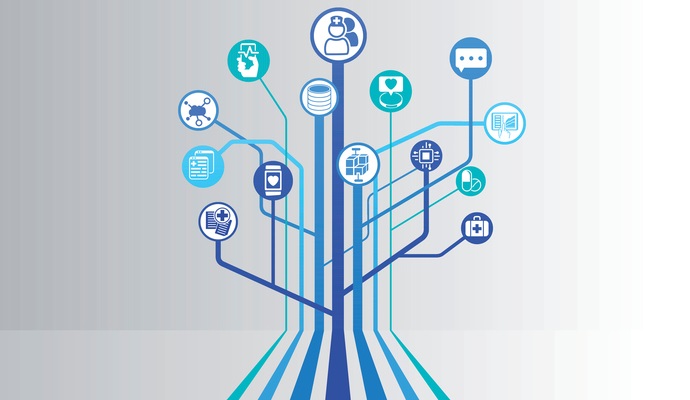 - "Patience is a virtue," says an old proverb, but it's a trait rarely found in the healthcare industry, where the breakneck pace of technology development, accelerating meaningful use requirements, and rapid reimbursement changes are leaving providers feeling dizzy as deadlines whiz by. EHR developers and healthcare organizations are frantically searching for health data interoperability strategies that will help them meet their most pressing quality and financial objectives, yet viable solutions remain scarce and difficult to implement.
Arien Malec has been pushing harder than most for an increase in health data interoperability across the beleaguered healthcare system, taking an active role in everything from the Health IT Standards Committee to the CommonWell Health Alliance, the Argonaut Project, and the ONC's Direct Project.
His current role as Vice President of Data Platform and Acquisition Tools at RelayHealth adds a commercial perspective to his broad experience with the thorny problem of helping data get where it needs to go. His advice to providers is simple: it will be patience, coupled with persistence, cooperation, and a commitment to innovation, which will unlock the sophisticated level of interoperability that healthcare providers crave.
"We've gone from 30 percent EHR adoption to 80 percent or 90 percent adoption in the blink of an eye, in the context of technology," Malec said to HealthITAnalytics.com. "I remember using the internet in 1994 or 1995, and I can tell you that it wasn't super simple or super easy to use with a great customer experience. I remember plugging in a USB drive and first having to go download drivers before I could use it."
"In the early days of the internet, things were bright, shiny, and new, and we were excited about it. But if we expected the internet of 1995 to work the way it does today, we might be pretty frustrated. That's where we are right now. When you go from low technology adoption to high technology adoption, you're going to have some issues. It takes time to work through that and create an ideal experience."
READ MORE: Health Data Exchange, EHR Dashboards Underpin a Successful ACO
Despite the EHR ecosystem's teething problems, the industry has been making progress towards developing the health information exchange and interoperability capabilities that will enable quality improvements, population health management, and the big data analytics required to produce actionable insights for patient care, Malec says.
"We have actually improved interoperability a lot," he insisted. "You look at rates of electronic prescribing, or the rates of electronic results being received by providers, and you even look at things like care teams receiving transition of care information electronically. These are all things that are much more ubiquitous and much more widespread now than they were even a couple of years ago."
"Now, why are providers frustrated? Because they have an expectation that we should be in an era of person-centered interoperability: an era where they have the data that they need to provide the most effective care, that the system has the data that it needs to be able to provide longitudinal health care and health management, and that patients have access to our complete record," he said.
"And we're not there right now. And I think that's driving a fair amount of frustration, particularly in the context of the meaningful use program, where frankly, people expected us to be much further along than we are. I don't think that was realistic, but those were the expectations and I think that's what's driving some of the frustration."
"Meaningful use" and "frustration" are certainly two terms that have been inseparable over the short but eventful life of the EHR Incentive Programs. Providers have complained loudly that the requirements for purchasing, implementing, and utilizing certified EHR technology (CEHRT) have taken too much time, too much money, and too much attention away from the fundamentals of patient care. Lost productivity, convoluted workflows, and patient safety risks have all been cited as reasons why meaningful use has failed the healthcare industry, but that might not be a completely fair assessment.
READ MORE: As FHIR Matures, Healthcare Interoperability Comes into Focus
"The meaningful use program can only do so much," Malec said. "It's a certification-driven program. It's trying to raise the floor. It's attempting to raise the minimum that everybody does together, and when you do that over 15 percent of the US economy, and you try to raise the floor every two or three years and do so in a highly coordinated way driven by a government-driven certification program, you can only go so fast and you can only get so much done."
Arguably, the EHR Incentive Programs have successfully done what they set out to do. EHR adoption has reached the majority of eligible providers and nearly every hospital in the nation. Providers have largely accepted that EHRs have become a foundational tool for care coordination and patient safety, and are making population health management and EHR big data analytics a priority over the next few years.
After six years of hammering electronic workflows into some semblance of cooperation, some pioneering organizations are accomplishing astonishing feats of innovation, data exchange, care coordination, predictive analytics, and data-driven quality improvements.
These frontrunners, who have gone above and beyond the basic requirements of the EHR Incentive Programs, are becoming essential drivers of health data interoperability on a respectably large scale, says Malec, and their accomplishments will help to move the needle for the larger provider community.
READ MORE: What Healthcare IT Users Don't Really Need to Know about FHIR
"I've seen a lot more progress when groups of provider organizations and technology developers get together and say, 'We're going to go at the quickest pace we can, regardless of whether the whole market travels at the same speed,'" he said. "Clearly, I'm proud of my work in the CommonWell Health Alliance and in being part of the Argonaut Project, which I think are both good representations of that attitude that says, 'We're going to get together and drive interoperability independently of the certification program.'"
CommonWell, the Argonaut Project, the Sequoia Project, and Carequality are among the most prominent cross-industry collaborations that are bringing new technologies and new perspectives into the quest for health data interoperability. State HIEs and RECs are bringing regional health systems together under the same roof to foster cooperation, data sharing, and population health management, while private payers are urging providers to engage in accountable care organizations, value-based reimbursement arrangements, and patient-centered medical homes to make interoperability a core competency.
The healthcare industry is in the middle shifting towards greater reliance on data standards that encourage the flow of information across the care continuum, but it's still going to take time, Malec warns. "It takes time to develop the technology, to develop the standards, build them into the EHR, and get everything out into the marketplace," he said. "And one of the surprising things that takes a lot of time is changing business practices."
"Five years ago, we didn't have a culture where providers expected to receive information electronically and do the work to incorporate it electronically," he continued. "So, with the CommonWell project, we went very quickly from our introduction to making patient record locator services available in pilot. We went very quickly again from our early pilot phase to getting ready for more broad-scale production, and then this year we're looking to get to 5,000 settings of care that are connected via the record locator service. I think we'd all want that to go faster, but that's pretty tremendous progress."
As part of the Argonaut Project, Malec has joined forces with other industry heavyweights to convene a number of health systems, developers, and standards organizations as stakeholders try to modernize the fundamental architecture of EHR systems with flexible internet-based protocols such as FHIR.
"We are now in the second phase of the Argonaut Project," he said. "First phase we decided what the core API health care standards should look like. We got a lot of the foundational work done, and now we're starting to see everybody implementing the technology. Everyone is so excited when you're in the stage of talking about it, and then when you start having to buckle down and do things, everything suddenly slows down because you're trying to make it happen for real. And that's the stage we're in right now."
Application program interfaces (APIs) are at the center of the Argonaut Project's efforts, and have garnered strong interest across the healthcare industry thanks to their potential to revolutionize the way providers leverage their health IT infrastructure. This plug-and-play technology has become integral to the way smartphones and personal computers operate, and APIs can bring some revolutionary changes to the EHR landscape, as well.
"A cell phone used to be nothing more than a phone," Malec explains. "It did one thing, and if you wanted it to do something more, your phone manufacturer had to go build it, and you had to buy it, and learn how to use it. Then we started looking at cell phones as platforms. If you want new capabilities, you build apps to make that happen. Suddenly, you've taken something that can only do one or two things and turned it into something that can do literally anything you want it to do."
"Right now, an EHR is just an EHR. APIs are so important to the future of interoperability because they give you the means to make the technology do something different," he added. "With the API work that we're doing at Argonaut, you'll now have the means to be able to plug in the Rheumatology Decision Support App or the Diabetes Counseling App, or whatever you need, just like you do with your cell phone. You can change your workflow at a speed that is much faster than the speed of the EHR platform developer, because external programs can be developed at their own pace."
APIs can also change the way developers view the process of health information exchange. While the Continuity of Care Document (CCD) requirements included in meaningful use have made document-based HIE a common occurrence, pushing data wholesale from one organization to another doesn't really help providers identify and digest the data they need to make timely, informed decisions about a specific patient's immediate needs.
"Exchanging documents is really important, because it means that I get the entirety of a patient's record handed to me in a large electronic envelope, if you will," said Malec. "But providers have been a little frustrated about the document-centered approach to interoperability, because oftentimes they end up looking at a long list of information and the computer can't help them pull out the most important data or the most recent updates."
API technology, as CommonWell demonstrated at the HIMSS15 conference in Chicago this past April, can break down information into digestible pieces and supply only the most relevant information requested by a user during an individualized workflow task.
Many EHR developers haven't reached the point of making these capabilities available to their customer bases just yet, but Malec believes that industry leaders like CommonWell are helping to construct a vision of the future of healthcare technology that can set providers on the path to meaningful health data interoperability.
"I think we've demonstrated that we're going to make a lot of progress by setting a high bar and having a big vision for the country, rather than enforcing a certification-driven program where the HIT Standards Committee sits and makes recommendations," he said.
"I'd rather live in a world where we set a high bar and challenge the health care system to meet and exceed that high bar, and do so at the rate of change that's possible by the innovators, and then have those innovators challenge the rest of the industry to catch up."
That doesn't mean that federal mandates and organizations like the ONC and CMS don't have an important part to play in the innovation process, Malec acknowledged. As the nation's largest payer, Medicare has enormous power to set the tone for the rest of the industry, and must use its clout wisely to drive payment reforms that will lay out the business case for investing in technical improvements.
"Congress should be thinking about setting payment policy and using its power as a purchaser to drive and challenge quality, and then pay for quality across the health care system," he stated. "I'm encouraged by the fact that HHS has committed to getting 50 percent of Medicare lives under alternative payment approaches by 2018. That kind of work is incredibly important."
"The government also has to coordinate with commercial payers around common quality definitions and program design. That's the kind of work that I think policymakers should take on, because I think we'll see that once a provider has a large proportion of patients under value-based reimbursement arrangements, where profit or loss is determined on how well they drive quality through the network, I think we'll see organizations change much more rapidly than we may even think possible."