EHRs Can't Keep Up with Healthcare Analytics Abilities, Needs
The chronic shortcomings of EHRs are bringing providers to the boiling point as they attempt to engage in healthcare analytics and population health management.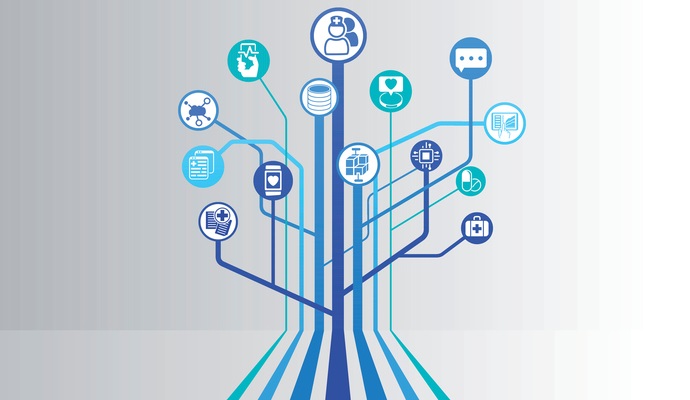 - The electronic health record simply isn't evolving quickly enough to keep up with rapid innovations in healthcare big data analytics and the increasingly complex needs of end-users, says an editorial published in the Journal of the American Medical Association (JAMA) this week.
The opinion piece, authored by a trio of physicians and researchers from Stanford University, points out that existing clinical decision support features often border on the useless due to an overwhelming number of low-priority alarms and alerts, inadequate data visualizations, and an inability to capture socioeconomic and behavioral data within the clinical workflow.
These shortcomings, coupled with data integrity concerns and burdensome documentation requirements, may be obscuring the potential benefits of EHRs as a portal for meaningful big data analytics and population health management support.
"The EHR has many virtues," acknowledge Donna Zulman, MD, MS, Nigam Shah, MBBS, PhD, and Abraham Verghese, MD. "It supports arduous and time-intensive tasks such as order entry and medical history review, and most systems routinely alert clinicians if they prescribe medication combinations that might cause harm. These features and others have the potential to prevent medication errors and decrease duplicative tests, contributing to the safety and value of care."
But the well-known saga of the industry's haphazard health IT journey has made it extremely difficult for some providers to develop interoperable, intuitive, time-saving EHR infrastructures that integrate big data into the care process.
READ MORE: AMA: Physicians Love Their Jobs Despite EHR, Financial Woes
READ MORE: Cleveland Clinic, IBM Watson Partner for Population Health
READ MORE: Can Application Programming Interfaces Inspire a Better EHR?
The rise of unstandardized data sources, such as patient-generated health data from wearable devices and home monitors, and the growing importance of risk scores, clinical quality measures, and performance benchmarks, have changed the way providers want to work with their technology, but have not produced much of a difference within the technologies themselves.
"The evolution of EHRs has not kept pace with technology widely used to track, synthesize, and visualize information in many other domains of modern life," the authors stated. "While clinicians can calculate a patient's likelihood of future myocardial infarction, risk of osteoporotic fracture, and odds of developing certain cancers, most systems do not integrate these tools in a way that supports tailored treatment decisions based on an individual's unique characteristics."
Providers are unable to take advantage of the burgeoning ecosystem of predictive analytics and population health management tools because their EHRs simply do not have a place to display the information in a way that will help clinicians make informed decisions at the point of care.
"For instance, when a 55-year-old woman of Asian heritage presents to her physician with asthma and new-onset moderate hypertension, it would be helpful for an EHR system to find a personalized cohort of patients (based on key similarities or by using population data weighted by specific patient characteristics) to suggest a course of action based on how those patients responded to certain antihypertensive medication classes, thus providing practice-based evidence when randomized trial evidence is lacking," the authors said.
In order for this type of actionable clinical decision support to become a commonplace reality, the healthcare industry must first address the dual problems of inadequate insights from incomplete, inaccurate, and out-of-date data and information overload from purportedly helpful alarms and alerts.
In a speech this spring, Acting CMS Administrator Andy Slavitt said providers were "baffled" by this "physician data paradox."
"They are overloaded on data entry and yet rampantly under-informed," he pointed out, echoing the concerns of researchers who have repeatedly highlighted the dangers alarm fatigue and the overwhelming frustration EHR users feel when faced with an endless barrage of beeps, bells, click boxes, and pop-ups.
One study from 2015 found that users were subjected to 123 unnecessary alerts when trying to prevent just one adverse drug event. Out of the 4,581 adverse drug events recorded over a two-year period, not a single one could have been prevented by the 13,719 clinical decision support reminders delivered to users.
Another study from 2016 found that primary care clinicians in the Veterans Affairs health system receive an average of 76.9 EHR alerts each day. It takes almost an hour to sift through these reminders, notifications, and test results.
The JAMA article points out that other industries have already successfully trimmed down meaningless or potentially harmful communications and streamlined their information pathways.
"The airline industry limits pilots' audible alerts to critical and life-threatening events, and financial software enables users to set investment goals without inundating their inbox at every price fluctuation," the authors said. "Better triage of EHR alerts and fewer workflow interruptions are needed so the physician can maintain situational awareness without being distracted."
If EHR developers can draw on best practices from other industries and heed the pleas of overloaded physicians, they may be able to turn their attention to the next in a series of hurdles for beleaguered clinicians: the challenge of integrating socioeconomic, community, and behavioral health data into the care process.
"In this world of patient portals and electronic tablets, it should be possible to collect from individuals key information about their environment and unique stressors—at home or in the workplace—in the medical record," the article says. "What is the story of the individual?"
Without this critically important collection of data, providers and their EHRs are both likely to underestimate a patient's risk of falling victim to dangers in the community, the social circumstances driving their struggles with fitness, self-care, or medication adherence, and the impact of environmental factors like air quality.
While many organizations are currently championing the integration of socioeconomic data and better clinical decision support into the electronic health record, the industry's progress may not be speedy enough to prevent a full-scale revolt from fed-up clinicians caught between their patients and their keyboards.
"There is building resentment against the shackles of the present EHR; every additional click inflicts a nick on physicians' morale," the authors warn. "Current records miss opportunities to harness available data and predictive analytics to individualize treatment. Meanwhile, sophisticated advances in technology are going untapped. Better medical record systems are needed that are dissociated from billing, intuitive and helpful, and allow physicians to be fully present with their patients."