Cognitive Computing Leaders Think Time is Right for Healthcare
Is the healthcare industry ready to benefit from emerging cognitive computing and semantic analytics technologies?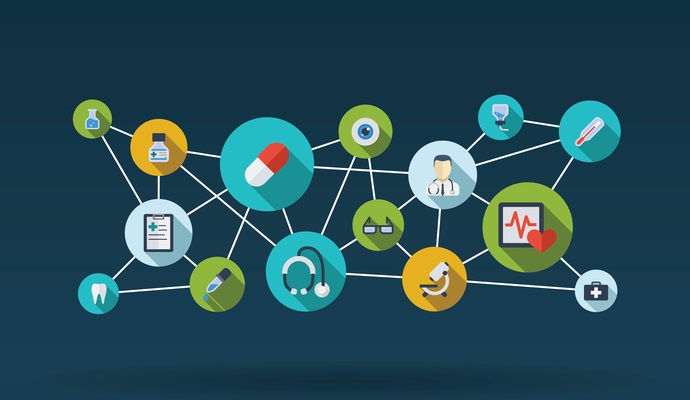 - The healthcare industry might be notorious for its lackadaisical attitude towards adopting certain technology tools, but stakeholders across the care continuum have not been slow to embrace the idea that cognitive computing and semantic data analytics hold incredible promises for patient care.
From broad population health management to highly individualized clinical decision support, these advanced approaches to big data analytics have the potential to change the way providers interact with their data, their patients, and even their understanding of what it means to be a clinician in the modern healthcare environment.
Cognitive computing aims to mimic the way the human brain can draw connections between seemingly unrelated pieces of data. Using natural language processing and pattern recognition techniques supported by complex data mining and sophisticated curation, cognitive computing, these systems don't just spit out definite answers to specific queries like a pocket calculator.
Instead, they are starting to be able to deliver results that take the user's intentions into consideration and express results in a manner that truly helps the human at the keyboard to make better decisions based on data that she could not possibly synthesize on her own. It's not true artificial intelligence just yet, but some leading systems are getting there.
It is easy to see how this technology could find a place in healthcare. As the medical research community continues to expand our knowledge of the human condition, adding thousands upon thousands of pages of literature to the ecosystem each year, it is impossible for any single physician to know everything there is to know about even the most sharply focused specialty.
READ MORE: Point of Care Diagnostics Usher in Era of Personalized Medicine
The most well-informed diagnosticians in the world are no longer flesh and blood, but are composed of bits, bites, clouds, and wires living in humming datacenters around the world.
Naturally, there is a great deal of money to be made in owning the technologies that could provide actionable insights into diagnoses and treatments while taking the reins of the industry's budding interest in precision medicine.
The potential for growth is so rich, in fact, that a recent Grand View Research report predicts that the healthcare cognitive computing market will be worth a staggering $50 billion by 2022, driven largely by growth in North America and the Asia-Pacific regions.
Many of the early leaders in this emerging field of cutting-edge clinical decision support are already household names, like IBM, Microsoft, SAP, and Dell, but they certainly aren't the only ones with cognitive computing on their minds.
HealthITAnalytics.com continues its exploration of advanced data analytics tools by examining how technology companies are positioning themselves to take advantage of emerging opportunities in research, diagnosis, and treatment.
READ MORE: Precision Medicine, Population Health Share Strategies and Goals
IBM Watson Health gains an early edge in the marketplace
No discussion of cognitive computing can start without the company that coined the term. IBM has a long history of success in the tech world, and it is now focusing a huge amount of effort on taking the healthcare arena by storm.
Watson, the Jeopardy!-winning supercomputer with a penchant for diagnosis, a growing resume in clinical education, and an interest in precision medicine, now has its own healthcare-specific division, known as IBM Watson Health.
With several partnerships under its belt already, including contracts with the Mayo Clinic, Boston Children's Hospital, and EHR vendor Epic Systems, it is no surprise that IBM feels comfortable enough with its healthcare track record to pour billions of dollars into acquisitions of big data analytics companies that will bolster Watson's insatiable appetite for new learning.
Following the acquisitions of Explorys, Phytel and Merge Healthcare in 2015, IBM Watson Health announced that it will be dropping $2.6 billion on Truven Health Analytics at the beginning of the year. Scooping up these analytics experts will help to drive Watson's abilities to deliver incredibly tailored clinical decision support to providers at the point of care.
READ MORE: AMIA, Dryad Partner for Healthcare Research Big Data Access
Watson is also taking on a role in the national Precision Medicine Initiative. A partnership with the New York Genome Center will help to train the cognitive computing behemoth in genomic analysis that will eventually help to make smarter decisions in the field of oncology.
"Data is quickly becoming one of the most valuable resources in the fight against cancer," said John Kelly III, PhD, Senior Vice President, Cognitive Solutions and IBM Research. "By amassing this contributed data and applying cognitive insights to the challenge of analyzing cancer data, we believe we can soon scale access to precision medicine worldwide."
IBM is also working with the American Cancer Society to create a consumer-facing cancer care advisor that allows cancer patients to ask natural language queries about their treatments, conditions, symptoms, and side effects. The system, which learns to refine its analytics abilities from each encounter, will be able to deliver suggestions customized for each patient's preferences, such as whether she prefers to read resources on the web or call a health coach on the phone.
Eventually, the patient-facing system may be integrated into Watson's provider-sided oncology offerings, allowing clinicians to offer more personalized resources to their individual patients.
Microsoft unveils cognitive services with a focus on APIs
Microsoft is another old guard tech giant hoping to muscle in on the lucrative opportunities for actionable intelligence, although its current application offerings, such as the "How Old" bot, appear to be a little bit gimmicky.
Still, the company is convinced that the marriage of application programming interfaces (APIs) and cognitive intelligence technologies will produce meaningful benefits for healthcare and other industries.
"We believe that the most impactful data-driven solutions will go beyond analytics, and will include built-in intelligence that augments an organization's capabilities in exciting new ways," wrote Joseph Siroch, Corporate Vice President of the Data Group at Microsoft in a blog post introducing the company's new Cortana Intelligence products.
"Imagine a world where nurses and doctors use remote monitoring solutions not only to analyze a patient's vitals such as blood pressure, weight and heart-rate, but also to interpret a patient's mood based on speech and tone analysis during a scheduled phone conversation," he said. "Technology like this could help augment their diagnosis to better predict and prevent emergencies and have real impact on the wellbeing of the patient."
Microsoft appears to be banking on the value of the "human element" in consumer interfaces, which allow users to interact naturally with algorithmically-driven modules that turn big data into actionable insights.
Dell makes a $67 billion bid for a piece of the healthcare pie
Dell caused more than a few jaws to drop when it announced its $67 billion takeover of EMC Corporation, a data storage, security, cloud computing, and analytics giant. The biggest deal in tech history positions the company nicely to continue its movement into the healthcare industry.
Oncology and precision medicine are once again at the center of the company's strategy. Using a "hive mind" approach to bolstering existing computing resources, Dell plans to help the healthcare community continue to make genomic sequencing more and more affordable – and a routine part of receiving care for cancer.
"The challenge is finding a way to successfully manage and analyze the really big data sets associated with genomics, and to do so in a way that can be managed by organizations with modest resources," explained Sid Nair, Vice President and Global General Manager of Dell Services Healthcare and Life Sciences. "These organizations don't have the hardware budgets for big high-performance computing systems, nor staff with the advanced technical expertise to handle complex distributive computing systems."
If healthcare organizations could network their computers together into a woven "fabric" of computing power, controlled through the cloud, it could become "the kind of system that a mid-sized hospital could deploy for genomics-based diagnostic and treatment decision systems," Nair predicts.
"As hospitals adopt this new technology, and as physicians around the country use it to connect their patients to advanced treatment centers and research trials, patients will have far more options for treatment."
Dell's interest in the healthcare space is not new – it already offers an array of predictive analytics and business intelligence solutions for hospitals and providers – but how or when it will leverage its EMC acquisition to surge ahead in the marketplace is yet to be seen.
Don't forget about the not-so-little guys
The cognitive computing landscape is by no means an exclusive playground for the multi-billion-dollar upperclassmen of the tech world. There are dozens of up-and-coming semantic computing superstars that are taking healthcare by storm.
A number of leading healthcare providers are investing in "data lakes," or freeform data warehouses that lend themselves to a semantic approach to clinical decision support and predictive analytics.
Even before EMC Corporation fell under the Dell umbrella, the company started working with Partners Healthcare to develop a data lake geared towards research and discovery. Paired with its new Epic EHR infrastructure, the Integrated Data Environment for Analytics (IDEA) platform provides a secure and private environment for precision medicine and analytics related to clinical trials.
"What we're trying to enable is research," said Brent Richter, Associate Director of IS Operations and Director of Enterprise Research IS at Partners. "Instead of taking an app-by-app approach like some other organizations, we are building a platform that provides a foundation for different groups to leverage in a secure and private way."
The data lake allows researchers to create customized datasets that may include information related to their specific needs in addition to institutional and public domain data. The platform "provides tools, storage, and technology, and the security wrapped around it, so investigators don't necessarily have to think about the infrastructure," Richter said. "But they can bring their ideas and begin to leverage those tools to develop their area of interest."
The flexibility of the data lake has also attracted informaticists at Montefiore Medical Center in New York, who are working with semantic analytics experts Franz Inc. to develop a robust and elastic population health management powerhouse.
"We don't have the time and resources to build silos and specialized systems for specific needs," said Parsa Mirhaji, MD, PhD, Associate Professor of Systems and Computational Biology and the Director of Clinical Research Informatics at the Albert Einstein College of Medicine and Montefiore Medical Center-Institute for Clinical Translational Research.
"A lot of our problems could only be solved by graph databases," he said, using an alternate term for semantic computing technology. "Other tools we looked into were not really prepared to address our long spectrum of requirements."
Partners Healthcare is also the birthplace of QPID, which provides sophisticated clinical decision support using risk scores, predictive analytics, and natural language processing. One of the highlights of this technology is its lexicon of alternative terms that make search queries more sensitive, said Dr. David Ting from Massachusetts General.
"It wouldn't just look for the term 'malignancy,' but it would look for 'cancer,' 'colon cancer,' 'breast cancer,' 'tumors,' or any sort of adjectives that go along with the term 'malignancy.' And it goes a step further. As users enter in searches and try to refine searches, QPID learns from that, and it gets better and better at figuring out what a user is really looking for," he said.
Taking the next steps into cognitive computing
The continuous learning abilities of cognitive computing technologies are what differentiates these tools from other analytics offerings, and may be the key to engaging in the fine-grained population health management and precision medicine requires to stay ahead in a highly competitive industry.
As the healthcare system continues to rely more and more heavily on big data analytics to provide meaningful clinical decision support, risk stratification, and consumer engagement capabilities, cognitive computing technologies are likely to see a great deal more interest from investors and developers.
How will these initial forays into semantic computing translate into real-world results for healthcare providers? Stay tuned for the next article in HealthITAnalytics.com's advanced data analytics series to find out.