Are There Financial Benefits to Health Information Exchange?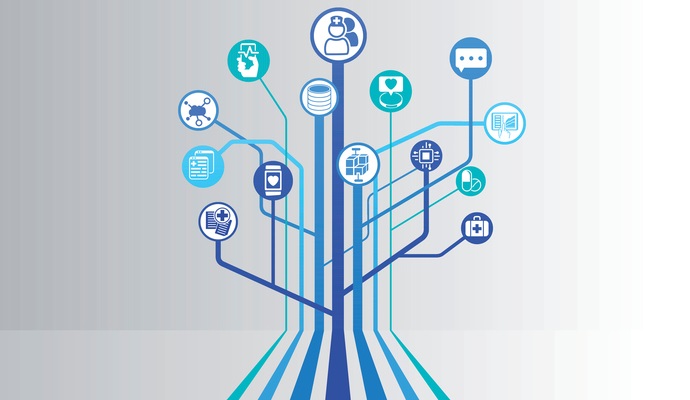 - It is difficult to argue with the notion that health information exchange, in general, is a good idea. The more data a provider has at her fingertips, the more informed, accurate, and timely her diagnoses and treatments can be. Providers and patients are all eager to embrace the idea of health information exchange, but the industry continues to struggle with a high degree of data fragmentation, magnified by poorly customizable, poorly interoperable electronic health records that do not all speak the same language.
Dozens, if not hundreds, of HIE organizations, including regional health information organizations (RHIOs), are doing their best to overcome the infrastructure challenges that result in insufficient care coordination, repeated procedures, and frustration in the consult room. Yet evidence about their effectiveness and impact on patient outcomes has been scarce.
As providers attempt to allocate funding for the next three to five years, which will include intense new meaningful use requirements, the uncertain long-term impacts of ICD-10, the growing importance of clinical analytics and population health management, and the acceleration of accountable care, understanding how health information exchange can help or hurt the bottom line is essential.
To help answer that question, Niam Yaraghi, a fellow at the Center for Technology Innovation at the Brookings Institution, examines some of the evidence. Can health information exchange produce a meaningful return on investment for physicians, hospitals, RHIOs, and the federal agencies that have invested hundreds of millions in its success?
Yaraghi finds some encouraging results. Using two emergency departments in Western New York, he studied the impact of regional health information exchange on the number of laboratory tests and radiology exams conducted during an ED visit at the end of 2014. The study settings were unique in the fact that nearly all medical data providers, including labs, pharmacies, radiology centers, and hospitals in the area were connected through HEALTHeLINK, the local RHIO, providing physicians with deep and broad data access for the 449 patients involved in the project.
READ MORE: IBM Watson Gets SNOMED CT Infusion to Enhance Data Analytics
"The medical information that was accessed included previous laboratory results, radiology examinations, hospital admissions and discharge transcripts, operative reports, and medication history," Yaraghi explains.
The study included the use of medical liaisons, who were specifically trained on how to use the HIE database and retrieve clinically relevant information in order to ensure the ED providers were using the system to its fullest capacity. "During their presence at the ED settings, the medical liaisons queried the HIE database for all of the patient encounters and provided the ED clinicians with the relevant medical information," he continued.
Health information exchange access significantly reduced the number of laboratory and radiology tests ordered by ED physicians, the studies found. The first setting saw a 25 percent decrease in laboratory tests and a 26 percent decrease in radiology exams, while the second emergency department produced a 47 percent reduction in radiology orders when HIE data was available.
"This study also highlights the importance of designing efficient workflows in which accessing an HIE platform is integrated in the routine procedures of providing care at ED settings," Yaraghi writes. "The rate of access to HIE platforms in the treatment group was artificially held at 100 percent and is considerably above the typical HIE access rates in other ED settings. This was made possible by hiring liaisons who were only focused on querying and filtering RHIO's database and provided the clinicians with the relevant medical data."
"The results of this study enables other ED settings to evaluate the benefits of increasing their HIE querying rate against its potential costs," he added. "Moreover, the potential benefits of increased access to HIE platforms calls for more detailed studies on efficient strategies and workflow designs which enable ED clinicians to access HIE in smoother and user friendlier manners."
READ MORE: Top Healthcare Business Intelligence Companies by Hospital Users
The study mirrors similar results from the Rochester RHIO published in the American Journal of Managed Care earlier this year, which found a 25 percent reduction in repeated tests for providers who routinely accessed the regional health information exchange. Up to eight percent of tests are unnecessarily repeated within three months, the report found, wasting time and money while potentially exposing patients to avoidable risks.
Apart from some notable exceptions in communities that have placed a strong focus on improving population health management and cutting costs through the use of RHIOs, the routine use of health information exchange remains relatively sparse. After a review of available literature, the RAND Corporation estimated that HIE is used in less than ten percent of patient encounters. Black Book Market Research concurs with that assessment, stating that 70 percent of hospitals and 91 percent of physician practices do not routinely communicate with external organizations.
That may be because the investment in HIE infrastructure is simply too burdensome for providers who are still trying to get their routine EHR workflows right. Developers are finding basic interoperability to be a bigger problem than they can solve at the moment, and the costs of overhauling and implementing new health IT tools to meet increased federal requirements continue to fall squarely on the shoulders of their customers.
Payers are the ones who primarily benefit from fewer unnecessary tests and scans, and the savings aren't yet trickling down. "Providers are simply not benefiting financially yet from HIE development," points out Doug Brown, managing partner of Black Book Research. Ninety three percent of respondents in a recent Black Book survey said that the financial drivers for HIE were still unclear.
However, value-based reimbursement is slated to change that, and may bring the revenue rewards of HIE out of the ED and into the larger care continuum. When providers start to see financial rewards for playing their part in cutting unnecessary services, they will develop a stronger motivation to lay out the cash for health information exchange. "As risk sharing increases, so will the demand for meaningful, robust data sharing between providers and payers regardless of the EHR employed," Brown predicts.
READ MORE: Unfiltered EHR Data Overloads Physicians, Perpetuates Burnout
Without a strong financial stake in what health information exchange has to offer, providers may continue to think of HIE access as something that might be nice to have, but is too expensive to adopt. Accountable care may change that, if the healthcare industry continues to invest appropriately in fostering infrastructure development and health data interoperability, while promoting the idea that health information exchange is a necessary tool for improving outcomes and cutting costs.
"The efforts by Congress, patient advocacy groups, and most importantly the shift towards value based payments promise complete interoperability in the near future," Yaraghi concludes. "After more than a decade of concerted national efforts, we are now on the verge of realizing the returns on our investments on health IT. HIE platforms have the potential to leverage the national investments on interoperability and radically improve the efficiency of health care services."