What You Need to Know about Health Data Interoperability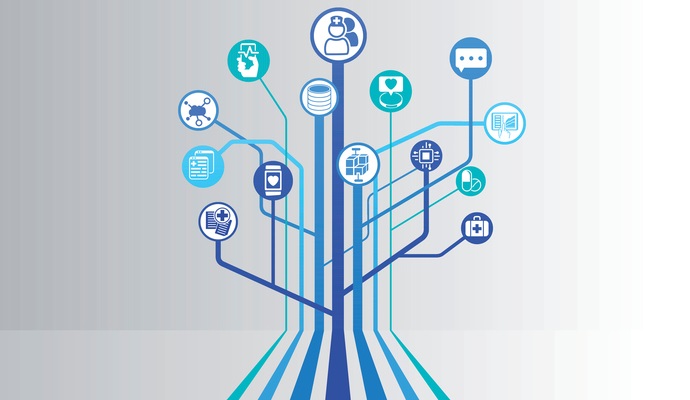 - Health data interoperability is intended to bring healthcare stakeholders together, yet it remains a divisive and difficult issue to address. The movement of information between health IT systems, whether internal or external, is as much about policy and business negotiations as it is about technological capability.
While few organizations would try to make the argument that health data interoperability is not an admirable goal, everyone seems to have their own opinion about how to accomplish it, what it means, and how much money they should spend on it.
As emerging reimbursement structures force the strengthening of links across the care continuum, no provider of any size or type can afford to ignore the importance of health data interoperability to their patients, their practices, and their purses.
But what is interoperability, anyway, and why does every conversation about patient care eventually lead back to it?
In this primer, HealthITAnalytics.com breaks down everything you need to know about health data interoperability and how the industry is coming together around the concept of health information exchange to achieve its greater goals.
READ MORE: What Healthcare IT Users Don't Really Need to Know about FHIR
What's the problem with health data exchange?
At the most basic level, all electronic data is built upon a standard of zeroes and ones, which is why EHR adoption across the entire health system was supposed to be a manageable task. Electronic information can be easily created, stored, and exchanged across the internet; it is less prone to human errors like poor handwriting or copying mistakes; it can be crunched by powerful algorithms to generate insights in a quick and comprehensive way.
But technology is always advancing in new and unexpected directions. Layer upon layer of new code, new functionalities, and new innovations turned those zeroes and ones into proprietary technologies written in languages that locked data into silos created for specific purposes at specific times. After all, in a fee-for-service environment where every provider is responsible only for his or her own actions, patient data is collected for two main reasons: diagnosis and billing.
The first EHRs were created with this one-and-done process in mind, and up until the EHR Incentive Programs violently shook up the health IT industry, providers who used these locked-down systems were actually quite ahead of the curve. Now, as rampant spending drains the nation's budget and care quality has replaced care quantity as a measure of success, everything about the meaning and importance of health data interoperability has changed.
Meaningful use has been one long, painful, expensive way to get providers to understand that data can no longer stay tucked away in one place, serving only as a way to justify insurance claims.
READ MORE: Unfiltered EHR Data Overloads Physicians, Perpetuates Burnout
To meet the expectations of the EHR Inventive Programs, health data has to be complete and accurate, collected in a certain way for clinical quality reporting, standardized for exchange across those disparate systems, and tailored to support population health management initiatives. To meet the expectations of patients, health data must be available, transparent, and meaningful as it provides the foundation for their personalized care.
But many EHR systems initially certified for meaningful use were still built upon the notion that electronic documentation is primarily a billing concern. Providers invested millions of dollars in health IT systems that met their immediate reporting needs for Stage 1, but didn't take into account how important health information exchange would become in the near future.
"I think the lever was placed at the wrong place with meaningful use," said an anonymous participant in a recent JAMIA study about the effects of EHR adoption. "We started with a very immature technology. The lever was placed on physicians to use electronic health records as if they were already mature."
"Existing EHRs are optimized for simple transactions," another interviewee added. "They are not optimized…to support re-engineering care."
Healthcare providers had petabytes of data at their fingertips, but the health system couldn't learn anything from it. Organizations could not speak to each other through their data, and patients had to do most of the heavy lifting when it came to coordinating their own care.
READ MORE: Judy Faulkner: Epic is Changing the Big Data, Interoperability Game
Arguably, the majority providers are still suffering from those early missteps, but a huge push towards health data interoperability from across the industry may be able to help.
Why does data exchange matter to healthcare providers?
Why should healthcare providers care about what sounds like a code development issue for the IT department? Because it causing organizations to suffer financially. As the industry's health IT capabilities mature into the promise of interoperability, reimbursement strategies are pushing providers into new ways of thinking about patient care. From bundled payments to outcomes-based quality measures that stress wellness over treatment, providers are now being paid based on how they can promote optimal health rather than how many blood tests or MRIs they can squeeze into an afternoon.
That's an important distinction as patient demographics are generally shifting towards older, more chronic cases that require a great deal more ongoing care than an annual physical or an antibiotic now and again. Diabetes, hypertension, renal disease, heart disease, cancer, and respiratory illnesses require intensive management from specialists, home health care, long-term care, hospitals, and community resources clustered around a single patient and guided by the primary care provider.
This new model of patient-centered care delivery relies wholly on how well a patient's information follows her across settings. Care coordination now demands a seamless, interoperable data stream that allows providers to pluck the necessary information from a pool of available resources in order to ensure that a patient is getting the right care from the right provider at the right time to avoid costly emergency department visits, 30-day readmissions, and other high-intensity events that impact a provider's quality measurement scores.
Mounting evidence from across the industry shows that providers who equip themselves with tools that promote health data interoperability can corral spending, promote population health management, reduce preventable readmissions, ease the burden of chronic disease management, and deliver higher quality patient-centered care that aligns with the goals of the Triple Aim.
What are leaders in the industry doing about it?
While it's easy to blame EHR developers for not having a crystal ball during the first phase of health IT adoption, vendors are now working with other healthcare stakeholders to rectify an immature industry's initial failings. Payers, providers, and federal agencies are all contributing resources and ideas about how widespread health data interoperability can become the norm.
Data standards organizations: To overcome the problem of non-compatible data, health data interoperability requires the adoption of agreed-upon standards that facilitate exchange and allow all types of health IT systems to extract meaningful information from every transmission. Multi-stakeholder collaborations like HL7 International and the Argonaut Project are helping to promote the spread of protocols like FHIR to smooth the passage of data from one organization to the next.

Interoperability coalitions: At the same time, interoperability coalitions such as the CommonWell Health Alliance, Carequality, and dozens of regional health information exchange organizations and initiatives are taking providers by the hand and bringing them into the interoperability circle. These organizations have secured strong support from many members of the EHR vendor community and are growing rapidly as the industry puts its shoulder to the problem.

Federal roadmaps and rulings: Meanwhile, CMS and the ONC have committed to providing their own guidance to healthcare providers and developers interested in creating long-term strategies for health data interoperability. The ONC has released a ten-year roadmap towards large-scale data exchange, and Congressional action on reimbursement structures and technology expectations is priming the industry for significant change.
What is working and what isn't?
It's been six years since the passage of the HITECH Act, and the industry is still deeply divided on whether or not meaningful use and the spread of health IT have made any true progress towards the development of a learning health system.
"After spending $28 billion so far of the $35 billion total taxpayer investment, significant progress toward interoperability has been elusive," complained a group of Senators in a Health Affairs blog post earlier this spring. "We are now well into Stage 2 of the Meaningful Use program and providers are struggling to meet even modest health information exchange requirements."
Another participant from the JAMIA survey agreed that progress has been lackluster at best. "It's not clear that any given organization has a strong incentive to share their data and I think we haven't really put much pressure on the vendors to really make their systems interoperable," she said. "And I think the combination of those two, which is not good technical solutions and not very strong drive from the potential customers…It just sort of feels like a hopeless situation and I feel like everyone I talk to about where we are with HIT today, it's the number one thing…We're just not close."
The Senators blamed the ONC's big-picture roadmap for failing to provide enough detail for providers to make true breakthroughs with health data interoperability, while the ONC has pinned some of the responsibility on EHR vendors and self-centered providers who may be actively blocking data exchange for their own financial benefit.
Clearly, extracting exorbitant fees from organizations making a good faith effort to participate in health information exchange isn't helping matters. And the lack of incentive for providers to invest even more money in EHRs and associated health IT infrastructure without being assured of any return on the spending can quickly wilt any sense of commitment to interoperability.
"Providers sometimes find that the technology interferes with their ability to practice the way they want to," said Brett Jakovac, Senior Vice President and Managing Director of Government Healthcare Solutions at Xerox. "The benefits don't necessarily make up for how much they've paid for this technology. They can't afford to connect all their systems together out of the goodness of their hearts when the beneficiaries are the health programs and private and commercial entities."
As the incentive payments for meaningful use trickle to a halt, Congress is trying to find that financial motivation for data-driven care elsewhere. In the recent Sustainable Growth Rate repeal, the government included bonus opportunities for providers who engage in patient-centered care models, streamlined quality reporting programs that made health IT a headache, and secured ongoing Medicare reimbursement raises that give healthcare providers a little more confidence about their future revenue streams.
These actions, along with the growing emphasis on data standards and a slew of new health IT options that promote big data analytics, population health management, and patient engagement, may combine to ease the burden on providers who feel that health data interoperability is just one more problem they can't afford to fix.
Health information exchange and public health data reporting are already seeing a big up tick among providers participating in Stage 2 meaningful use, and the Stage 3 proposed rule places an even greater importance on healthcare analytics and information exchange as key competencies.
The industry may not have hit the jackpot on health data interoperability strategies just yet, but trial and error continues to produce small successes that can snowball into larger ones.
What is the future of health data interoperability in the data-enabled healthcare system?
It's hard to tell whether all these efforts towards improving the flow of information will pay off. Naysayers who only look at the failures of meaningful use may do the same for health data interoperability, condemning the industry for not being able to move as fast as federal regulators and idealists would like. However, the industry is maturing rapidly as technology seeps into more and more aspects of patient care, and the commitment to data exchange is greater than ever before.
As providers start to embrace the impact of accountable care on their finances, market forces will encourage vendors to offer more products that treat health information like a valuable business asset instead of a dry, static list of diagnosis and procedure codes only of interest to insurers. Population health management and proactive, preventative care to supplement chronic disease management will drive innovation in the health IT sphere, bringing down prices and fostering competition to make health information exchange a seamless experience for providers.
"Despite what a lot of people in the industry and in Congress and at the ONC are saying, which is that healthcare data interoperability is a failure that needs to be fixed, I think we're actually in a really good place," said Micky Tripathi, CEO of the Massachusetts eHealth Collaborative and Chair of the eHI Interoperability Workgroup. "I say that because the industry is finally beginning to mature."
"I think we're finally at that point in healthcare where there is enough demand for that type of interoperability because of value-based purchasing," he said. "I'm just amazed at how value-based purchasing and accountable care organizations have created this huge demand for interoperability that wasn't there before. It's taken a long time, but healthcare is getting to a point where real things start to happen, because we're developing real demand for interoperability.