What Does $67B Dell Deal Mean for Healthcare Big Data Analytics?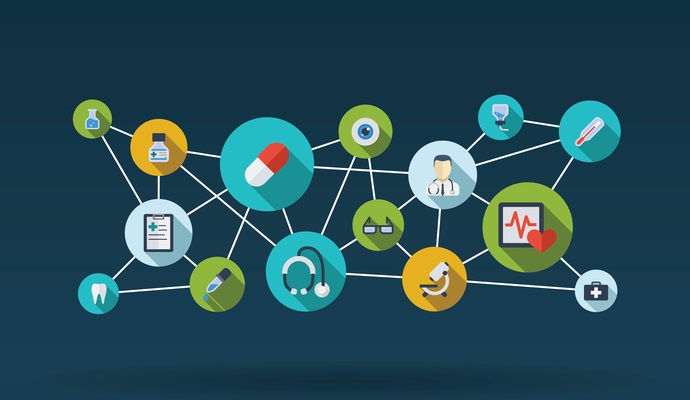 - It's no secret that big players in the consumer technology space are fixing their gazes on the increasingly lucrative market for healthcare big data analytics. The healthcare-focused markets for data storage, analytics infrastructure, interoperability capabilities, and networking to support the Internet of Things are poised for explosive growth over the next few years, and companies like HP, IBM, Apple, Google, and even Amazon are jumping into the fray.
This week, Dell became the latest tech giant to make media waves when it announced its $67 billion acquisition of EMC Corporation, slated to be the biggest tech deal in history. But does the staggeringly large investment signal a new entrant in the crowded healthcare big data arena?
EMC is a 70,000-employee business which offers data storage, virtualization, information security, cloud computing, and big data analytics technologies to business across numerous market sectors. Its healthcare-specific division promotes services and infrastructure like data lakes that can enable predictive clinical analytics, imaging management, and mHealth solutions.
Dell, meanwhile, has been inching into the healthcare space on its own as it tries to transition from a provider of economical personal computers to a major player in the new big data economy. EMC has secured approximately 20 percent of the data storage center market, about twice as much as Dell, reports Bloomberg.
Precision medicine is a particular area of interest for the company, which has already helped to provide the number-crunching abilities to complete tasks like genomic sequencing and predictive analytics for organizations including Baystate Health and the Neuroblastoma and Medulloblastoma Translational Research Consortium.
READ MORE: Healthcare Big Data Analytics, IoT, Cloud Markets Set for Growth
"Imagine how much faster cancer research would proceed if every hospital and every lab had the technology to handle genome sequencing and analysis," said Sid Nair, Vice President and Global General Manager of Dell Services Healthcare and Life Sciences, in a guest post on HealthITAnalytics.com in September.
"Imagine a world in which cancer was seldom fatal, because every patient – not just those lucky enough to be treated at a major medical center or in a research trial – had access to genomic-guided treatments."
Dell is already positioning itself to be a provider of these analytics services to healthcare organizations, combining a unique self-organizing "hive" of computing technology with cloud-based applications that can be inexpensively deployed to smaller providers without the resources of integrated delivery networks or large academic medical centers.
But the company faces enormous competition from rivals that have made their own impression on the healthcare market. In July, HP unveiled a cloud-based big data analytics partnership with Inovalon and the Georgia Medicaid program. In August, they announced several new offerings focused on making big data analytics easier and establishing strong roots for the Internet of Things.
Google, of course, has already made several forays into the cloud-based healthcare data analytics world, not all of which have been particularly successful. In 2014, the search giant's venture capital firm made a $130 million investment in precision medicine and oncology analytics through Flatiron Health.
READ MORE: Top 5 Christmas Gifts for the Healthcare Big Data Analytics Pro
Its current focus on medical devices and chronic disease research bumps up against territory most recently marked out by Apple: the collection and analysis of patient-generated health data. Wearable devices like the Apple Watch straddle the line between consumer coolness and valuable tool to researchers interested in tracking biometrics, a first step towards a healthcare-specific Internet of Things.
IBM, meanwhile, is continuing to push its way into cutting-edge cognitive computing with its Watson platform and newly-formed IBM Watson Health division, which it has swiftly commercialized for use in healthcare provider organizations. With partners like Boston Children's Hospital, the Mayo Clinic, and Epic Systems on its side – and the recent $1 billion acquisition of imaging management expert Merge Healthcare – Big Blue has already solidified a comfortable reputation as a leader in big data analytics, precision medicine, and clinical decision support.
Even Amazon, best known for its massive treasure trove of consumer goods, its bookselling business, and its innovation with logistics, is making inroads into the healthcare space with its HIPAA-compliant cloud storage and data security offerings.
The ink it barely dry on the EMC acquisition, but the questions are just getting started. How and when will Dell turn its attention to healthcare? The fact that Michael Dell himself will be delivering the opening keynote address at the 2016 HIMSS Conference and Exhibition in Las Vegas next February seems like a clear signal that the company's eyes are locked on the health IT space. But where will it fit in to a big data landscape dominated not only by enterprise technology companies, but by some hard-to-ignore healthcare-specific organizations, too?
As the thirst for data-driven solutions to healthcare's information governance, storage, and security problems continues to grow, Dell and EMC may find that they have a great deal of work to do in order to make a meaningful impression in a crowded marketplace.
READ MORE: Will the IoT Bring a Patient Engagement, Interoperability Revolution?
Will the mind-boggling dollar figure behind the acquisition give Dell the muscle it needs to make a dent in the healthcare big data analytics world? Only time will tell if the company has the agility, innovation, and data savvy it needs to attract a significant number of healthcare clients looking to bulk up their analytics offerings.