Three Ways the Internet of Things Can Improve Patient Safety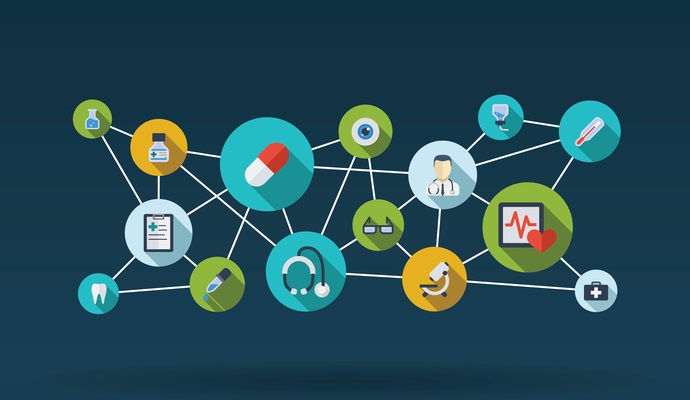 - The Internet of Things may still seem like a futuristic concept better suited for Silicon Valley visionaries than community hospitals and rural primary care clinics, but healthcare's web of connected devices and surveillance systems is growing more complex and sophisticated by the day.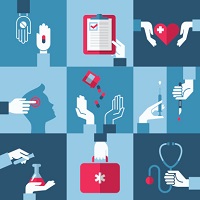 Providers and patients alike are developing a taste for the IoT lifestyle as medical devices, wearables, home monitoring equipment, and electronic health records combine to form a safety net for those concerned with chronic disease management, population health, and the safety of patients before, during, and after a hospitalization or physician consult.
The Internet of Things holds great potential as a tool for patient safety. Interconnected devices placed in the home, by the bedside, or on the wrists of vulnerable patients ensure that caregivers can be continuously watchful and that providers are staying on task with the procedures and workflows that prevent infections, forestall adverse drug events, and continue quality care after discharge.
In this article, HealthITAnalytics.com explores three use cases for the Internet of Things in the realm of patient safety across the ambulatory, inpatient, and home care settings. How are connected IoT devices changing the way providers deliver safe, high-quality care to their patient populations?
Drug surveillance and preventing adverse events
READ MORE: Opioid Awareness Week Focuses on Population Health Management
Adverse event reporting is a complicated task, fraught with confusion over accountability and consequences. Providers may be reluctant to volunteer information about mistakes or oversights, which makes it hard for big data experts and regulators to track and identify harmful pharmaceuticals or other products.
On the inpatient side, the Internet of Things is helping hospitals avoid, mitigate, or predict adverse events and drug safety issues by focusing on integrating medical devices into a smart network of monitoring tools linked to the EHR. Medical device integration may reduce up to half of all patient safety errors, a recent West Health survey found, especially if data flowed automatically to a centralized location to eliminate the potential for human transcription errors or data access delays.
A fully integrated medical device IoT can allow for real-time access to patient vitals and results, allowing providers to make more informed care decisions, flag improper medication administration or dosing, and even form the basis for predictive analytics that can alert the clinical team to a patient downturn hours before a human might make the right connections across vast volumes of data.
In an outpatient context, patient-generated health data from home monitoring devices, wearables, and smartphones are helping researchers develop strategies to boost drug surveillance and patient safety. Patients may not formally complain about side effects or unanticipated impacts that aren't severe enough to land them in the hospital or require major intervention, but they might be using their smartphones and social media accounts to generate important information anyway.
Twitter interactions and Google searches are a promising, if messy, source of big data for patient safety surveillance. While analytics-driven programs like the Sentinel project from the FDA are working on scraping EHR data to flag drug-related adverse events, academics and researchers from multiple organizations are combing through tweets and internet chatter to tease out patterns in patient behaviors when they're on the go.
READ MORE: Finding the Value in the IoT, Patient-Generated Health Data
"Traditional adverse event (AE) reporting systems have been slow in adapting to online AE reporting from patients, relying instead on gatekeepers, such as clinicians and drug safety groups, to verify each potential event," says a study from Harvard Medical School, the FDA, and Boston Children's Hospital. "In the meantime, increasing numbers of patients have turned to social media to share their experiences with drugs, medical devices, and vaccines."
Hand hygiene to cut hospital acquired infections
Hospital-acquired conditions (HACs), especially infections, are one of the top killers of patients in the United States. While the healthcare system has made great strides over the past few years leveraging health IT to reduce the number of deaths from HACs, hospitals still have a long way to go.
The Internet of Things can help. Implementing something as simple as internet-connected hand hygiene monitoring can significantly reduce the number of infections acquired by hospitalized patients, some studies have shown. Coupled with a basic antibiotic stewardship framework, providers may be able to cut their severe infection rates without breaking the bank.
Providers bend the truth shockingly often about their hand hygiene compliance numbers, and less than half of surveyed organizations adhere to guidelines recommended by the World Health Organization and the CDC. Few hospitals use electronic monitoring to keep tabs on their hand washing procedures, but those organizations that have embraced connected compliance have seen nearly immediate benefits from doing so.
READ MORE: Social Media May Provide Big Data Insights into Drug Misuse
In 2014, OhioHealth partnered with IBM to deploy wireless RFID sensors to gather real-time data about staff hand hygiene habits. Linked to a staff member's ID badge, the system tags individuals as they enter and leave patient rooms, tallying how many times they visit a hand washing station when they do so. Compliance jumped from 70 percent to more than 90 percent at one of the hospital campuses involved in the program.
At Greenville Health System in South Carolina and Mt. Sinai Hospital in Toronto, electronic hand hygiene monitoring of compliance with a four-point system for hand washing raised the compliance rate by 30 percent for providers who practiced the guidelines set out by Canadian health authorities, which is similar to the WHO's frameworks.
"There are some clear advantages to using electronic monitoring systems instead of manual processes," explained research leader Dr. Tom Diller to HealthITAnalytics.com. "It's much less resource intensive, because you don't have to recruit somebody to follow people around, watching them. Secondly, it's not intrusive in the patient care at all. And third is that you can get much more real-time results."
"With the old way of doing it, we compiled things on a monthly basis. We'd send out what their hand hygiene rate was in the last month. Well, that doesn't really help drive change, but in these electronic monitoring systems you can get it by day or by week, and you can make changes more quickly."
Monitoring for vulnerable patients in their home environment
Home monitoring is becoming a popular solution for chronic disease management, especially for patients who need frequent supervision, but don't require the intensity of hospital-level care. Telehealth and mHealth programs that foster patient engagement and care coordination through a burgeoning network of Internet of Things devices is helping providers meet the requirements of their value-based reimbursement contracts while improving satisfaction and quality of life for patients who can remain in their own communities.
Tablets and mHealth apps that prompt patients to keep on top of their diabetes, smart pill boxes that tell providers when patients are demonstrating sufficient medication adherence, wireless blood pressure monitors, and Bluetooth scales are all fleshing out the home-based Internet of Things for patients who want to easily and passively track metrics central to their chronic disease management.
While providers may still be having some difficulty integrating and streamlining all of this new patient-generated health data in their EHRs, developing a network of monitoring devices in the home environment can be a relatively inexpensive but highly effective way to improve population health and cut costs.
For heart failure patients, leveraging the Internet of Things at home could reduce 30-day readmissions by up to 50 percent, one study found. An internet-connected scale, paired with phone calls and patient education, also produced sky-high levels of patient satisfaction, with three-quarters of participants believing that remote monitoring was just effective for self-management as an in-person visit by a nurse.
At Banner Health, a home monitoring program for seniors with complex management needs has reaped savings of nearly 30 percent after just two years, keeping patients connected to the healthcare system through the use of simple, intuitive remote monitoring tools.
"Think about all that vital information – the blood pressure, the heart rate – coming in from the patient's home, being run through algorithms," said Dr. Hargobind Khurana, Senior Medical Director of Health Management.
"You might not have to look at every single data point, but if there is an absolute number that is not okay, or if there is a trend that is not acceptable, that gets highlighted and our nurses will evaluate it. They will call the patients, get an assessment of what's going on, and connect with a pharmacist, physician, or social worker depending on what the issue is."
Keeping tabs on patients in the home setting can prevent problems from escalating into major complications that require expensive and disruptive care. Helping patients remain in their own homes doesn't just increase their comfort, but also keeps fragile patients out of the inpatient environment where they may be susceptible to acquiring the type of life-threatening infections that electronic hand hygiene monitoring is supposed to help prevent.
"The idea is that we can identify patients who have higher needs, such as those who have chronic conditions, those who have multiple hospital admissions, or who come into the emergency rooms multiple times – patients who require more of a proactive approach for managing their care," Khurana added. "We have been used to patients who come to the hospital, go home., see their primary care provider a week or two later, and then a few months later, they're back in the hospital again. That's a lot of time without having a connection to that patient. The patient may have no idea that something is wrong."
The Internet of Things is an enormously powerful tool for fostering more frequent, more data-driven relationships with patients between hospitalizations or office visits, reducing the likelihood that a catastrophic event is brewing without the provider's knowledge. As big data analytics systems become increasingly capable of accepting, analyzing, and reporting on patient-generated health data and medical device information created by the IoT ecosystem, providers will be progressively more equipped to predict, mitigate, and prevent adverse patient safety events from taking place in the hospital setting or in the home.