State-Led Programs Help Meet Population Health Management Goals
Several states have developed population health management programs that leverage healthcare data analytics to improve care quality and accessibility while reducing costs.
- While providers work in the trenches to improve patient outcomes and hospital quality, many states have also established population health management programs to boost the region's overall healthcare performance.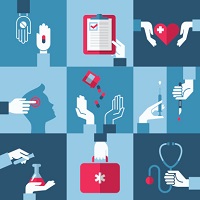 A new online resource from the National Governors Association identifies several recent governor-sponsored programs that work to improve care quality and affordability, especially for specific populations.
"Governors want to improve healthcare delivery across their states while simultaneously lowering costs, even with the strong budgetary pressures they face," said Scott Pattison, CEO and Executive Director of the National Governors Association in a press release.
"Through supporting collaborative efforts among agencies, communities, health advocates, academia, payers and providers, governors can steer action toward a common vision of a transformed healthcare system focused on outcomes."
The case studies provide healthcare stakeholders with best practices and implementation guides for improving population health management and analytics programs. Some of the initiatives focus on using big data analytics to improve healthcare performance, connecting physical and behavioral healthcare, reducing prescription drug abuse, improving rural healthcare delivery, and developing healthcare payment reforms.
READ MORE: 6 Success Factors for Pediatric Patient-Centered Medical Homes
The following state initiatives targeted specific populations and leveraged healthcare data to advance patient outcomes and boost care accessibility.
Michigan uses data dashboards to monitor care quality, population health
In 2011, Michigan installed healthcare data dashboards to track the state's progress with achieving policy goals. The dashboards are designed to inform the public about Michigan's healthcare quality and also help state departments and agencies monitor their status.
One data dashboard is on display for the public, and tracks policy priority indicators using a thumbs up or down grading system for the state's progress. State departments also have access to a scoreboard.
Another component of the initiative provides technical assistance and training for state-led agencies to "support data-informed decision making."
READ MORE: QIO Program Boosts Medicare Care Coordination, Patient Safety
The guide explained that the dashboards have helped to improve population health management programs, such as infant healthcare in Michigan.
After viewing the data dashboards in 2011, the state was prompted to develop resources for parents and providers on reducing infant mortality rates. Thanks in part to the dashboard's continuous monitoring, the infant mortality rate decreased from 7.7 percent in 2012 to 6.7 percent in 2014.
The state continues to track and improve on infant patient outcomes using the healthcare data from the dashboards.
Virginia develops programs to support patients with behavioral conditions
Virginia has established two plans that aim to improve mental healthcare accessibility and reduce costs associated with behavioral health, which can be 75 percent higher than costs for individuals without a mental health condition.
READ MORE: NH Population Health Management Program Cuts Overdoses by 34%
In 2014, Governor McAuliffe developed the Governor's Access Plan, which was designed to provide basic medical services and behavioral healthcare to uninsured Virginians with severe mental illnesses. The CMS-approved plan integrates primary and behavioral healthcare services to better coordinate care for this population. It also expanded Medicaid eligibility for individuals with severe mental illnesses who earn 60 percent or below the poverty line.
The state has also worked on establishing certified community behavioral healthcare clinics. Through a grant from the Substance Abuse and Mental Health Services Administration, Virginia and many other states are able to create clinics that are modeled after federally qualified healthcare centers, but will be specifically focused on behavioral health services.
Vermont addresses heroin and prescription drug abuse through care coordination
Vermont has seen its fair share of the recent opioid epidemic that has nearly quadrupled the rate of drug poisoning deaths related to opioid analgesics in the past decade.
In response, the state's Department of Health designed a hub-and-spoke model for boosting care access through a state Medicaid plan amendment.
Under the model, substance abuse treatment centers function as the hub for intensive and specialty care, while provider's offices and local clinics act as the spokes for follow-up and ongoing support services.
University of Mississippi Medical Center uses telehealth to help rural populations
Rural healthcare practices oftentimes face disadvantages compared to urban organizations, such as physician shortages, increased healthcare burdens from higher levels of poverty, and more substance misuse issues.
The University of Mississippi Medical Center set out to resolve many of these challenges by implementing more telehealth services in rural areas. The initiative facilitates care delivery to less costly care settings in the community rather than distant hospitals or specialty practices.
Through the telehealth program, the medical center has connected community hospitals and clinics, schools, businesses, prisons, and patient homes to facilitate access to teleconsultations with specialists and telehealth training.
Due to the initiative, rural community hospitals in the state have reported decreased staffing costs and increases in admissions. It has also improved care accessibility and patient outcomes for diabetics in the Mississippi Delta through home monitoring.
Dig Deeper:
• 5 Test Cases to Prove the Value of Population Health Management
• How to Use Big Data for Tailored Population Health Management