Slavitt: Affordable Care Act Uncertainty Threatens Value-Based Care
In an interview with HealthITAnalytics, former CMS Acting Administrator Andy Slavitt discusses the Affordable Care Act and the future of value-based care.
Source: Thinkstock
- Since the November 8 election, proponents of the Affordable Care Act have been nervously eyeing the executioner's axe hanging above President Obama's signature healthcare reform package, waiting for the heavily Republican Congress to strike the fatal blow.
After campaigning on promises to repeal and replace the legislation, the country's new crop of lawmakers seems more than ready to move forward with the first part of the process – but may not be quite so prepared to follow through with the second.
Opponents of the law have decried the individual mandate and wrestled over the legality of the tax credits associated with the ACA insurance exchanges, arguing that the legislation is fiscally problematic on several fronts. An immediate repeal would allow Congress to hit the reset button and architect a system better suited to the conservative palate.
But those in favor of the ACA have voiced deep concerns that a staggered repeal-and-replace process would bring untold uncertainty to the health insurance market, destabilizing one of the largest sectors of the nation's economy and preventing patients from accessing necessary services.
Andy Slavitt, who relinquished his position as Acting Administrator of the Centers for Medicare and Medicaid Services on Inauguration Day, counts himself among the latter.
READ MORE: Will MACRA and the QPP Unlock Health Data for Smarter Care?
The ACA doesn't just expand coverage opportunities for millions of Americans and protect millions more from detrimental business practices, he told HealthITAnalytics.com. It also plays a critical role in supporting and enabling the transition to value-based care.
"I worry that we're not going to have the ability to invest in advancing a relationship-based healthcare system supported by better information at the same time that we're dealing with all of this uncertainty over whether or not patients will even have access to care," he said.
"No provider is going to be immune from the negative financial consequences of people losing coverage. If hospitals are going to go back to the days when they had another trillion dollars in bad debt, their ability to invest and move forward is limited."
"That's not to mention the fact that many of the provisions of the ACA are what have allowed primary care medical homes and the Medicare diabetes prevention model to begin to flourish," he added. "Whether Congress intends it or not, those things are jeopardized with an ACA repeal and no replacement."
Pivoting the debate on repeal and replace
Even before leaving his post, Slavitt used Twitter to share his fierce criticism of ACA naysayers, pointing out the benefits of enhanced coverage options, showcasing data on the legislation's cost-cutting and quality improvement impacts, and engaging with anxious patients worried about the implications of changes to the law.
READ MORE: Finalized MACRA Quality Payment Program Requires Big Data Push
He hasn't hidden his frustrations with the tone, scope, and progress of the national conversation on healthcare reform, and spoke candidly when asked if he believes lawmakers are aware of the downstream effects of their prevarications.
"I'm not sure what people are aware of," he said. "Honestly, I don't think there's a very well thought-out plan for what to do next. It's one thing to take shots at Obamacare during a campaign, but it's another thing to govern."
"The President campaigned on making the ACA better. He didn't campaign on taking healthcare coverage away from people. I think that's pretty clear. But the actions of Congress so far seem very counter to that."
"If we were to repeal the ACA without already having passed a replacement plan, it will become extremely difficult to pass any kind of replacement – forget about whether it's a good replacement plan or not."
A total repeal without a firm framework for the future is also an unpopular proposition among voters. In a Kaiser Family Foundation poll conducted in December of 2016, just 20 percent of consumers said Congress should immediately repeal the ACA and worry about a replacement plan later.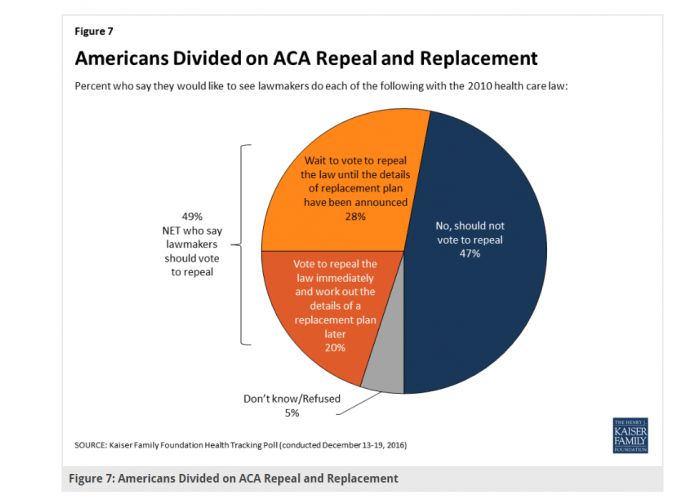 Source: Kaiser Family Foundation
READ MORE: What Does "Pick Your Own Pace" MACRA Mean for Data Analytics?
Twenty-eight percent wanted to review a replacement plan before the repeal process, while 47 percent do not want to see the law removed at all.
"Americans don't want loopholes," Slavitt said. "They don't want insurance companies to be able to go back to the way things used to be. On some level, some people probably through repeal would be simple. I'm not sure the people who said that knew everything that's in the ACA."
"And I'm not sure real Americans, who definitely want things to get better, would agree that it's a good idea to take away the protections they now have and the progress that we've made."
Physicians are even less likely to favor swift action on a repeal without the certainty of something to shore up coverage afterward. Just 15 percent of physicians surveyed by the New England Journal of Medicine favored a comprehensive repeal. That included less than 40 percent of self-reported Trump voters.
The differences of opinion are, of course, heavily influenced by partisan politics, which is part of what makes the current dialogue so problematic, Slavitt said.
"There should be no monopoly on good ideas. There should be no pride of authorship," he said, repeating one of his favorite phrases. "We should be having a different debate. We should be thinking about ideas that are truly better for the American public – that's where we should be as a country."
"I don't believe anyone who worked on the ACA believed it was intended to be the final product. It was intended to be a launching point. If we can expand on its good points, like the fact that it brought insurance to 20 million people and added 10 years to the Medicare trust fund, we should do so in a bipartisan fashion. Then we can judge it a success."
"MACRA has to be a national, collaborative effort" in order to succeed
One piece of legislation that does, in fact, have bipartisan support is the Medicare Access and CHIP Reauthorization Act (MACRA). And in contrast to squabbles over how patients are insured, both sides of aisle tend to agree that value-based care will bring benefits to all stakeholders involved.
The joint support for value-based reimbursement may seem to be at odds with the fact that eliminating the ACA would likely cut the legs out from under many of the population health initiatives and accountable care arrangements that have thrived under Obamacare, but pay-for-performance has not been subject to quite as much bitter politicking as other reform efforts.
That bodes well for the success of value-based care, Slavitt said, but providers have to get on board with the new quality and incentive program sooner rather than later.
"MACRA has to be a national, collaborative effort that's driven locally to reinvent how Medicare works in a way that helps patients and physicians," he stated. "Providers can't just think about how they can reach compliance – because I think we've reduced that burden fairly significantly – but rather how to participate in a process that allows them to get paid to deliver care the way they want to."
Convincing physicians of MACRA's potential – or even alerting them to its presence – is shaping up to be a big ask for the next CMS Administrator.
A recent Merritt Hawkins survey for The Physicians Foundation found that only 20 percent of primary care providers are "very or somewhat familiar" with what MACRA requires, with employed providers and specialists among the least prepared to participate in the program.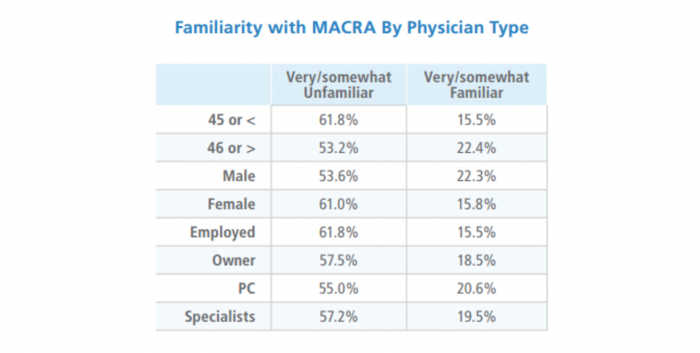 Source: Merritt Hawkins / The Physicians Foundation
Providers who don't take the opportunity to familiarize themselves with the penalty and incentive structure of the program that will replace meaningful use for eligible physicians are setting themselves up for painful reimbursement cuts, Slavitt warned.
"If everyone sits around and fails to use this period of time and just puts their heads in the sand or says they're not going to participate, then they're not going to be happy with the outcome," he said.
"CMS aspires to develop a fully participative process where burden is reduced, physicians have more time to spend with patients, and we can create more models which can pay for what is truly working. We should create a set of tools for each of the communities to make the progress they're ready to make as they make it."
Hitting the value-based care tipping point
Regardless of what happens with the Affordable Care Act in the next few weeks or months, MACRA and the nation's other value-based care initiatives are unlikely to fade away completely.
CMS is soon expecting more than 350,000 clinicians to participate in either the Medicare Shared Savings Program (MSSP), Next Generation Accountable Care Organization (ACO) model, Comprehensive End-Stage Renal Disease Care model, or the Comprehensive Primary Care Plus (CPC+) program.
And interest in the new MSSP Track 1+ Model, which qualifies as an Advanced Alternate Payment Model (APM) under MACRA, has also been strong since its introduction late in 2016.
The movement towards the adoption of risk-based financial models in Medicare as well as the private sector is bringing the industry closer to Medicare's payment reform goals of having more than half of all payments in some sort of value-based construct by 2018.
"It's a good measurable benchmark," said Slavitt. "It sends a signal to physicians that we are getting very close to that tipping point."
No matter what ultimately becomes of the Affordable Care Act, Slavitt hopes that value-based care will become the default setting for clinical decision making, no matter what insurance an individual patient is using.
"I don't think we're that far away from the point where physicians will always employ high-value care strategies instead of volume-based decisions, because they will be much more likely than not to get rewarded by payers for doing so. We want to get to the place where they will always get paid more for value than anything else. I don't think we're that far away."