Predictive Analytics, Care Management Combine for Value-Based Care
Predictive analytics and comprehensive care management are the "glue that holds together every value-based care program," says Dr. Terri Steinberg.
Source: Christiana Care
- Healthcare organizations shifting away from fee-for-service, encounter-based care models often find themselves adding traditionally non-billable services to their care management repertoires in an effort to get ahead of chronic diseases and deliver truly comprehensive care.
Enhanced services such as proactive care management, social work, and admission, discharge, or transfer (ADT) alerts all add value to the patient experience while helping providers stay on top of their high risk populations.
But organizations may find it difficult to overcome the financial gap that can develop when bonuses for meeting quality benchmarks are smaller than the costs involved in getting there.
The challenge gets even more complicated when certain segments of the provider's population are subject to risk-based arrangements and others are not.
READ MORE: Using Risk Scores, Stratification for Population Health Management
Providers are moving slowly and carefully into the value-based environment, and may still be dabbling in piecemeal contracts that cover some patients with certain conditions, but leave others in different financial situations.
Understanding exactly what costs are involved in managing an individual within a certain value-based care program can be nearly impossible if those investments are comingled with traditional care delivery spending or occur outside of the payer-provider relationship entirely.
Visibility into patient outcomes is also critical, requiring healthcare organizations to invest in predictive analytics tools that can meld clinical and financial data with newer sources of insight, such as socioeconomic and community information.
At Christiana Care Health System, which serves the state of Delaware and surrounding regions, overcoming the question of financial success in the value-based care environment required developing a new perspective on care management that incorporated solutions to multifaceted financial and clinical problems.
After fine-tuning the health system's population health management approach under a Center for Medicare & Medicaid Innovation (CMMI) grant from 2012 to 2015, Terri Steinberg, MD, MBA, Chief Health Information Officer and VP of Population Health Informatics, came to some important conclusions.
READ MORE: Over 80% of Nurses See Increased Role in Patient Management
"The very things that we can't drop a bill for are among the most important factors in care," Steinberg said to HealthITAnalytics.com. "You don't always think about the 'soft deliverables' involved in population health, such as social work and coordinating with the pharmacy to make sure patients can afford their medications."
"But without providing those services to your patients, you are not going to be able to get out in front of those expensive conditions that could develop down the line. It was very eye-opening for us, at the time, to realize just how little traditional fee-for-service medicine accounted for the flexibility needed to care for the entire patient."
By the middle of the decade, value-based care was just starting to gain real momentum as the majority of healthcare organizations transitioned from adopting EHRs to learning how to utilize them.
The big data required to support large-scale population health management had started to become available, and forward-looking organizations like Christiana Care were eager to start using it.
"By 2015 and 2016, it was apparent that value-based payments were really on their way to taking over from fee-for-service," recalled Steinberg. "Because we had experience with the analytics technologies we developed under our CMMI grant, value-based care seemed like the right direction to us."
READ MORE: The Difference Between Big Data and Smart Data in Healthcare
"We attempted to acquire as much risk as possible, because risk is the only way to truly assess what services are important and create the pathways to deliver those services in the best possible way."
Christiana Care took a unique step to ensure that the organization could accurately monitor its spending and patient outcomes, Steinberg explained.
"We ended up creating a fully-owned care management company called Carelink CareNow," she said. "We use it as the vehicle for providing care management patients to Christiana Care patients."
Carelink CareNow manages around 180,000 lives as a wholly-owned subsidiary of Christiana Care. A combination of homegrown and commercial analytics tools help to support its numerous value-based contracts, including direct-to-employer contracts and its participation in the Medicare Shared Savings Program.
"It allows us to assess our costs very accurately," said Steinberg. "If all goes well, we share savings. If it doesn't go well, we write a check. It's a different model than the hospital system of Christiana Care, which is not-for-profit. Separating out the financials lets us run this like a business and understand exactly what is going into and coming out of these contracts."
The financial precision that is so important in a risk-based environment is built upon accurate and comprehensive data from clinical record, claims, and community sources.
Predictive analytics are particularly valuable when trying to minimize spending on patients with higher risks of emergency department visits, hospital admissions, or other adverse events.
"The strength of our analytics is only as good as the dataset we're using," said Steinberg. "We have almost all of the clinical data for our population, plus the claims. We already have some social data, and we're looking to continually enhance our datasets with economic and community data."
"There's a lot we can learn from asking how far they live from a highway or how many times they've changed their home address within the last 12 months. Those are markers that could indicate certain gaps or instabilities in their socioeconomic situation."
Socioeconomic data is gaining in value among healthcare organizations that trying to improve their risk scoring and predictive abilities, and many stakeholders are currently investing in accruing as much data as possible to feed their algorithms.
However, some recent research has suggested that adding more socioeconomic variables may not measurably improve the accuracy or utility of risk scores, and Steinberg agrees that more isn't always better when it comes to big data.
"There is always the question of quantity versus quality when you're talking about analytics," she said. "Just like other organizations, we have spent millions and millions of dollars, as well as a lot of time and effort, accumulating a vast dataset for the people we manage."
"We have been pretty successful with running predictive analytics against it, but the increasing financial pressures have made us rethink some of what we used to do as a matter of course. When you have to justify every single solitary cent, you want to make sure you aren't spending more than you have to on acquiring and managing data."
A slimmed down dataset that contains only the factors most strongly correlated to targeted outcomes could provide similarly robust results with fewer costs, Steinberg theorized.
"We want to try to develop the simplest prediction score possible, based on the least amount of data that's the easiest to get," she said. "Then we can add other data back in to that baseline and see which types of information really improve the predictive analytics and which might not be worth pursuing."
"The key is to find the factors that have the strongest predictive value, and to measure whether we can achieve the same insights by relying on fewer, stronger data points about our patients."
The work to create optimized risk scores based on quality data is ongoing as Christiana Care analyzes costs and outcomes within its risk-based reimbursement portfolio.
The goal, Steinberg says, is to make sure that Carelink's care managers always have the most actionable information in front of them without being distracted by data that doesn't directly inform their decision-making.
"Like a lot of organizations, we used to give the care manager team a list of 1200 people and say, 'here are your riskiest patients,'" she explained.
"But realistically, what are they going to do with that ream of information on a day to day basis? Risk scores can be elevated for a variety of reasons, and if you don't know exactly what that individual's risks are and what interventions are available to help manage that concern, you're not going to benefit much from just having a big list of names."
Carelink providers a number of additional data points and tools to supplement the care management process. Patients get automated text messages to connect them to wellness surveys or phone calls to check in on those with ongoing needs.
"My care managers are also notified when there's an ED admission anywhere in the state of Delaware," said Steinberg. "They get a real-time alert on their desktop that Mrs. Jones showed up in the ED – plus, they get information on Mrs. Jones' risk score."
"So if she's in the lowest risk category, she might not need a call right away. But if she's in the highest risk category, that care manager can act extremely quickly to see what's going on and what can be done to make sure Mrs. Jones is taken care of."
Care managers also have access to clinical data, she added, including lab results and other records from more than 100 physicians practicing in Delaware through the statewide Delaware Health Information Network (DHIN).
"DHIN is one-stop shopping for clinical data," said Steinberg. "Ninety-seven percent of clinical results flow through our statewide HIE."
"We have nine hospitals in Delaware – that sounds like a very small number, but imagine having to make connections between each of those hospitals and ensuring that all of them are exchanging data with everyone else, including all of the physician offices in the region. That's a very complex task that DHIN helps handle for us."
The combination of predictive analytics, health information exchange, and actionable data available within the care management workflow has helped Carelink achieve significant reductions in utilization and readmissions, Steinberg shared during a presentation at HIMSS18 in March.
Since Carelink launched in early 2015, the health system has seen a 29.9 percent increase in hip and knee replacement patients discharged home to family caregivers or home health aides after surgery.
The organization has also reduced 90-day readmissions for total hip or knee replacement patients by more than 30 percent.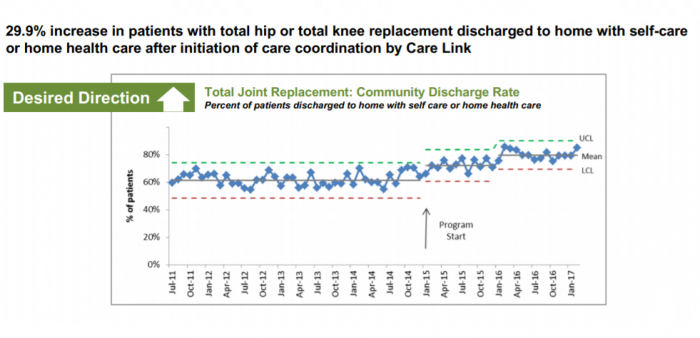 Source: Christiana Care Health System
Congestive heart failure patients have seen similarly positive results. Carelink helped bring about an 11.8 percent increase in CHF patients discharged to the home environment and a 13.9 percent reduction in unplanned 90-day readmissions.
"Care management is the glue that holds together every value-based care program," Steinberg stated.
"Historically, the healthcare system hasn't been able to create that stickiness between visits to keep patients engaged and make sure they're staying as well as possible. It's a new space for the vast majority of providers, and it isn't easy to move from an encounter-based mentality to a much more holistic view of how to provide care."
While data analytics and health IT tools play an important role in supporting care management processes, the first step is to define the organization's goals and develop the workflows that can support those targets, Steinberg advised.
"You can't do everything at the same time," she said. "Set up your clinical practices first, then decide what you want to automate. Develop a data integration methodology and then try to use systems that are now commercially available to achieve those goals. There are so many tools available now that you don't have to run your own software developer business."
Every organization is operating in its own unique environment with different levels of resources and skills, Steinberg acknowledged, and finding the right combination of analytics technology, communication, patient engagement, and provider workflows may require a little bit of trial and error.
"Delivering care in the most efficient, effective way is going to mean something slightly different to every organization, depending on their experience, their patient populations, and their specific goals," she said.
"But we can all agree that if we can get better at getting ahead of expensive events, our patients are going to do well and our costs are going to go down. The most important part of data-driven care management is making sure that everything you're doing adds real value for your patients. If you keep that at the forefront, you're going to be able to develop programs that have a major impact on how you deliver care."