PCMHs, ACOs More Likely to Use EHRs for Population Health
New research from the ONC and CDC finds that patient-centered medical homes and ACOs with EHRs in 2012 were more likely to succeed with population health management.
- A new survey published this month in the American Journal of Managed Care found that providers who had adopted EHRs in 2012 were significantly more likely than non-users to engage in population health management, patient communication, and care coordination activities.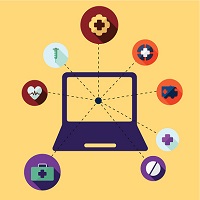 Those providers who were participating in advanced care delivery frameworks, including accountable care organizations and the patient-centered medical home, reported much more frequent use of their electronic health records for routine coordination and care tasks than those who were still operating under traditional care and payment models.
Using data from more than 2500 responses to the 2012 National Ambulatory Medical Care Survey (NAMCS) Physician Workflow Survey, researchers from the ONC, the CDC, and Mathematica Policy Research examined the relationship between electronic health record use, quality improvements, and emerging alternative payment models.
The team, including Jennifer King, PhD and Vaishali Patel, PhD, found that 62 percent of office-based physicians were using an EHR system, and just under half were certified to meet meaningful use criteria.
At the time, 16 percent were participating in an accountable care organizations, and 9 percent had adopted the patient-centered medical home framework. Four percent of providers were participating in both advanced care delivery initiatives.
READ MORE: Specialists Get Higher Marks than PCPs for PCMH Satisfaction
Overall, eighteen percent of physicians were part of an ACO or PCMH which was actively using an electronic health record system.
Eighty-nine percent of providers, including those without EHRs, routinely performed at least one care coordination process, the survey revealed. Sixty-nine percent engaged in patient communication, while 67 percent completed population health management tasks. Fifty-eight percent of respondents said they provided their patients with reminders for follow-up or preventative care.
EHR users were fifteen percent more likely than non-users to engage in population health management processes and 25 percent more likely to communicate effectively with their patients.
For physicians who had adopted the patient-centered medical home model or joined an ACO, the likelihood of participating in EHR-driven patient management activities was even higher. PCMH and ACO providers were nearly six percent more likely than other EHR users to conduct care coordination processes, and 12 percent more likely than traditional EHR users to provide population health management services.
This means that providers in a patient-centered medical home or accountable care organization environment were approximately 27 percent more likely than non-EHR adopters to routinely provide population health management services and almost forty percent more likely to communicate with their patients.
READ MORE: NCQA Revamps Patient-Centered Medical Home to Ease Adoption
While the finding falls in line with similar research that pins PCMH and ACO participation to higher levels of care quality, the study authors pointed out that the survey results "are based on single survey items and may capture participation in arrangements with varying levels of intensity."
"For example, the group of physicians reporting PCMH participation may include physicians in practices with formal PCMH certification from an accrediting body," the study continued, "as well as physicians participating in other medical home initiatives with less rigorous requirements."
The type of EHR used by the respondents, as well as the provider's familiarity with the technology, also impacted how they designed their workflows around population health. Providers using EHRs certified for use in the EHR Incentive Programs were 15 percent more likely than other EHR users to routinely perform at least one care processes in a computerized manner.
Early adopters were more likely than newcomers to automate their care processes, though the survey did not find that the use of consultants, training staff, or other technical assistance during the implementation process made a difference in how often providers automated certain patient management tasks.
"Given the cross-sectional nature of this study, these results do not establish a causal relationship between payment reform, EHR use, and these care processes," the researchers caution. "Nonetheless, this finding is consistent with other research that shows that healthcare providers are most likely to perform these care processes when practicing in a payment environment that incentivizes and supports such care."
READ MORE: NCQA: Patient-Centered Medical Home No Longer "Unduly Onerous"
The study adds that Stage 2 meaningful use, which was just coming to fruition at the time of data collection, targeted many of the lesser-used care coordination and population health management objectives, including disease-specific risk stratification lists, outreach activities, and the requirement to provide a summary of care to patients after their visit.
While the data is now several years old, it illustrates the beginning of a trend that has continued through the development of the healthcare reform landscape. Patient-centered medical home participants, as well as many accountable care organizations, rank among the most effective users of EHRs – and among the top cost-cutters in the nation.
A 2014 study found that PCMH providers using EHRs delivered more coordinated care and exhibited higher levels of quality improvement than their peers, while annual reports from the Patient-Centered Primary Care Collaborative routinely illustrate how advanced care delivery models keep costs low and quality higher than other primary care frameworks.
"Although EHRs are not required for participation in all types of PCMH or ACO programs, it is widely believed that providers need a robust health IT infrastructure to be fully successful in these payment and delivery arrangements," the study concludes.
As the healthcare system continues to push deeper into the realm of value-based reimbursements, such as those used as quality improvement levers in an ACO environment, providers may wish to spend some time examining if they are using their EHRs to their fullest, and how to optimize their health IT systems if they are falling short of their goals.