Microsoft, Walgreens to Leverage AI for Retail-Style Healthcare
Microsoft and Walgreens will apply artificial intelligence to improving chronic disease management and retail-style patient experiences.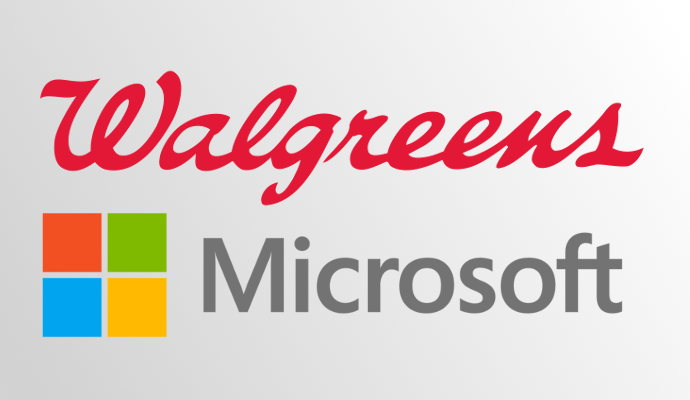 Source: WBA / Microsoft
- Microsoft and Walgreens Boots Alliance (WBA) are collaborating to apply artificial intelligence to the challenges of developing retail-style healthcare interactions.
The two companies will work together to create innovative, cost-effective, consumer-centered healthcare experiences that leverage cloud-based data technologies and AI-driven strategies.
Better chronic disease management, improvements in overall population health, and more effective patient engagement tools are among the top priorities for the initiative.
"Improving health outcomes while lowering the cost of care is a complex challenge that requires broad collaboration and strong partnership between the health care and tech industries," said Satya Nadella, CEO, Microsoft.
"Together with Walgreens Boots Alliance, we aim to deliver on this promise by putting people at the center of their health and wellness, combining the power of the Azure cloud and AI technology and Microsoft 365 with Walgreens Boots Alliance's deep expertise and commitment to helping communities around the world lead healthier and happier lives."
The multi-year collaboration will include research and development investment to improve outcomes and reduce the costs of care. The companies will share subject matter experts, technologies, and tools while simultaneously exploring new opportunities to enter high-value markets.
In 2019, Walgreens will launch a pilot of up to 12 store-in-store "digital health corners" designed to showcase and sell "select healthcare-related hardware and devices," according to a press release.
"Our strategic partnership with Microsoft demonstrates our strong commitment to creating integrated, next-generation, digitally enabled health care delivery solutions for our customers, transforming our stores into modern neighborhood health destinations and expanding customer offerings," said Stefano Pessina, executive vice chairman and chief executive officer of WBA.
"WBA will work with Microsoft to harness the information that exists between payers and health care providers to leverage, in the interest of patients and with their consent, our extraordinary network of accessible and convenient locations to deliver new innovations, greater value and better health outcomes in health care systems across the world."
Data analytics and artificial intelligence will be a major focus for the partnership, Microsoft and Walgreens reiterated.
The two entities will focus on connecting Walgreens health information systems to consumers through personal digital devices in an effort to improve the consumer experience and ensure patients have access to personal health data that may help them maintain wellness.
"The integration of information will enable valuable insights based on data science and artificial intelligence that can allow for fundamental improvements such as supporting the transition of health care data into more community-based locations and sustainable transformation in health care delivery," the two companies stated.
"Working with patients' health care providers, the companies will proactively engage their patients to improve medication adherence, reduce emergency room visits and decrease hospital readmissions. Core to this model is data privacy, security and consent, which will be fundamental design principles, underscored by Microsoft's investments in building a trusted cloud platform."
Microsoft and Walgreens will develop a series of applications targeting chronic disease management, patient engagement, and the Internet of Things (IoT). The applications and associated devices will be powered by Microsoft's cloud, AI, and IoT technologies.
Payers, providers, and pharmaceutical companies will be invited to participate in creating a seamless ecosystem of organizations that span the care continuum. These stakeholders will be critical for delivering continuity of care and ensuring that consumers have positive experiences with all of the various entities involved in their care.
As part of the agreement, Microsoft will become WBA's strategic cloud provider, the companies also announced. WBA will migrate most of its IT infrastructure onto Microsoft Azure, and will roll out Microsoft 365 to more than 380,000 employees.
The announcement follows several moves by Walgreens to maintain a competitive edge in a quickly growing retail health environment.
With CVS's acquisition of Aetna now complete, Walgreens has strong incentive to expand its data-driven care capabilities and differentiate itself through the delivery of innovative patient experiences.
The company recently announced a partnership with Verily, an Alphabet company, to improve chronic disease management. Walgreens will become a first-choice retail pharmacy and commercialization partner for Verily, which is the life sciences arm of Google.
The pharmacy and retail chain is also undertaking a collaboration with Humana to operate primary care clinics and expand access to care for beneficiaries, and separately launched an online telehealth marketplace to expand access to remote care services for its consumers.