Market Growth Ahead for Healthcare Big Data, Internet of Things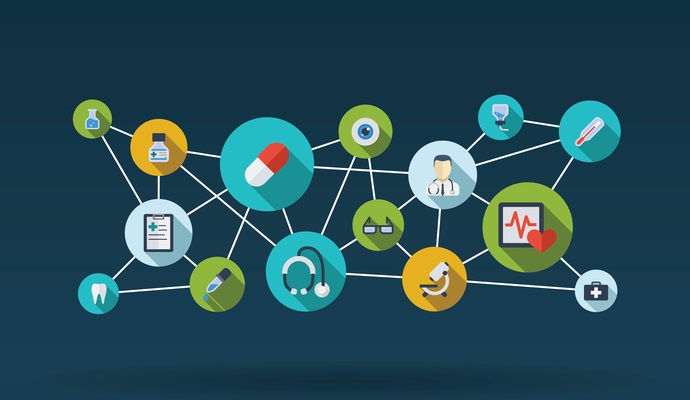 - As healthcare big data analytics competencies become more and more important for the provider community, opportunities for sales and installations are growing accordingly. Despite financial constraints and the looming threat of disruptive mandates like ICD-10 and Stage 3 meaningful use, providers are still paying close attention to their strategic technical upgrades.
The demands of quality reporting, clinical documentation, and patient risk stratification to support population health management and value-based reimbursement are leading to major investments in EHRs, data warehouses, health information exchange, the Internet of Things, and health IT interoperability.
As the EHR replacement market continues to burn strongly and providers seek complementary products to round out their health IT capabilities and improve the quality of patient engagement and the patient experience, what are some of the most notable opportunities for market growth within the healthcare system?
Healthcare analytics market to be worth $18.7 billion by 2020
The majority of providers may still be wrestling with descriptive and retrospective big data analytics, which will continue to fuel the market for many years to come, but predictive analytics are also catching the eyes of forward-thinking executives. Continuous infrastructure upgrades and add-ons to harness the power of big data will drive the global healthcare analytics market upward at a compound annual growth rate (CAGR) of 26.5 percent until 2020, according to a report from MarketsandMarkets.
The market, currently worth approximately 5.87 billion, will grow into an $18.7 billion juggernaut as a fragmented landscape condenses around the desperate need for actionable insight s.
"Factors such as the rise in pressure to curb healthcare costs, Meaningful Use incentives, availability of big data in healthcare, technological advancements, and increase in venture capital investments are propelling the growth of healthcare analytics market," says the press release. "On the other hand, the operational gap between payers and providers, lack of skilled personnel, and high cost of analytics solutions may restrict market growth."
Biometrics in healthcare may become a $12.5 billion opportunity
For healthcare providers, the Internet of Things may be chiefly constructed of smartphones, medical devices, and remote monitoring technologies at the moment, but that may start to change when biometric sensors begin to take root in a variety of different applications. From administrative processing to patient safety and workflow improvements, biometrics has the potential to revolutionize authentication processes, patient identification and security, pharmacy dispensing, and remote monitoring, says a Tractica research report.
By 2024, new biometric-based technologies integrated into EHRs and other infrastructure staples could push the novel marketplace to $12.5 billion due to exponential growth, particularly in the Asian market.
"The outlook is strong for healthcare biometrics, however it remains a nascent market," says principal analyst Bob Lockhart. "Success stories are scarce; even large healthcare networks are barely dipping their toes into the water, with early proofs of concept."
Dedicated telemedicine, mHealth devices to reach $2.9 billion in sales by 2019
The Internet of Things will continue to grow in its current direction, too, as providers invest in dedicated telemedicine and mHealth devices. While the dedicated device and service market was worth $8432 million in 2012, that number is expected to grow to nearly $3 billion by 2019, says WinterGreen Research.
Telemedicine and mHealth are becoming critical supports for population health management, remote monitoring, and chronic disease management, allowing patients to take increasing control of their health and wellbeing without constant trips to the physician's office. As smartphone use continues its rapid upward trajectory, the possibilities for healthcare providers to remain in contact with their vulnerable patients will foster long-term financial opportunities for vendors in the mHealth space.
Global clinical documentation transcription market expected to be worth $60.6 million in 2019
A 5.6 percent CAGR will push the clinical documentation transcription marketplace from $41.4 million in 2012 to $60.6 million in 2019, says Transparency Market Research, as providers bow to the pressures of seeing more patients in less time while wrestling with unwieldy electronic health records. The North American market for transcription is valued at more than $18 million, and is expected to show a 5 percent CAGR until 2019.
Outsourcing held a 62 percent share in the 2012 medical transcription market, the report states, with many providers sending their documentation offshore to Asian countries like India and the Philippines. Consultation report transcription makes up the biggest segment of this industry, projected to be worth $21.1 million by the end of the forecast period.