Just 30% of Mentally Ill Patients Screened for Chronic Disease
Few patients with severe mental illnesses receive appropriate chronic disease management services, a new study finds.
- Adults suffering from severe mental illnesses are rarely screened for chronic diseases including Type 2 diabetes, according to a new research letter published in the Journal of the American Medical Association (JAMA) this month.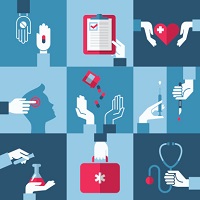 Just 30 percent of adults with significant mental illness covered by the California Medicaid system received recommended annual diabetes screenings, despite the fact that antipsychotic medications used to treat schizophrenia and bipolar disorder increase the risk of developing Type 2 diabetes.
The researchers examined historical data from more than 50,000 patients between 2009 and 2011. While thirty percent received diabetes-specific screenings and an additional 39 percent had their blood glucose measured as part of general testing, the remaining 31 percent did not undergo any blood glucose tests that might flag the development of diabetes.
Patients who supplemented their mental health care with at least one primary care visit in a twelve-month period were significantly more likely to be screened for chronic disease than those patients who did not engage with the primary care system.
"This observation supports the value of burgeoning efforts to integrate behavioral health and primary care. Growing evidence supports the value of screening for diabetes mellitus in higher-risk populations, such as those receiving treatment with antipsychotic medications, including first-generation and second-generation agents that commonly result in co-occurring obesity," said the authors of the study, who hailed from across the University of California system. "Future studies should explore barriers to screening in this vulnerable population."
Patients with serious mental illnesses are likely to die around 25 years earlier than the general population, the article says, due in large part to premature cardiovascular disease. The American Diabetes Association recommends annual screenings for patients receiving antipsychotic medications, yet few studies exist that gauge whether these services are being provided appropriately.
However, mentally ill patients aren't the only ones who may be missing out on important diabetes assessments. Recent data from a separate JAMA article published in September states that more than a third of Americans with Type 2 diabetes are unaware that they are living with the disease.
"In the overall population, the unadjusted prevalence was 14.3 percent for total diabetes, 9.1 percent for diagnosed diabetes, 5.2 percent for undiagnosed diabetes, and 38.0 percent for prediabetes," wrote the authors from the National Institutes of Health, the CDC, and Social & Scientific Systems Inc.
In an editor's note accompanying the University of California article, Mitchell H. Katz, MD, deputy editor of JAMA Internal Medicine and director of the Los Angeles County Department of Health Services, points out that insufficient access to population health management data from public health services is a limiting factor in researchers' ability to understand chronic disease management and screenings in vulnerable sub-populations.
"To improve care for persons with serious mental illness, it will be necessary to break down the silos that separate the mental health and physical health care systems," he says. "Integrated care (care provided by a team of physical and mental health clinicians) – or at least co-located care (care provided by physical and mental health clinicians in the same place) – offers the promise of improving the physical health of individuals with mental illness, as well as the mental health of those seeking physical health services."
Healthcare stakeholders like the American Medical Association (AMA) and the CDC are attempting to reduce the prevalence of undiagnosed and untreated Type 2 diabetes with educational programs, outreach strategies, and improved guidelines for healthcare providers.
"This isn't just a concern. It's a crisis," said former AMA President Robert M. Wah in March of 2015, when the Association launched its joint diabetes prevention program with the CDC. "And it's not just taking a physical and emotional toll on people living with pre-diabetes. It's also taking an economic toll on our country. More than $245 billion each year in healthcare spending and reduced productivity is directly linked to diabetes."
The AMA, in association with AmeriCares, has also announced a grant program aimed at helping pre-diabetics avoid developing more serious forms of the disease. The initiative will provide seven clinics with $10,000 each to create population health management programs that coach patients through weight loss, blood glucose control, and increased physical activity.