Internet of Things for Healthcare May be Worth $410B by 2022
The Internet of Things for healthcare is on its way towards unprecedented market growth, according to a series of new reports.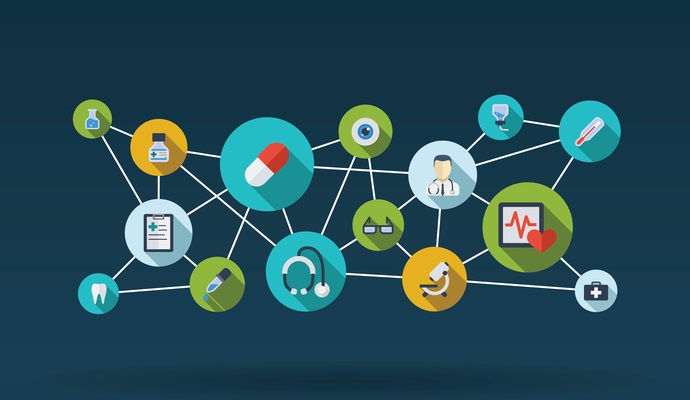 - The Internet of Things for healthcare is poised for explosive growth over the next six years, predicts a report from Grand View Research.
Wearables, smart devices, implantables, and a slew of patient monitoring devices in the hospital and the home are likely to push the healthcare IoT ecosystem to a whopping $409.9 billion in value by 2022.
The continued rise of chronic diseases will be primarily responsible for creating Internet of Things opportunities, the report says, as patients search for tools and technologies that will allow them to manage their conditions in a passive, effortless way.
Aging patients who wish to remain independent in their homes as long as possible are also likely to invest in IoT technologies that create a safety net of data-driven monitoring to predict downturns, manage risk, and prevent crisis events.
While wearable devices such as fitness tracking bracelets have thus far dominated the IoT landscape with more than 60 percent of the market share in 2015, implantable medical devices, including cardiac monitors and diabetic management systems, are slated to comprise 30 percent of the market by the middle of next decade.
READ MORE: Wearable Devices, Machine Learning Detect Signs of Stroke
Because implantable devices and medical-grade technologies often originate in the hospital or clinic setting, these organizations currently rake in approximately one third of the revenue associated with the Internet of Things in healthcare.
IoT tools specifically geared towards improving patient safety or patient experience inside the organization, such as connected hand hygiene monitoring, are also contributing to investment and revenue. Healthcare organizations are also exploring the adoption of RFID tags for asset management as well as smart pills and smart beds that proactively monitor patients.
Ingestible sensors alone may be worth $678.2 million by 2022, says a recent report by ReportLinker. Cameras for imaging tests and ingestible monitors for vital signs and chronic diseases are currently in development, and could significantly expand the marketplace by the end of the projection period.
Healthcare monitoring tools will contribute to the $250 billion market opportunity for machine-to-machine (M2M) technologies that will arise by 2020, according to a report by SNS Research.
M2M tools, or connected devices that communicate without requiring human intervention, form the foundation for the Internet of Things. Healthcare is slated to become an important vertical in this market segment as interest in IoT tools continues its rise.
A MarketsandMarkets brief from April also states that IoT "gateway" devices, including smartphones, tablets, and smartwatches that allow users to interface with connected sensors, are likely to bring $12.64 billion to developers over the next six years.
Despite the fact that the healthcare system is currently struggling with the data governance and integration competencies required to take full advantage of patient-generated health data produced by the IoT, the industry is among the earliest to see the potential of connected devices.
A 2015 survey found that healthcare organizations were among the 30 percent of cross-industry businesses that had already adopted limited Internet of Things strategies to solve pressing business concerns. For healthcare, these include patient engagement, chronic disease management, and patient safety.
The Internet of Things also made the ECRI Institute's 2016 watch list for hospital executives in January.
"Wearable sensors hold promise for both outpatient and inpatient monitoring as they continuously monitor health status less obtrusively, capture and provide more data to clinicians, and possibly enable patients to leave the hospital sooner and prevent readmissions," the report said. "Wearable sensors have potential to cut the cord for inpatient physiologic monitoring and can potentially provide continuous, unobtrusive monitoring pre-, intra-, and post-surgery."
ECRI suggests that IoT devices may have applications for monitoring Alzheimer's and dementia patients, managing patients with Parkinson's disease or those who have experienced strokes, and even predicting epileptic seizures.
These capabilities will become increasingly important as the American population ages and the healthcare system continues to seek innovative strategies to cut spending across the care continuum.
The IoT may also be valuable for precision medicine research efforts that are attempting to find cures for many of these diseases.
"The ability to collect data on trial participants between clinic visits provides important additional information about the effects of treatment and can supplement and sometimes replace data recorded during visits to study sites," said a survey from the Association of Clinical Research Organizations earlier this month.
"In addition, real-time access to these data enhances both subject safety and the monitoring of compliance during the trial, as well as providing data that can be rapidly accessed to enable the execution of adaptive designs."
Respondents to the survey said that real-time patient data captured from IoT devices is likely to produce a "substantial beneficial impact" on medical research and patient monitoring within the next two to five years, just as market growth is hitting peak acceleration.
"As the world moves from the fairly controllable and stable realm of enterprise-based technology applications…to the emergence of personalized or individual-based technology, [the Internet of Things] has the power to unlock powerful data streams if it can be leveraged properly and the industry is willing to adopt them," ACRO concluded.
---
Dig Deeper
---