How Care Management, Care Coordination Differ in Health IT
Care management and care coordination are not interchangeable terms in the health IT world. How do they differ and why does it matter?
Source: Thinkstock
- The terms "care management" and "care coordination" are starting to take on slightly different flavors in the health IT world as software companies create new offerings for the growing value-based care marketplace, says a new report by Chillmark Research.
Healthcare organizations are exhibiting a growing appetite for patient management tools to support population health management and outcomes-based care strategies, while paying particular attention to systems that can help them avoid quality penalties, prevent unnecessary utilization, and stay within the financial bounds of bundled payment programs.
The strong emphasis on the reimbursement implications of value-based care arrangements is leading providers to invest in tools that take a more episodic approach to patient management instead of broader longitudinal care plans that encompass the entirety of a patient's needs.
The most popular type of care management tools segment patient care into 30 or 90 day episodes, the report says, helping organizations manage financial risks in a concrete manner.
"The strategic vision of a broad focus on coordinating care has given way to a more tactical focus on managing care," says the report.
READ MORE: Turning Healthcare Big Data into Actionable Clinical Intelligence
The shift indicates that the industry is taking a closer look at how to define the differences between "care management" and "care coordination."
"Care management occurs in the hospital, while care coordination takes place in myriad settings – including post-acute settings such as the inpatient rehabilitation facility, the skilled nursing facility (SNF), and the patient-centered medical home," Chillmark explains.
"The former is largely clinical; the latter is contingent on numerous and varying social determinants of health. Care management, at its core, focuses on high-touch and episodic interactions; care coordination attempts to provide more longitudinal or holistic care."
Source: Chillmark Research
Each of these tasks requires a slightly different set of stakeholders and its own unique health IT functionalities. Care management tools depend more heavily on having access to clinical data to ensure that providers can make informed, proactive decisions about an individual's acute needs.
READ MORE: Preventing Big Data Pain Points During a Healthcare Encounter
Care coordination, on the other hand, requires enhanced access to data about a patient's social determinants of health in addition to their clinical status.
Care coordination tools must also communicate with external members of the care team, such as mental health providers, post-acute care facilities, and home healthcare providers in order to ensure that patient concerns are addressed holistically.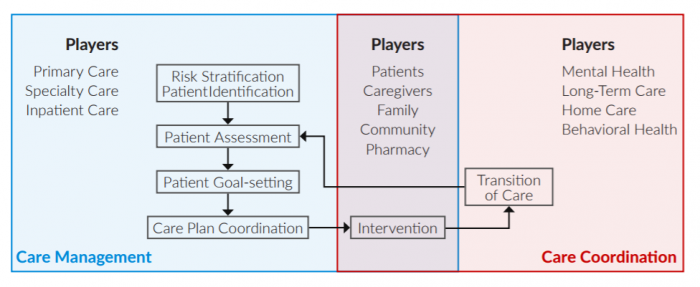 Source: Chillmark Research
Data aggregation and analytics capabilities are central to both care management and care coordination, but software should include a set of functionalities tailored to the exact needs of each segment of the care team.
Providers in search of new care management and care coordination tools may wish to ensure that their prospective systems can accommodate the following functions.
Care management software functionalities
READ MORE: How to Choose the Right Healthcare Big Data Analytics Tools
Care management tasks, as defined by the report, tend to take place in the inpatient setting. As a result, health IT tools tailored to these workflows focus on the coordination and communication needs of acute care providers.
Patient program enrollment based on risk scores. While some health IT offerings automatically enroll patients in acute care management programs using clinical or financial risk scores, providers generally prefer to take the process into their own hands, Chillmark says.
Manual enrollment allows staff to assign patients to specific providers based on the expertise and workload of individual clinicians, which may help to smooth workflows and ensure quality care. It also allows nurses or care coordinators to gather patient input during the enrollment process and assign complex patients to the correct programs that best suit their overall needs.
Care team administration. Health IT tools should provide an overview of the entire care team and how its members are performing. This allows users to view how many patients are assigned to each group, which care managers are handling high-risk populations, and how patients are faring with preventive care, disease management, and other critical tasks.
Management tools also provide care team work lists, which deliver a slightly different view of staff performance. Work lists often focus on staff productivity and enrollment figures, but immature analytics and reporting capabilities make it difficult to glean actionable insights from these dashboards.
"The work lists provide basic summary data but lack the sophisticated workflow queuing, reporting, and dynamic rules engines commonly seen in supervisory tools in other industries," the report explains. "In addition, interventions are ranked in importance by their due date, which often matters less than a task's clinical importance, especially for patients with multiple comorbidities and overlapping care plans."
Provider alerts and event notifications. Alarms and alerts are often a sore subject for healthcare providers, who can feel overwhelmed by poorly designed and executed notification systems. Developers have been focusing intently on integrating event notifications more seamlessly into workflows, Chillmark states, to meet the growing demand for intuitive delivery, better collaboration, and more available message types.
"Alerts tied to specific tasks, interventions or events (such as hospitalizations or ED visits) remain rare, as is the ability to configure alerts to a particular cohort of patients or individual patient," says the paper. "Much of this, though, is limited by issues of data availability that are out of a vendor's direct control, such as a lag time in receiving claims data or a lack of connection to health information service providers."
Care management tools should include provider communication tools as well as patient event notifications.
Currently, care management software solutions "vary considerably" in how they handle provider communications, the report says. Most systems deliver communications to an email-style inbox, which may not facilitate prompt attention to incoming messages.
Patient engagement and self-management tools. Patient engagement is a critical factor for improving outcomes, yet many care management products still struggle to integrate patients into the process.
"Patient access to care plans is limited and, at present, often tied to providers' patient portal systems," researchers said. "Outbound messaging tends to focus on broad-based outreach that, to patients, can easily look like spam; more personalized messaging from the care team works better but is admittedly more difficult and time-consuming to implement and operationalize."
In addition, the episodic focus of providers does not completely translate for patients who are responsible for maintaining their own health far beyond the 30 or 90 day thresholds of bundled payments and readmission penalties.
Patients should be able to communicate with their providers, set goals for their ongoing wellness, and access their care plans in order to collaborate and contribute to the self-management process.
Transition support and discharge planning. Despite the fact that care management tools often focus on acute, episodic care, patients need the support of their providers after they complete a stay in the inpatient setting.
Care management tools should allow acute care providers to send visit summaries and discharge planning documents to other organizations, such as SNF or rehabilitation providers to ensure that these facilities are informed about the patient's needs.
Unfortunately, the current generation of care management tools do not always provide robust capabilities in these areas, the report notes, limiting providers' abilities to coordinate across the care continuum.
Care coordination software functionalities
In contrast to the acute nature of care management tools, a care coordination software suite targets what has become known as "population health management."
Collaboration with specialists, behavioral and mental healthcare providers, social and community services, pharmacies, and retail clinics or urgent care providers is essential for understanding a patient's entire healthcare tapestry.
Care coordination software may include many of the same features as care management tools, but should, ideally, also offer the following.
Patient cohort management. The ability to stratify patients by long-term risk and identify populations of individuals with specific disease management needs forms the foundation of population health management. Coordination tools should give providers the capability to place patients into disease registries and specific management programs based on clinical features and risk scores.
"Payer-oriented vendors tend to provide a wider selection of prepackaged content, which is consistent with their longer history of care coordination," Chillmark says. "Meanwhile, vendors that emphasize end-user configurability appeal to specialty healthcare organizations or large networks that have developed their own care plan content or best practices."
Evidence-based content libraries. Curated clinical content libraries are currently rare in care coordination packages, but could be useful for providers attempting to follow clinical guidelines and best practices for patient management. Developers may be able to differentiate themselves from their competitors by offering validated clinical research and decision support tools within the workflow.
Referral management. True care coordination requires collaboration between primary care, specialists, hospitals, behavioral and mental health providers, and long-term care providers. Managing referrals to ensure that patients receive care in the most appropriate setting is key for keeping costs low.
While Chillmark does not identify electronic referral management as a critical competency for healthcare organizations at the moment, integrating automated digital referrals into the coordination process could lower the administrative burden for patients and front-desk staff in the long run.
Support for community-based resources. In addition to connecting patients with clinical services, providers should be able to refer patients to resources that meet their socioeconomic needs. Understanding the social determinants of health are critically important when executing population health management programs, but few software tools allow users to directly access information about transportation access, local government agencies, public health resources, and other social programs.
Integrating these functionalities into a comprehensive care coordination platform could allow providers to ensure that patients receive the socioeconomic support required to help them maintain wellness and make positive decisions outside of the clinical care environment.
Since up to 70 percent of a patient's health is determined by his or her environment and daily lifestyle choices, providers need to leverage their health IT tools to bridge the gaps between acute care, primary care, and patient self-management.
"As regulatory policy, market forces, and reimbursement models all push the industry toward value-based care, healthcare organizations will be pressed to expand successful care management programs to larger segments of their patient and member populations," the report concludes.
"Vendors must be ready to demonstrate that their products will scale to meet this need…[and] these issues must be addressed long before customers are ready to scale up."