Healthcare Internet of Things Driving Global Market Growth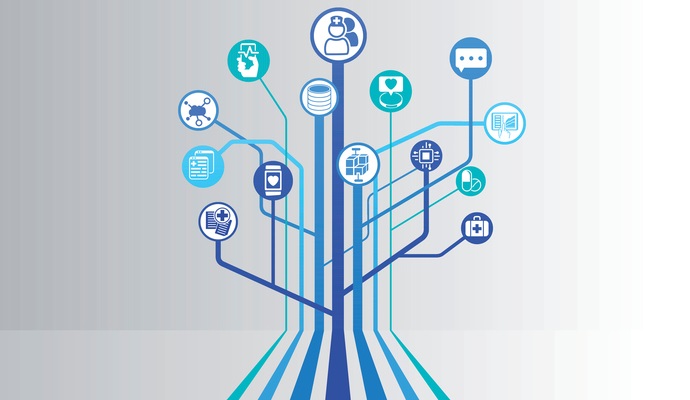 - Whether the healthcare industry is truly aware of it or not, its strong interest in developing and acquiring patient engagement, remote monitoring, chronic disease management, and communication technologies is really working towards cultivating the healthcare system's own Internet of Things (IoT).
The potential for market growth in these areas is staggering as providers in the United States and elsewhere seek the tools and capabilities that will complement their EHR infrastructure in a rapidly shifting reimbursement environment that demands the an entirely new level of commitment to individual patients and their needs.
From consumer-oriented wearable devices and home monitoring technologies to clinical-grade biosensors that may revolutionize the processes of diagnosis and treatment, the growing healthcare Internet of Things has the potential to add a vast new array of tools to the fight for improved chronic disease management and population health while lowering the costs of coordinated, constantly monitored care.
Remote patient monitoring technology market to reach $980 million by 2020
Remote monitoring devices, such as heart monitors, blood pressure cuffs, physical activity trackers, and hematology monitors, are expected to become increasingly in demand as patients seek more passive, more intuitive ways to manage their chronic diseases. The market segment is expected to grow from its 2014 valuation of $380 million to nearly one billion by the end of the decade.
READ MORE: HHS Distributes $458M in 21st Century Cures Opioid Abuse Grants
While the report from Transparency Market Research identifies a boom in geriatric needs as one of the primary drivers of growth, it also notes that younger patients with heart disease, diabetes, and other long-term conditions are more actively looking for technology-based treatment and monitoring options that keep them at home as often as possible.
Providers also have a vested interest in their patients' preferences, as hospitals continue to feel the sting from Medicare penalties associated with preventable 30-day readmissions for certain chronic diseases. As accountable care arrangements emphasize the importance of lower-cost care strategies, remote patient monitoring developers will continue to enjoy high demand for their wares.
Global market for diagnostic biosensors to hit $21.17 billion in 2020
Biosensors are playing an increasingly large role in the detection and diagnosis of health conditions, including cardiovascular disease, diabetes, and infectious diseases. Most often used in devices that enable point-of-care testing, biosensors have long enabled healthcare providers to create miniaturized mobile laboratories to expand healthcare services into remote or underdeveloped areas.
In North America, the biosensor market is keeping to make the Internet of Things a reality, says a report from Grand View Research. American applications of biosensor technology account for 35 percent of the anticipated $21.17 billion in value as federal initiatives and accountable care produce a fertile market for portable, unobtrusive remote monitoring devices.
READ MORE: Nurses Play Collaborative Role in Care Coordination, Planning
Home health diagnostics like pregnancy tests and point-of-care testing devices, including blood glucose monitors and cholesterol tests, will provide the foundation for the rapid growth of the biosensors segment. These two categories accounted for more than 40 percent of the market in 2013.
Connected machine-to-machine health market to expand at 33.08 percent CAGR to 2019
The insatiable need for improved chronic disease management technologies will push the machine-to-machine (M2M) marketplace upward at a 33.08 percent compound annual growth rate (CAGR), Market Research Store predicts.
Citing familiar EHR vendors such as Allscripts, athenahealth, Cerner and Greenway, in addition to IT infrastructure notables like IBM, Sprint, Verizon, and Qualcomm, the report outlines the potential for integrated, interoperable devices to create a widely connected, seamless medical environment.
The whole spectrum of healthcare Internet of Things devices is included in this prediction: from home tracking technologies to telehealth aids to inpatient monitors at the bedside, the M2M healthcare delivery model intends to allow providers access to detailed, real-time information on patients with deep and meaningful EHR integration.
READ MORE: Cherokees Sue McKesson, CVS, Wal-Mart for Lax Opioid Monitoring
Health information management systems are a $53.2 billion opportunity
To provide the foundation for managing the big data from these myriad IoT devices, providers will need to continue to invest in health information management (HIM) infrastructure that will be able to accept, analyze, and report on massive volumes of patient-generated health data.
Persistence Market Research states that the HIM systems market, pinned at $35.2 billion in 2013, will see a 7.1 percent CAGR until 2019, ending up with a value of more than $53 billion worldwide. The need for health data interoperability, which is continuing to prompt healthcare providers to replace or overhaul their basic EHR infrastructure, will continue to be a pressing concern over the next few years, even as the EHR Incentive Programs slowly trundle towards their end.
Healthcare providers will continue to enlist EHRs and other HIM technologies to automate and computerize more manual processes, including risk-stratification of patients for population health management, predictive analytics for diagnoses and patient safety, and clinical decision support to ensure the delivery of high-quality, personalized care.