Four Big Data Governance Tasks to Prep for the Internet of Things
mHealth and wearables are all the rage among consumers, but how can providers prepare for the big data analytics and data governance competencies required to embrace the Internet of Things?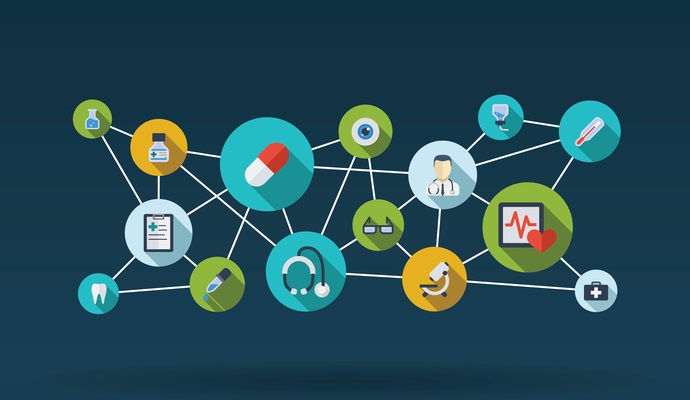 - The healthcare industry isn't always known as an eager early adopter of new technologies, but it seems to be making an exception for the Internet of Things: a loosely interconnected web of internet enabled devices, which can provide extraordinary monitoring and communication abilities to providers.
From implantable pacemakers to wearable fitness bands to smart pillboxes, spoons, and scales that track a patient's every action and capture every tiny fluctuation in their health or routine, the Internet of Things has the potential to be a game-changing tool in the fight to maintain wellness, manage chronic diseases, cut spending, and improve outcomes across the board.
But as most healthcare organizations already know, with big data comes big responsibility. These non-traditional streams of information can be poorly standardized, hard to capture, difficult to analyze, and nearly impossible to present at the point of care without driving end-users to distraction.
While many healthcare organizations are still struggling to wrestle their basic clinical or claims data into some semblance of order for population health management and actionable predictive insights, others are looking into the not-too-distant future at a very different data landscape.
What do healthcare providers need to do in order to get their big data analytics infrastructure into shape as the Internet of Things becomes a reality?
READ MORE: How Fog Computing May Power the Healthcare Internet of Things
Developing the IoT roadmap
There is almost an infinite variety of medical devices and consumer-grade wearables available to patients, but that doesn't mean that all of them have immediate value to healthcare providers. Many IoT devices are simply not mature or sophisticated enough to produce data that can meaningfully affect clinical decision-making, and some mHealth tools and apps will always be more of a novelty than a necessity.
Distinguishing between useful investments in IoT capabilities and dead-end technologies, can be a tough job for healthcare organizations not entirely equipped to predict the future course of an explosive marketplace, but providers can start to define the scope and direction of short-term investments that will position them for seamless expansion as new needs arise.
To start drafting a roadmap for an IoT-friendly organization, providers may wish to ask themselves the following basic questions:
• What patient population challenges are we looking to solve? What chronic diseases are prevalent in our patients, and what tools exist to help them manage these conditions?>

READ MORE: Top 10 Challenges of Big Data Analytics in Healthcare

• What do our patients want us to be able to do? Do they want text message reminders about checking their blood glucose? Do they want to make appointments through their smartphones? Do they want their primary care providers to be able to track their sleeping patterns in the EHR?

• How can we use existing tools, technologies, and staff members to address some of these challenges in a cost-effective, efficient way right now?

• What new infrastructure will be required to integrate novel data sources in the future? Can new systems be added to existing ones, or do we need an entirely new foundation to provide the functionalities we're looking for?

• What is our anticipated time frame for developing new IoT capabilities? How much will it cost? Can we estimate a return on investment at this point?
Some of these questions might not have clear answers before the work is done, but defining the scope of the problem will help providers plan ahead to the best of their ability. Those healthcare organizations that have already invested in IoT technologies, such as tools to accept and analyze patient-generated health data (PGHD) have been quick to see financial gains from their efforts.
READ MORE: Explaining the Basics of the Internet of Things for Healthcare
Nearly three-quarters of forward-thinking IoT organizations have already achieved returns on their technology plans, a recent survey found.
Understanding data standards and device integration
At the core of all data governance efforts is a firm understanding of the basic building blocks of data exchange. Healthcare organizations must know what types of data they are producing, what terminologies and coding languages are being transmitted by their partners, and how their internal systems are set up to accept and analyze these disparate forms of data.
While many new Internet of Things devices are using modern, internet-based protocols like FHIR to communicate with EHRs and other big data analytics infrastructure, healthcare providers still struggle to integrate existing medical-grade devices into a single, comprehensible interface for their clinicians to view.
This can be a critical patient safety concern, say overworked nurses unable to devote their full attention to their patients. In a March survey, ninety-three percent of hospital-based nurses said they strongly believe that medical devices should be able to automatically, seamlessly share data with one another.
Manual data entry from medical devices not only takes time, but it can present opportunities for transcription errors or gaps in the patient record, leading to serious implications for treatment and safety.
"We have noticed that when it comes to the access of information, our world is completely different today than what it used to be," explained Amy Hester, PhD(c), BSN, RN, BC, Director of Clinical Informatics and Innovation at the University of Arkansas Medical Center to HealthITAnalytics.com in January. "Under the old way of doing things, it was possible for a patient's vital signs to be 8 or 12 hours old by the time they were entered into the record.
"It's not like that anymore" after a comprehensive medical device integration overhaul, Hester said. "When we collect a set of vital signs or information from other devices like ventilators, or anything that falls under our device integration program, that information is validated right there at the point of care."
"It goes into the record straight away," she continued. "So everybody that needs to make care and treatment decisions about that patient has up-to-date, real-time information on that patient regardless of where they're accessing that record from."
Designing a forward-facing big data storage infrastructure
Big data analytics is becoming a core competency for healthcare organizations that are starting to dip their toes into the pool of value-based care. As providers explore the world of population health management, they are starting to realize that robust patient engagement, constant monitoring, and two-way feedback are required for the high-touch environment of accountable care.
Internet of Things devices can provide an excellent foundation for this type of patient communication, but healthcare organizations must be able to design and deploy data storage infrastructure that can handle a massive influx of new patient data sources.
And they must do so soon, according to executives taking part in a cross-industry poll fielded earlier this month. Just half of respondents expressed confidence that their big data analytics infrastructure can take the strain of the Internet of Things without major upgrades. Forty-two percent of organizational leaders state that their current big data tools are already bending under the pressure.
Unfortunately, healthcare organizations are not thinking proactively enough about developing a comprehensive approach to big data. Forty percent of organizations participating in a 2014 HIMSS Analytics survey admitted that they did not have a formal EHR data governance policy in place.
When the Deloitte Center for Health Solutions asked a similar question in 2015, fewer than half of providers said that they have a clear and concise plan for integrating big data analytics into their workflows.
"A fragmented analytics strategy will not support effective integration of data," the Deloitte report states. "While some leading organizations recognize the importance of committing to a coordinated business model and sufficient analytics investment, others are still figuring out their path."
To prepare for an Internet of Things environment, healthcare organizations should address the following infrastructure concerns:
• Is our data storage infrastructure large enough, modern enough, and robust enough to handle medical device and Internet of Things data? Can we accept and analyze patient-generated health data?

• Do we have a centralized oversight committee to supervise data integrity and information governance efforts? Does this committee include stakeholders from all areas of the organization affected by big data activities?

• Do we understand how to communicate data integrity, accuracy, and completeness concerns and strategies to our end-users? Do they feel like these are important issues to address? How can we make the cultural changes required to secure clinical buy-in?

• Can our EHR interfaces be modified and optimized to promote dashboards or other visual representations of Internet of Things data? Do we need to consider upgrades or new vendors?

• Do we understand how much we are spending on big data analytics products and IoT capabilities? Can we measure the financial return in a meaningful way?

• What should be done with "excess" data that cannot be immediately used, but may have value in the future?
Overcoming these obstacles take time, investment, and a great deal of effort, Deloitte reminds providers. "It appears that there is a relationship between the maturity of health system analytics programs and success with analytics," the report says.
"Conversely, organizations that do not have an enterprise-level analytics strategy, structured data governance model, and coordinated analytics investments are less likely to achieve the same level of success with analytics. Many health systems have yet to take advantage of the capabilities that analytics can bring to meet their enterprise objectives."
Prepping staff for the conversation
That effort cannot succeed without strong enthusiasm from end-users, such as physicians, nurses, and care coordinators. They are the ones who must sift through the endless streams of FitBit data and Apple HealthKit information in order to make sense of a patient's daily activities, and they are often reluctant to do so.
EHRs already drain time and energy from clinical staff as they try to rush through their crowded calendars, and the addition of patient-generated health data to the workflow has been a contentious proposition for many overwhelmed providers.
The process may be complicated by the fact that patients don't always hold up their end of the IoT bargain. mHealth users often lose interest in updating their calorie counts and fitness logs after a few weeks or months, and it may not seem like an effective use of a clinician's time to implement new interfaces that go dark when the data streams trickle to a halt.
Only 40 percent of mHealth users have shared their PGHD with their providers, another survey said. More than ten percent of users believe, rightly or wrongly, that their physicians are simply not interested in their IoT data, which may influence their decision to leave their wristbands at home after a while.
Providers are simply not discussing the Internet of Things with their patients, even when those patients are using IoT devices to track their own health. Just fifteen percent of providers have ever talked about patient-generated health data, wearables, and mHealth apps during a consult, despite a growing belief among clinicians that these tools can bring value to patients struggling with chronic disease management and other conditions.
"Using electronically collected patient-reported outcomes to capture the review of system outside of the clinic visit may not only improve the efficiency, completeness, and accuracy of data collection for the review of system, but also provide the opportunity to operationalize incorporating the patient's voice into the electronic health record," wrote Arlene E. Chung and Ethan M. Basch in an article published in the Journal of the American Medical Informatics Association.
"Patient-reported outcomes are already the gold standard for assessing symptoms in clinical trials and increasingly in comparative effectiveness research and quality assessment," the authors continued. "There is substantial evidence that direct reporting of symptoms by patients more accurately reflects their health status than clinician elicitation."
When implementing data capture or reporting technologies that can integrate medical devices and IoT technologies into the patient care workflow, leaders of healthcare organizations must prepare their clinicians to discuss these opportunities with their patients and encourage participation.
"Bringing the patient's voice into routine symptom assessment during clinical care offers the unique opportunity to enhance engagement and partnership with our patients, while improving efficiency and quality by harnessing the existing infrastructure afforded by EHRs," Basch and Chung said.
Health IT developers can also play a role in expanding the IoT environment by treating patient-generated health data as a meaningful and useful sources of information for population health management and clinical decision making, says Jason LaBonte, President of MedPanel, which conducted the provider-focused PGHD survey.
"As long as tech companies view wearables and apps as consumer-driven markets, these products will remain a fad," LaBonte said. "But if they engage physicians to recommend these products, wearables and apps will be viewed as part of healthcare and become permanent fixtures."