Five Core Competencies for the Healthcare Internet of Things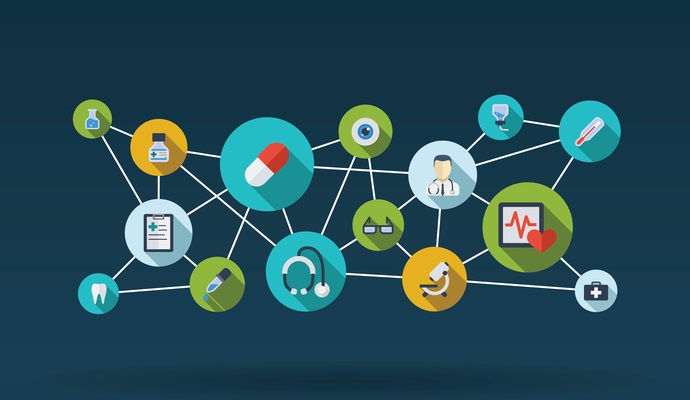 - The Internet of Things seems made for healthcare. Millions of smart sensors and devices connected through the internet to provide up-to-the-second data on everything from a patient's heart rate to how many pills they've taken that day to the ambient temperature of their hospital room can provide the type of detailed, actionable, ongoing management that most providers can only dream about.
As EHR clinical analytics and sophisticated machine learning combine with big data from wearables, home monitors, medical devices, the Internet of Things has the potential to create a rich and seamless environment of predictive analytics and prescriptive insights that turns patients into walking data points and providers into interpreters of information on an unprecedented scale.
The ability to use healthcare big data analytics for patient care is still a struggle for the vast majority of providers, and the Internet of Things largely seems like a concept whose heyday is still years away. Healthcare organizations weighed down by current initiatives and basic analytics roadblocks may not be in the mood to look five or ten years into the future at leveraging technologies that haven't yet been developed – but the foundational work has to be done now.
As healthcare sets out at the beginning of its big data journey, providers must prepare themselves not just for their immediate challenges, but also for the problems that will lie ahead. What are some of the core competencies healthcare organizations must develop in order to harness the growing Internet of Things in the months and years to come?
Developing the IoT mindset
READ MORE: Top Healthcare Business Intelligence Companies by Hospital Users
Strategic planning lies at the forefront of all organizational change management, and is especially important for such a fundamental shift in the way healthcare data is generated, stored, crunched, and consumed. While some providers are still skeptical about treating the EHR as the centerpiece of their patient care toolkit, the Internet of Things demands much more from organizations than that.
Provider-generated data entered into the EHR will still be important, but it may soon take a back seat to patient-generated health data (PGHD), created and reported passively by a suite of automated devices and streamed into a centralized interface for interpretation by the physician or care team. Providers who complain that their EHRs have turned them into glorified typists may start to see themselves instead as pilots guiding patients through the data cloud, combining human intuition and experience with powerful algorithms that make precision medicine the norm.
This visionary future isn't as far-fetched as it seems, but it requires yet another revolution in the way healthcare organizations, from top to bottom, interact with technology. Securing organizational buy-in for healthcare big data analytics projects has been one of the industry's major shortfalls, with more than a third of providers complaining that their leaders are not on board. A similar number has faced resistance from the clinical side, as well.
To ensure that all parts of the organization are working together to maximize the potential of big data and the Internet of Things, healthcare providers may wish to take the following steps:
• Assess and understand discontent with current technologies and workflows. Can an EHR optimization program help to ameliorate some concerns? Can an investment in additional infrastructure close some of the gaps? How can patient care frameworks like the patient-centered medical home provide guidance for retooling processes that may improve patient care?

READ MORE: How Do Artificial Intelligence, Machine Learning Differ in Healthcare?

• Educate staff on the importance of data integrity and clinical documentation improvement. Ensuring that data enters the health IT ecosystem cleanly and smoothly can prevent significant problems in the future.

• Include as many viewpoints as possible during the selection of new technologies and new directions. Clinicians who feel left out of decision-making processes tend to be less satisfied with the results.
Providers may also wish to take a cue from the ONC and develop a long-term strategic plan for achieving organizational goals. It may be hard to predict what might happen over the next decade, but it's easier to revise a roadmap than reinvent the wheel whenever a new technology changes the game.
Building the health IT infrastructure
Health IT infrastructure is too often a patchwork affair with new functionalities bolted on to a legacy system or proprietary program that makes the prospect of big data analytics a deeply frustrating one. Many providers are in the unenviable position of trying to integrate medical devices, health information exchange data, and other patient-generated insights into a system that can barely support current expectations of population health management or the transition to value-based reimbursement and accountable care.
READ MORE: IBM Watson Gets SNOMED CT Infusion to Enhance Data Analytics
For the Internet of Things to become a meaningful part of a provider's health IT strategy, the EHR must become the hub to a hundred new spokes, each of which may generate data in a slightly different format or communicate it in a different way.
The new definition of certified EHR technology that accompanied the proposed rule for Stage 3 meaningful use embraces this idea that health IT is becoming a modular business: providers want individualized functionalities that meet their specific needs, and they want all their technology to work together to help them attest to meaningful use and improve the quality of patient care.
The 2015 criteria will support the interoperability of health IT modules, built on industry-wide data standards, that may help providers take better advantage of patient information previously locked into formats that did not encourage analytics. The latest criteria also encourage developers to sharpen their focus on APIs and internet-based standard protocols like FHIR, which may make connecting the EHR to the world of consumer-grade devices much easier.
To interoperability and beyond
Healthcare providers in the market for new health IT products should ensure that their prospective purchases make data standards, interoperability, and analytics a priority if they wish to keep themselves open to future Internet of Things development.
The ONC believes interoperability will be the product of three major, long-term industry initiatives: the adoption of data standards, an increase in trust, patient privacy, and patient data security, and the provision of ongoing incentives for providers who embrace interoperability and data sharing as key principles for their health IT efforts.
EHR interoperability is an excellent starting point for clinical analytics and patient care coordination, but as additional technologies start to make an impact on patient care, the interoperability of all types of health data is going to become even more important.
The Internet of Things assumes a standards-based world that healthcare is just starting to develop. The process will no doubt be slow as providers strive to make the most of their existing infrastructure before laying out revenue for new products, but interoperability is becoming more than just a watchword as Congress cracks down on information blocking and the ONC continues leading the way towards widespread data exchange.
As quality penalties increase and value-based care becomes the norm, providers are beginning to take to heart the importance of accessing a comprehensive view of patients in need of complex monitoring or using wearables, smartphones, and other IoT devices to support long-term chronic disease management.
Retooling the patient-provider workflow
The technical ability to accept, transmit, and exchange health data is important, but so is the ability to use it effectively to make a meaningful difference in the lives of patients. The Internet of Things mentality may be a difficult one for clinicians who have been trained to rely mostly on their own smarts for making diagnoses and prescribing treatments.
Providers continue to struggle with the idea of reviewing and using patient-generated health data as a routine part of their workflow, even when evidence is growing that patient engagement and involvement in their own data story produces higher satisfaction and better outcomes.
Part of the problem is the reliance on EHR technologies that are not friendly to the mounting volume of PGHD produced by IoT devices, but other providers simply do not want to have to deal with more information that may or may not be relevant to the tasks at hand.
Revamping the provider workflow to encourage patient engagement and make it easier for clinicians to consume IoT data isn't just an IT project or an issue for the HIM department. It is a matter of ensuring that the organization can identify, as a whole, how healthcare big data analytics and the Internet of Things can help raise quality, meet clinical benchmarks, and even save time or reduce administrative burdens.
As the shortage of physicians continues to change the way clinical care is delivered, healthcare providers must be able to see health IT as a tool instead of the enemy. Providing continuing education with EHRs and the IoT in mind may help reduce resistance to new initiatives such as accepting data from smartwatches, Bluetooth scales, and iPhone apps as a legitimate way to assess the health and wellbeing of a patient when he or she is not under direct observation from the physician.
Embracing the future with agility and foresight
The Internet of Things isn't a concrete task with a deadline, like ICD-10 or meaningful use. There are no rules to using it, and no accreditation to tell providers when they have achieved some recognized set of goals. Much like population health management, the IoT's definition is fluid, its principles are in flux, and its technologies are only half-baked at the moment. But it has already become one of the most significant drivers of daily life since the invention of the World Wide Web, and will only grow to become more integral to healthcare over the coming years.
Healthcare organizations that hope to catch the IoT wave before it crashes over them must ensure that they are capable of defining and achieving their objectives through a combination of new technologies and old-fashioned knowhow. As value-based reimbursement places a premium on the patient experience and federal mandates continue to keep health IT at the forefront of providers' thoughts, a clear vision, an emphasis on provider education, and wholehearted buy-in across the organization will be essential for making healthcare big data analytics work for the good of quality parent care.
Providers who develop these core competencies can give themselves a competitive edge in a contracting, consolidating landscape as patients demand the integration of their favorite technologies into their care. By working to instill an understanding of the future during today's challenging times, providers can prepare themselves and their health IT infrastructures to accept new data, remain innovative in the provision of care, and make patient engagement and patient-generated data a top priority for safety, satisfaction, and sustainability.