Evaluating the Current State of Health Data Interoperability
How far has the healthcare industry come on its data interoperability journey, and how far is left to travel before patients and providers have unfettered access to critical information?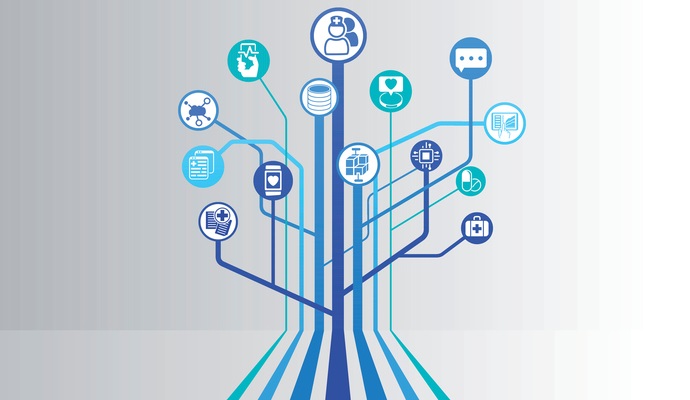 - Health data interoperability has always been a thorny subject for providers frustrated by their lack of access to complete and accurate patient data – not to mention a prickly topic for vendors raising their hackles against a barrage of accusations about information blocking and anti-competitive business tactics.
With finger-pointing reaching an all-time high in 2015, thanks to an ONC brief that cagily suggested some health IT stakeholders may not be playing fair, it comes as no surprise that health data interoperability is going to remain a top priority for the Office of the National Coordinator in the years to come.
In a Health IT Buzz blog post following a panel session at the Bipartisan Policy Center, National Coordinator Karen DeSalvo has reinforced her agency's focus on improving the free flow of patient data across the learning health system. Envisioning a care continuum where data siloes are no more, DeSalvo urged stakeholders to take responsibility for developing a future in which access to high quality, coordinated care is a given.
"It's a future where, when your mother falls and is admitted to the emergency room in Washington, DC when visiting for Christmas, her doctor back in Texas immediately receives an electronic notification – and another when she's discharged or transferred," she wrote.
"It's a future where the connectivity and usability of health IT changes the way we pay for care by allowing us to measure and reward quality, not just quantity. And it's a future where, with ONC's support, we see development of FHIR-based health apps that focus on putting the person and the care experience front and center—and where something like a prototype 'app store' exists as a one-stop shop for your mobile health IT needs."
READ MORE: New Epic Systems EHR, Big Data Features Zero In on Interoperability
In order to achieve these goals, the healthcare industry must focus on three major fronts for quality improvement: increased consumer access, reduced information blocking, and the adoption of data standards like HL7 and FHIR to create a secure and interoperable data ecosystem.
But healthcare providers may have a difficult time understanding how to make progress if they cannot accurately assess how far they've come.
A report accompanying the Bipartisan Policy Center (BPC) event provides a multi-faceted overview of some of the aspects of health data interoperability critical to crafting DeSalvo's interconnected vision.
Consumer demand for communication is growing, but technology lags behind
Patient engagement is often touted as a major component of the nation's healthcare reform efforts, and it appears that patients are taking their responsibilities seriously. As high deductible insurance plans make care choices more difficult for cash-strapped patients, the ability to maintain low-cost electronic communication with providers instead of making expensive appointments is a real advantage.
READ MORE: IBM Bets Big on Blockchain for Value-Based Care, Data Exchange
Fifty-two percent of patients would like to be able to view and access all their health data in one place, according to a Nielsen survey released by the Council of Accountable Physician Practices and the BPC, but very few of the 5000 respondents can do so.
Just 28 percent have used a patient portal connected to their primary care provider, and only 21 percent can schedule appointments online.
Nearly a third receive electronic reminders for appointments, medication refills, and preventative care, but just 11 percent can ask questions about their care online. Only two to three percent can engage in telemedicine services or send photos of a symptom to a provider and get an answer through the web.
While Stage 2 meaningful use was supposed to spur the adoption of online portals and secure messaging, recent modifications from CMS dropped the threshold from 5 percent of patients to just one patient per reporting period.
Private initiatives like OpenNotes are attempting to allow patients to view and even add to their medical records, but gathering critical data from multiple providers into a unified longitudinal record remains a highly elusive goal.
READ MORE: Top 10 Challenges of Big Data Analytics in Healthcare
Still, the industry has made substantial progress. The percentage of physicians who exchange secure messages of any type with their patients has risen from 40 percent in 2013 to 52 percent in 2014. In 2014, 47 percent of patients had the ability to view, access, or download health information online, whether or not they took advantage of it, compared to just 33 percent the previous year.
Health information exchange is "modest but growing"
Poor health information exchange is partly to blame for the fact that patients are unable to view a complete record of their care, but the reasons why healthcare providers remain relatively isolated are many and varied.
It isn't so simple as to say that vendors are preventing providers from sharing data – many times it's the providers themselves who hope to keep a competitive advantage by holding their cards close to the vest. As accountable care and value-based reimbursement force providers into focusing on outcomes rather than racking up dollars for expensive individual services, the attitudes of organizations are slowly starting to change.
But the HIE landscape remains difficult to navigate. While 78 percent of hospitals can send summary of care records to external organizations, just 56 percent can receive it. Only forty percent of hospitals actually use information from other organizations during the decision-making process.
Ambulatory care providers are actually more than twice as likely to be able to electronically share data with unaffiliated providers as opposed to their affiliated peers – but hospitals are experiencing the exact opposite. Home healthcare, behavioral care, and long-term care providers are rarely able to do either.
Approximately one-third of providers are able to exchange laboratory test results, medication lists, allergy lists, patient problem lists, and imaging reports, though they are nearly twice as likely to do so with affiliated providers than with other unrelated organizations.
Financial concerns limit interoperability and data exchange
Healthcare providers are still struggling to build the business case for becoming interoperable with other members of the care continuum. While affiliated organizations can certainly create mutual benefit from passing patient data back and forth, there is little financial incentive for sending patients and their information to competing facilities.
The BPC identifies the following four issues as major barriers to health data interoperability and health information exchange:
Unclear business case. The incomplete transition from volume to value is limiting providers' financial motivations for ensuring that all members of the care team have full access to patient data.

Insufficient technical infrastructure. Many providers simply lack the health IT capabilities to engage in robust data sharing. A quarter of providers in a recent KLAS and CHIME poll said they do not have access to health information exchange infrastructure that would enable sharing. Twenty percent said that interoperability problems and incompatible technical architecture are contributing factors to the problem.

Prohibitive investment costs. It's no surprise that financial concerns are preventing providers from making all of the improvements they'd like. Few organizations have the luxury of spending as lavishly as they need to develop a truly interoperable ecosystem. Providers also cite data exchange fees on the part of vendors as a barrier to large-scale HIE.

Lack of standardized tools and systems. Data standards are too immature and too infrequently used to allow meaningful health data interoperability. While developers are increasingly turning to standardized APIs to create plug-and-play tools to supplement major EHR vendor offerings, the industry is in its infancy when it comes to breaking through data barriers.
Public and private initiatives are driving progress across the care continuum
In recent months, stakeholders across the industry have been making a concerted effort to address these concerns and liberate patient data from walled gardens and data siloes.
As excitement around the patient engagement potential of the Internet of Things builds to a fever pitch and the expansion of accountable care arrangements pushes providers towards innovative care strategies, interoperability has gotten a great deal of attention from private collaborations and federal initiatives.
Some of the most notable milestones over the past year include the following:
March 2015 – The Senate Committee on Health, Education, Labor, and Pensions (HELP) starts a series of hearings focused on the state of interoperability across the healthcare system. Vendors such as Epic Systems are forced to defend themselves against accusations of data blocking, while Congressional leaders begin a year-long push to delay Stage 3 meaningful use until more providers can participate in health information exchange.

April 2015 – April was a busy month for interoperability. On the 15th, Congress passed the landmark SGR repeal and introduced the Merit-Based Incentive Payment System (MIPS), which intends to drive value-based reimbursement and smoother data sharing.

Just two days prior, Carequality made its debut at HIMSS15. Run by The Sequoia Project and heavily backed by Epic, the "network of networks" collaboration immediately became a significant influence in the vendor-driven health data interoperability landscape.

Also in April, the ONC released its infamous information blocking report, giving vendors an extra incentive to appear cooperative and eager to embrace standardized health information exchange.

July 2015 – Congress once again took a hand in revamping the healthcare system by championing the 21st Century Cures Act, focused on improving the nation's medical research backbone through better data exchange. The bill promotes the development of precision medicine and provides for the establishment of a nationwide big data analytics infrastructure to speed clinical research.

October 2015 – October was another landmark month for the healthcare industry. In addition to the finalized rule for Stage 3 meaningful use, the new 2015 CEHRT criteria, and some major modifications to Stage 2, the ONC created a health IT bonanza on October 6 by releasing its interoperability roadmap.

Later in the month, EHR vendors once again took center stage by announcing their intention to create an objective measurement framework for health data interoperability. A dozen vendors, including Epic, Cerner, McKesson, Allscripts, and other industry leaders, put aside their differences to commit to the notion that EHR interoperability must be a basic feature of all future systems.

November 2015 – The CommonWell Health Alliance, which had been growing steadily throughout the year, announced its latest achievement: the availability of its interoperability services in certain Greenway products. Previously, the collaboration had rolled out its data exchange capabilities to organizations using Cerner and athenahealth technologies, and appointed its first executive director to guide the growing group's progress.
Overall, the past year has seen the cultivation of a more cooperative spirit between providers and vendors, who are becoming increasingly aware that they can no longer resist the interoperability zeitgeist.
As frustrated providers, fed-up legislators, and choosy patients put pressure on the health IT developer community to deliver sophisticated and interoperable data exchange technologies, the industry is quickly transforming into the data-driven ecosystem DeSalvo hopes to see.
"In order for us to live in this connected world where electronic health information most effectively supports the delivery of care, we will need our private sector partners to pledge to take concrete actions on each of these principles," she wrote in her blog post.
"If we work together, they will set us on the path to real, sustainable progress in the near term – and will allow the consumer and provider-friendly future of health IT we all seek to arrive sooner than we think."