EHR Socioeconomic Data a Must for Population Health Management
Adding socioeconomic data into the electronic health record should be a top priority for providers and developers seeking to enable meaningful population health management.
- Socioeconomic data that helps to take the "vital signs" of a patient's community must be integrated into the electronic health record if providers are to have a chance of implementing effective population health management strategies, state public policy experts in an editorial piece published in the Journal of the American Board of Family Medicine (JABFM) this week.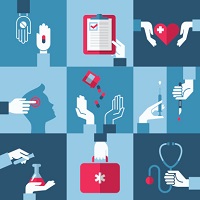 Community-level data should be considered just as important for patient care as a patient's blood pressure and temperature, which are routinely taken long before the physician ever enters the room.
"While patients' vital signs provide a glimpse into their physical wellness, we lack analogous information about the neighborhoods in which they live, learn, work, and play—patients' community vital signs," write Lauren S. Hughes, MD, MPH, MSc from the Pennsylvania Department of Health and a team of authors from American Board of Family Medicine, OCHIN, Inc., Oregon Health and Science University, and The Robert Graham Center.
"Community vital signs, such as poverty level, education attained, or employment status, could be independent social determinants of health, or they could be indices of these factors," the article adds.
"There is a real need for research to understand the interplay of individual and neighborhood characteristics, and which of each are most important for understanding health outcomes."
READ MORE: Penn Med. Population Health Analytics Dashboard Wins ECRI Prize
The call for better integration between traditional clinical data and community-level information within the EHR is not a new one.
The rise of population health management as a cost containment strategy, as well as increased reliance on health information exchange and big data analytics for diagnostics, have prompted a number of organizations to advocate for the technical capabilities to access a wider variety of information at the point of care.
In 2015, the Institute of Medicine (IOM) urged EHR developers and policy makers to consider the inclusion of twelve socioeconomic status metrics in Stage 3 meaningful use certified EHR technology identified in a 2014 report.
The American Academy of Nursing has also pointed to socioeconomic data as the missing link between implementing population health management techniques and truly producing better outcomes. Environmental and community data, along with behavioral health information, are "imperative" for addressing patient challenges holistically, said AAN CEO Cheryl Sullivan.
Only about twenty percent of patient outcomes are directly linked to clinical care, the healthcare system has come to acknowledge, which highlights the importance of understanding the external factors that influence lifestyle choices, impact the management of chronic diseases, and present risks to domestic or workplace safety, child development, and mental health.
READ MORE: AMA: Real EHR Data in Med School Will Boost "Informatics IQ"
The JABFM authors note that much of the data required to understand these challenges is already available in some form, but a system-wide lack of interoperability, coupled with poor data standardization and collection techniques that rely on voluntary information from patients, have made "incomplete, inconsistent, and unreliable" data sadly commonplace.
"An approach that administratively geocodes and directly integrates neighborhood data predictors of health into EHRs could be done relatively quickly, achieve administrative efficiencies, minimize provider burden, and enable uniform comparisons across practices," the authors suggest instead.
Developing a more comprehensive and standardized approach to integrating socioeconomic data into the EHR will allow for more informed decision-making for clinicians, as well as increased opportunities to foster patient-provider discussions about health goals, lifestyle choices, and available resources.
The authors offer the example of the HealtheRx project from the University of Chicago, which educates patients about available options for addressing their specific needs and goals.
"After each clinic visit, patients receive a customized map of local health and social resources that is individually tailored to a patient's address and diagnoses and is generated by the EHR," the article explains.
READ MORE: Big Data Analytics Link Economic Wellness to Population Health
"All community resource recommendations are pulled from a large database known as HealtheRx, which includes housing and transportation, mental health, fitness and nutrition, and substance abuse counseling services."
The data, compiled by workers at a summer internship program at the university, allows providers to make more specific recommendations to patients and connects them more directly to resources and opportunities that may make a measurable impact on their overall health.
In addition to aiding individual patient management, community-level datasets created and maintained by public health organizations or academic institutions, can help with broader population health management tasks, such as risk stratification, comparative effectiveness research, and hot-spotting.
While the authors acknowledge that EHRs have their limitations, and that the current generation of health IT tools may not be ideally suited to accepting and presenting community-level data in a meaningful way, it is important for the healthcare system to keep pushing towards making socioeconomic data integration an attainable goal.
"We have long known that place matters to personal and population health," the article concludes. "Neighborhood-level social determinants of health have begun to shape local public health and policy interventions. It is now time for we, as family physicians, to harness the power of community vital signs to improve the health of our patients and our communities."