Cardiovascular Disease May Incur $1 Trillion in Costs by 2035
Cardiovascular disease will continue to take an enormous toll on the healthcare system over the next two decades, the AHA says.
Source: Thinkstock
- Over the next two decades, cardiovascular disease is likely to impact 45 percent of the United States population and generate more than $1.1 trillion in chronic disease management costs, acute care spending, and lost productivity per year, a new estimate from the American Heart Association cautions.
The report revises previous estimates that 100 million Americans would be diagnosed with cardiovascular disease by 2030. Instead, the nation reached that benchmark in 2015, and is now on track for more than 131 patients with heart disease by 2035.
The AHA also predicts that 123.2 million patients will have high blood pressure, 11.2 million will suffer a stroke, and 24 million will experience coronary heart disease during the same timeframe.
"While we have made tremendous progress in fighting cardiovascular disease, recently reported death rates and these projections reinforce that now is not the time to relax," said AHA President Steven Houser, PhD, FAHA.
"We must continue to be vigilant, because if these projections become reality, a serious health and economic crisis is on the horizon."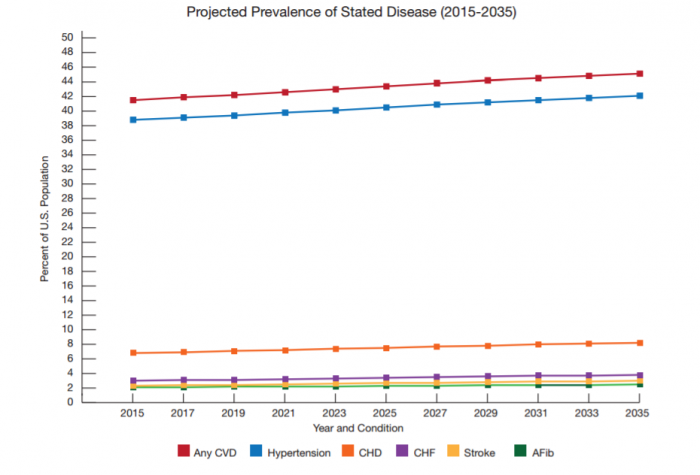 Source: American Heart Association
Cardiovascular disease, including hypertension, stroke, congestive heart failure, atrial fibrillation, and coronary heart disease, is already the most expensive category of chronic condition, taking a $555 billion toll on the healthcare system in 2016 alone.
It is also the leading cause of mortality among both men and women, the CDC says, implicated in a quarter of all deaths.
CVD tends to strike minority populations and patients in lower socioeconomic brackets particularly hard, the AHA added. Cardiovascular disease and its risk factors account for close to 40 percent of the disparity in life expectancy between black and white patients.
Black patients are predicted to continue to experience the highest rates of CVD among ethnic groups, although Hispanic patients are expected to see the largest relative increase in CVD costs over the next two decades.
Source: American Heart Association
The risk of developing cardiovascular disease also increases sharply with age, the report says.
While a typical 24-year-old has a 24 percent risk of CVD, the chances of having a heart condition more than double to 50 percent by age 45.
More than 90 percent of patients over the age of 80 experience heart disease in one form or another. As a result, heart failure and stroke are the costliest conditions for the Medicare fee-for-service program.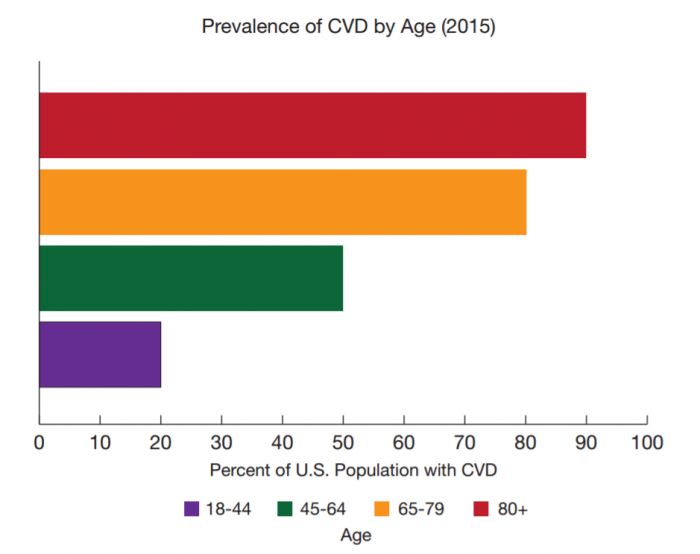 Source: American Heart Association
While the national rate of heart-related mortality declined by almost 4 percent per year between 2000 and 2011, progress has stalled since then. In 2015, the nation saw its first increase in heart disease death rates since 1969, rising by one percent despite a growing emphasis on population health management and preventive care.
The National Institutes of Health only invests 4 percent of its research budget into CVD and stroke projects, Houser pointed out, which may be limiting new advances in chronic disease management and patient care.
"We must invest more funding from the National Institutes of Health in heart and stroke research so we can give Americans the treatments and cures they will desperately need in the coming years," he said, noting that the association believes NIH-funded research is "our best hope" for keeping CVD rates dropping.
The AHA urges healthcare providers to continue delivering proactive care to patients at high risk for cardiovascular disease, including aging patients, those with sedentary lifestyles, smokers, and patients struggling with obesity.
The organization also encouraged lawmakers debating changes to the Affordable Care Act to preserve aspects of the law which have expanded access to care and insurance coverage for vulnerable patients,
"Our lawmakers should pay close attention to these projections as they deliberate changes to the Affordable Care Act and the health care system," said Houser. "If we are to avert this looming crisis, we must maintain access to health care coverage by protecting the ban on pre-existing conditions and enabling everyone to take advantage of an important weapon against CVD – prevention."
"The association welcomes the opportunity to work with Congress and the new administration to find ways to wipe out the burden of CVD and build an improved culture of health in our country."