Cancer Research Orgs Release Big Data for Precision Medicine
Eight international cancer centers have released genomic data on more than 19,000 patients to further the research community's ability to develop precision medicine therapies.
- The American Association for Cancer Research (AACR) is releasing more than 19,000 de-identified genomic records to further the international research community's explorations into precision medicine.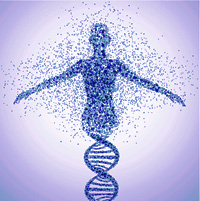 The big data dump, which includes information on 59 major types of cancer, including breast, colorectal, and lung cancer, is a result of the AACR Project Genomics Evidence Neoplasia Information Exchange (GENIE) initiative, and includes both genomic and some clinical data on consenting patients.
"We are excited to make publicly available this very large set of clinical-grade, next-generation sequencing data obtained during routine patient care," said Charles L. Sawyers, MD, FAACR, AACR Project GENIE Steering Committee chairperson, chairperson of the Human Oncology and Pathogenesis Program at Memorial Sloan Kettering Cancer Center in New York, and a Howard Hughes Medical Institute investigator.
"These data were generated as part of routine patient care and without AACR Project GENIE they would likely never have been shared with the global cancer research community."
Eight cancer research institutions, including five based in the United States, have contributed to the first phase of the GENIE project. Dana-Farber Cancer Institute in Boston, Memorial Sloan Kettering Cancer Center in New York City, and the University of Texas MD Anderson Cancer Center in Houston are among the collaborators.
Alongside institutions in Paris, the Netherlands, Toronto, Nashville, and Baltimore, these organizations aim to expand the research community's knowledge of cancer and its potential treatments by continuing to make the exchange of high-grade clinical data a top priority.
"We are committed to sharing not only the real-world data within the AACR Project GENIE registry but also our best practices, from tips about assembling an international consortium to the best variant analysis pipeline, because only by working together will information flow freely and patients benefit rapidly," Sawyers added.
The project is just one of many collaborations that have sprung up alongside the Obama Administration's public commitment to precision medicine research, and represents yet another way that the healthcare system is promoting the sharing and exchange of big data in an open, transparent, and cooperative ecosystem.
Cancer data has received particular attention from precision medicine researchers, including those participating in the Cancer Moonshot, Vice President Biden's signature research initiative.
Developing a system-wide infrastructure for sharing cancer data and encouraging the exchange of insights between disparate institutions are among the Moonshot's foundational goals, and represent an underlying requirement for future precision medicine breakthroughs.
Large-scale initiatives like the AACR Project GENIE, alongside separate data collection efforts like the VA's Million Veterans Project, the CancerLinQ platform, Geisinger Health System's MyCode databank, and the nascent PMI Cohort, will continue to make critical genomic and clinical data available to investigators across the country and around the world.
"I am extremely proud that the American Association for Cancer Research, as the Coordinating Center for AACR Project GENIE, is delivering on its promise to make these important data publicly available just over a year after unveiling the initiative," said Margaret Foti, PhD, MD (hc), chief executive officer of the AACR.
"By actively collaborating to create this extensive, freely available data set, they are leading a revolution in cancer genomics research that holds the promise for significantly enhancing the future utility of precision medicine in the treatment of cancer and for the benefit of patients around the world."
Cancer Moonshot Unveils 10 Big Data Tasks for Curing Cancer
29% of Healthcare Providers Currently Use Precision Medicine