Can the ONC, EHR Vendors Fix Healthcare Data Interoperability?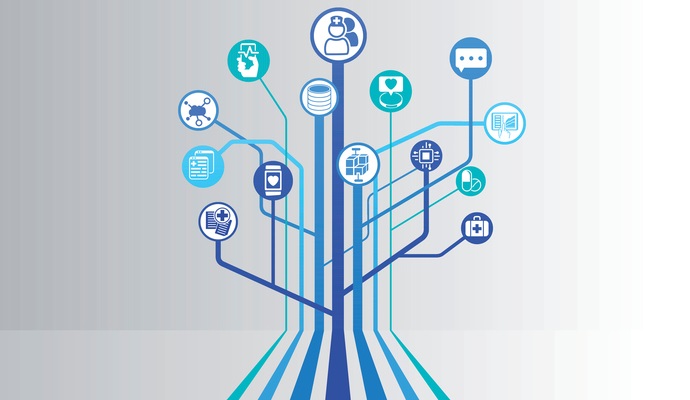 - When the issue of healthcare data interoperability arises, one government body always becomes the focus on the conversation: the Office of the National Coordinator. The ONC has taken a central role in the growth of healthcare data analytics, health information exchange, population health management, and the slow but steady development of interoperability infrastructure that will one day help healthcare providers truly meet the Triple Aim.
With Dr. Karen DeSalvo at the helm as the EHR Incentive Programs slide towards their twilight years, the future of widespread healthcare data interoperability has never been more uncertain – or more promising. The ONC can rightly claim accolades for helping to bring EHRs and meaningful use to the vast majority of hospitals and a growing number of provider organizations, but it may need to engage in some serious introspection as the vendor community now attempts to make all those health IT systems talk to each other.
Provider fatigue has complicated regulatory efforts even as a few private leaders take a more active role in finding the business case for data standards and health information exchange. With budgets stretched thin and tempers flaring as organizations begin to align around favored strategies, how do vendors think the Office of the National Coordinator can maintain its leadership role while encouraging the industry to cooperate with its competitors?
The vendor community is currently shrinking as providers coalesce around fewer tried-and-true products, explains Micky Tripathi, CEO of the Massachusetts eHealth Collaborative and Chair of the eHI Interoperability Workgroup, and that consolidation is the catalyst for healthcare data interoperability efforts to really take off. The chain reaction has already begun, he says, as vendors drop their reliance on proprietary data standards and exhibit more of a willingness to come together after enduring years of frustrated vitriol from providers who find EHRs to be overly cumbersome and problematic.
"Despite what a lot of people in the industry and in Congress and at the ONC are saying, which is that healthcare data interoperability is a failure that needs to be fixed, I think we're actually in a really good place," Tripathi said. "I say that because the industry is finally beginning to mature. It's taken a long time, but healthcare is getting to a point where real things start to happen, because we're developing real demand for interoperability."
READ MORE: Are Health Data Interoperability Standards the Same in Theory as Practice?
But as anyone reflecting on their teenage years knows all too well, maturity doesn't come evenly or as quickly as could be hoped. Healthcare data interoperability is almost always touted as a good thing in theory, but it can be expensive and time consuming to install or update new software, build new connections, and learn new workflows – and not everyone shares Tripathi's rosy view of the current data sharing landscape. Before interoperability can truly take flight, vendors have a bigger problem to tackle: plenty of healthcare providers just don't like their EHRs.
"The demand for data standards is coming mostly from the regulatory side and from private industry," says Brett Jakovac, Senior Vice President and Managing Director of Government Healthcare Solutions at Xerox. "I think the providers feel it, don't get me wrong. But I haven't seen them advocating for interoperability as much as some other people. The vendors push it heavily; the regulatory agencies obviously see the benefit of it."
"But providers sometimes find that the technology interferes with their ability to practice the way they want to," Jakovac continued. "They understand the potential benefits for patient care, but ultimately, EHR adoption doesn't really help the provider financially. Payers are the ones who see the most benefit from them, including the government, which funds so much of our nation's healthcare. The ability to reduce redundant lab tests or radiology images because of better care coordination is really going have the most impact on the people paying for those tests."
Convincing providers of the financial benefits of further investment in health IT infrastructure and big data analytics has not been easy for vendors or for regulators. While Congress and CMS have both been leaning on providers to increase participation in value-based purchasing arrangements, accountable care organizations, and innovative care delivery models that stress quality and fiscal responsibility, the glassy-eyed response from physicians and hospitals already mired in regulatory quicksand and shrinking revenues has been difficult to shake.
"That's why it's sometimes hard to get the providers on board, because the benefits don't necessarily make up for how much they've paid for this technology," Jakovac says. "They can't afford to connect all their systems together out of the goodness of their hearts when the beneficiaries are the health programs and private and commercial entities."
READ MORE: What Healthcare IT Users Don't Really Need to Know about FHIR
Neither can they afford to spend money on technologies that aren't able to deliver the rich data analytics capabilities providers need to take part in value-based reimbursement structures that rely on an organization's ability to engage in population health management and care coordination. Interoperability is all very well, but if providers cannot accurately tell the story of their patients to their business partners, just having the capacity to shuttle information between providers won't deliver any meaningful perks.
"It's fine to put a standard in place, and it's fine to fund some of these standards, but if the funding is not sustainable and the entities involved don't see the benefit of it, then it's just going to be another barrier," Jakovac added. "There were a lot of financial incentives for providers to adopt EHR technology. Now we are at this place where everyone has it, but there is no interconnectivity between a lot of it."
"We need to work on our lack of semantic interoperability," agrees Anil Jain, Chief Medical Officer at Explorys. And the technology has to be flexible enough and usable enough to allow physicians the ability to leverage new health IT systems for better patient care instead of feeling bogged down by unintuitive interfaces and overly complicated workflows. "A piece of technology cannot force everyone to practice the exact same way. Everyone is going to practice medicine slightly differently, and therefore we will always lose some of the semantic understanding of what the provider really means when they enter information into a system.
READ MORE: As FHIR Matures, Healthcare Interoperability Comes into Focus
"The resulting data needs to be interpreted with that in mind," Jain continued. "How do I make sure that when I look across our health systems, I understand the variability of how practice occurs? How can I make sure I take that into account when delivering data? You don't want to end up in a situation where we are basically trying to build a one-size-fits-all model with the assumption that the healthcare system operates as one cohesive unit, which it does not. Interoperability may have made strides on the technical front, but on the semantic front, we've still got a ways to go."
With all these challenges facing the vendor community, it's no wonder that healthcare providers are a bit apprehensive about long-term visionary roadmaps, rules, and regulations that will significantly increase expectations for how physicians and hospitals utilize healthcare technology. The recently released Stage 3 meaningful use proposed rule demands all providers meet the same level of health IT use across the board in 2018, regardless of where they are starting from. Interoperability is just a stone's throw away, rulemakers have been telling the industry, as long as the next three years – and their health IT budgets – are largely dedicated to getting the right technology in place.
Of course, the ONC doesn't expect providers to achieve healthcare data interoperability all on their own, even with leadership from organizations like the increasingly popular CommonWell Health Alliance. The ONC provides ongoing guidance, based on principles laid out in its interoperability frameworks, for stakeholders who hope to achieve widespread health information exchange in a measured, well-planned manner, and it has done important work around defining benchmarks for developers and providers to meet.
"The ONC has had a big part in setting up the structure for the industry's interoperability efforts," says Harish Panchal, Vice President of Integration Sales at Orion Health. "As a result of the ten year interoperability roadmap, the industry has really been starting to focus on some of the items that need to be achieved by the vendor community. People need to have clinical decision support through the EHR. They need to have tools to support value-based payments. Those things are good from a consumer perspective as well as from the perspective of upscaling the infrastructure."
With an ambitious target date of 2025 for industry-wide data analytics and health information exchange, vendors will have to make a sharp turn away from proprietary standards that limit the movement of data between disparate systems. And the ONC may have to navigate a few roundabouts of its own. Regulation of a private industry is never easy, and the mandate of meaningful use only covers a portion of the standards-based technical improvements required for true data exchange.
The rest is up to the vendor community, which much balance innovation and altruistic data sharing with the ability to make a profit, and the provider community, which generally balks at mandates and bureaucratic degrees that threaten to take time and energy away from delivering top-notch patient care.
"It's hard to say how the ONC sees its role" in this difficult and quickly changing landscape, Tripathi says. While it may be easy for armchair generals to say that the ONC should just sit everyone down in a room and tell them what to do, "I think that there are genuine issues," he said. "I understand that from the ONC's perspective, they have to worry about antitrust problems; they have to worry about the Federal Advisory Committee rule. There's a law about what you're allowed to with respect to bringing groups together. There are a lot of good historical reasons for not wanting the government to help form some sort of cartel, which I think we can all agree would be a bad thing."
"The way oversight has been established is loose enough that it allowed a bit too much leeway," counters Jakovac. "Some states started private consortiums, and then you had private interests that got involved. I think that's part of the issue. I think if the ONC could have made somebody in the industry truly responsible for being the big interoperability coordinator who will make sure it happens, I think we would see more adoption and better progress towards the 2025 goal."
"The ONC tried, obviously, to push the creation of statewide health information exchanges and such, but that effort has struggled because of the lack of sustainability," he said. "Some states tried to create private organization to manage health information exchange. Some states did it themselves. But the issue remains that nothing is connected, and it's difficult for providers because they aren't going to pay a bunch of money to connect if they don't feel like they get value out of it."
The value may be there, however, if the industry takes up the challenge of uncovering it. "I believe that the ONC has laid out a good framework, and the market is going to make something out of that," Panchal predicts. "It's going to allow providers to build upon their existing infrastructure and make it better with a focus on value. It's not just a rip-and-replace technology project. It's changing the way you see the patient to be more outcomes-based, and that will affect the end goal, I hope."
The ONC has always encouraged the market to take control of health data interoperability and information exchange, and has both led and applauded efforts to engage in quality-based reimbursement arrangements that put a premium on ensuring that the right data is at the right place at the right time.
But as meaningful use winds down and private payers join Medicare in getting providers to embrace changing reimbursement structures, market forces may naturally bring interoperability to the forefront of EHR development. The ONC must choose whether it's going to try to take the tiller to steer the industry with a regulatory approach or just sit back and enjoy the ride. As private industry stakeholders begin to build momentum on their own, it might be time to explore the latter.
"I do think that ONC is starting to appreciate that there may be a different way of thinking about interoperability than viewing it as a top-down network," Tripathi says. "We're already forming these larger networks in the private sphere, and the ONC may start to transition into more of an organization that can bring these networks together. I think we will start to see more of that convening activity from them. Certainly, in my role as the chair of the interoperability workgroup, I'm always recommending that ONC think less about taking on a regulatory role and more about how they can facilitate the convening of those large organizations to solve the problems in the industry."
Getting the vendor community take the idea of healthcare data interoperability to heart has been a major hurdle for the ONC, and one that it has more or less successfully cleared. With a few notable exceptions, EHR vendors and technology developers do want health information exchange to happen, and are willing to work towards industry-wide data standards that will help providers achieve their patient care goals.
Both the ONC and private industry will have a great deal of work to do over the next decade if they hope to attack the manifold issues that make interoperability such a headache for the care continuum, and must continue to lay the financial groundwork for convincing providers to take part in health information exchange. As meaningful use progresses through its latter stages, however, and value-based care becomes the norm, healthcare providers may join regulators and developers for a data-driven, cooperative, three-pronged attack on the Triple Aim.