Can the Healthcare Internet of Things Cut Costs by 25 Percent?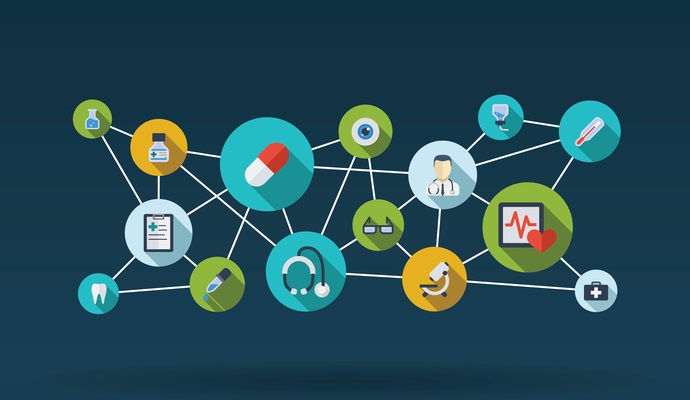 - At the moment, the healthcare Internet of Things may seem like a poorly defined amalgamation of medical devices and consumer monitoring technologies that don't quite fit into existing health IT categories.
But this growing, shifting network of wearables, biometric sensors, smartphone add-ons, and implantable devices will soon become a very important feature in the healthcare landscape, if prognostications about the potential of the IoT hold true.
The Internet of Things brings the possibility of revolutionizing patient engagement while delivering vast new sources of information to big data analytics programs, jumpstarting population health management and reducing the burdens of chronic disease.
Forward-thinking healthcare providers may be able to leverage these technologies for the good of their patients – if they overcome some fundamental health information management and data governance obstacles first.
A new report from Strategy Analytics predicts that providers may be able to save up to a quarter of their business costs with the Internet of Things. But can healthcare organizations really achieve such astronomical results by integrating new technologies into their operational strategies?
READ MORE: How Healthcare Big Data Analytics Helps Build Smart Societies
"Applications like Office Security/Video Surveillance, Smart Building Controls and Financial and Healthcare Analytics can help businesses cut costs by 25% to 35% depending on individual use cases and help organizations to derive greater business value from their data assets," states Laura DiDio, Strategy Analytics Director of Enterprise Research and Consulting.
The report explains that organizations of all types may be able to use IoT devices to solve basic infrastructure and operational problems, such as controlling thermostats to keep heating and cooling bills down, and enhancing surveillance on staff, patients, and properties with sensors and cameras.
"IoT provides businesses with real-time access to their assets via intelligent sensors and gateways," said Andrew Brown, Strategy Analytics, Executive Director, Enterprise and IoT Research. "Analytics applied to the Big Data derived from these assets will solve real business challenges and will enable corporations to deliver value added services to their customers, something that is supported by our end-user research."
These strategies alone may slash costs by a quarter, Brown and DiDio say, but the opportunities for healthcare organizations could be significantly broader than that.
Patient monitoring and engagement are often cited as top applications for the IoT. With wearable devices becoming increasingly popular among fitness-conscious patients and projects like Apple ResearchKit bridging the gap between patient-generated health data and hard science, the biometric sensor market is becoming ripe for explosive growth.
READ MORE: "Big Data Spokes" Tackle Population Health with IoT, Informatics
Companies like Google hope to use this type of big data to reduce the burdens of chronic disease management, while the NIH and FDA are exploring the possibility of leveraging emerging IoT technologies in their pursuit of precision medicine.
But the patient-facing IoT may only hold half of the possibilities for healthcare organizations. Cardinal Health sees so much potential in the healthcare Internet of Things for operational management that it is opening a brand new Healthcare Supply Chain Innovation Lab, focused on bolstering organizational connectivity and monitoring across the supply chain.
"In a rapidly growing network of smart devices communicating with each other, IoT has gained significant traction in health care, and while much of healthcare's IoT focus has centered on patient monitoring applications, we believe the medical devices and implantables are ripe for an IoT approach," said Jean-Claude Saghbini, vice president and general manager for Cardinal Health Inventory Management Solutions.
"Building on existing automated cloud-based supply chain solutions, our vision is to create a level of efficiency and connectivity that will transform the healthcare supply chain from a source of savings into a strategic asset that can significantly reduce the total cost of care."
Meanwhile, Qualcomm, one of the largest chipmakers in the world, has acquired Capsule Technologie, a medical device integration service provider serving close to US 2000 hospitals. Qualcomm hopes that the move will help broaden the possibilities for the IoT in healthcare, bringing together EHR data, medical devices, monitoring technologies, and asset management tools into a more seamless ecosystem.
READ MORE: IoT, Analytics, HIM Push Healthcare IT VC Market Past $5B
"The acquisition of Capsule expands the breadth of our healthcare platform, enabling us to provide connectivity solutions for the entire care continuum and create one of the world's largest connected health ecosystems," said Derek Aberle, President of Qualcomm Incorporated. "This will be an important step in advancing the Internet of Medical Things."
"As health care continues to move into the home and ambulatory settings and outside of traditional care areas such as the hospital, the convergence of medical device data from wherever the patient is located is critically important," added Gene Cattarina, CEO of Capsule.
For healthcare providers, the majority of whom are still struggling to develop strategies for basic clinical big data analytics, the financial benefits of IoT technologies may still be far in the future. Organizations are still searching for foundational EHR and population health management technologies that allow for productive workflows and care coordination, but they may soon be turning to IoT tools to supplement their search for meaningful health IT infrastructure.
If healthcare providers can devise meaningful ways to bring added value to the patient-provider relationship or the patient experience with wearables, implantables, or other IoT tools, the benefits may accrue more quickly. However, with the Internet of Things ecosystem still in its infancy, the healthcare industry will need to wait and see if IoT devices can become a significant cost-cutting asset.