Can Healthcare Exploit the $7 Trillion Internet of Everything?
The Internet of Things is quickly morphing into the Internet of Everything. Can healthcare learn to use connected technologies for better patient care?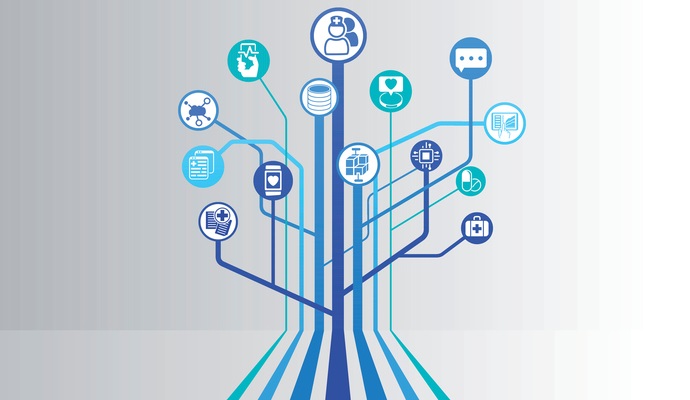 - Over the past few years, the Internet of Things has piqued the healthcare industry's interest as providers continue the search for nimble, accessible, and engaging big data tools to streamline the care delivery process.
But providers and developers will have to take a broader view of the developing smart device landscape and embrace the emerging Internet of Everything if they wish to take advantage of what could be a $7 trillion opportunity to integrate internet-enabled tools into everyday life.
A new report by HEXA Research predicts that the global Internet of Everything marketplace will see explosive growth over the next few years, exceeding the $7 trillion dollar mark by the end of the decade.
Healthcare is likely to become a major player in this lucrative sector, and health-focused IoE tools may witness a compound annual growth rate (CAGR) of more than 20 percent until 2020, which is the most rapid growth rate of any sector identified in the report.
In order to reap the rewards of the proliferation of connected devices, sensors, apps, and equipment, the healthcare industry will need to make some major investments in their big data analytics competencies – and some major adjustments to its attitudes about the role of patient-generated health data, non-clinical environmental data, and other innovative sources of information that currently linger on the fringes of the health IT world.
READ MORE: ACP: Use Population Health to Combat Opioids, Substance Abuse
What's the difference between the Internet of Things and the Internet of Everything?
The Internet of Things (IoT) and the Internet of Everything (IoE) are often used interchangeably, but they can have different implications and distinct meanings. While the IoT conjures up images of physical devices – toasters, thermostats, fitness bands, and blood pressure cuffs - embedded with internet connections, the Internet of Everything includes somewhat more conceptual entities.
Cisco, which has championed the idea of the IoE, believes that the Internet of Things is just one small piece of the world's connected ecosystem.
"The Internet of Everything brings together people, process, data and things to make networked connections more relevant and valuable than ever before - turning information into actions that create new capabilities, richer experiences and unprecedented economic opportunity for businesses, individuals and countries," the company says on its website.
"As the capabilities of things connected to the Internet continue to advance, they will become more intelligent and overcome the limits of traditional batch-oriented data analysis by combining data into more useful information."
---
READ MORE: Penn Med. Population Health Analytics Dashboard Wins ECRI Prize
Explaining the Basics of the Internet of Things for Healthcare
---
Individual devices may send signals that contain valuable data points, but it's the combination of multiple streams of data that will bring true value to healthcare providers, IoE advocates argue.
An individual person, for example, may own multiple smart devices that each produce their own unique types of data. Each of these data sets can help providers understand a narrowly defined trend – how a group of patients is controlling their blood sugar or which hypertension patients are losing weight on a certain diet.
But when that individual owns multiple devices, providers can assemble a multifaceted portrait of their overall health and treat that enhanced vision of the individual as a new, larger data point.
A group of individuals, each composed of their own constellation of devices, can generate new insights into population health and how particular clinical or environmental metrics interact with each other to produce certain outcomes.
READ MORE: CMS Urges Providers to Tackle Minority Health Disparities
In the same vein, a process – a collection of individual tasks, each measured by a standardized benchmark – can be a valuable source of input for understanding systematic efficiencies.
In an Internet of Everything environment, providers may be able to break down treatment protocols, workflows, or administrative duties into their component parts, each monitored by a device or data stream, to weed out wasted time and effort, find opportunities to leverage technology more efficiently, and ultimately improve outcomes.
And as hospitals and clinics start to embrace the trend of developing "smart" buildings, equipped with sensors to measure everything from air quality in the ICU to how many times the emergency department doors open, even the physical locations in which healthcare occurs can deliver actionable information about how patient environments impact health and wellness.
Hospitals are, in fact, among the top early adopters of smart building technologies, according to a recent survey by Honeywell.
Healthcare facilities beat out all other industries for wireless connectivity and communication tools, and also scored highly for safety systems and investment in green technologies.
The increasingly complex interplay of people, processes, devices, and data streams may be able to elevate the Internet of Things from a novelty to an essential new outlook on the utilization of big data.
"Rather than just reporting raw data, connected things will soon send higher-level information and insights back to machines, computers, and people in real time for further evaluation and decision making," Cisco predicts.
"The intelligent network touches everything—and is the only place where it's possible to build the scalable intelligence required to meet and utilize this new wave of 'data in motion'. This transformation made possible by the emergence of the Internet of Everything is important because it will enable faster, more intelligent decision making by both people and machines, as well as more effective control over our environment."
What are the use cases for the Internet of Everything in healthcare?
At the moment, the healthcare Internet of Things is struggling to move from a consumer fad to a robust, interoperable, accessible source of critical patient data.
Limited functionality of patient-facing devices and IoT applications, coupled with hesitant providers and frustrating EHR interfaces, are making it difficult to leverage the IoT's potential to revolutionize how clinicians and patients interact with data.
As the Internet of Everything evolves to include more automation, innovative sources of data, and more sophisticated analytics, healthcare organizations may be able to leverage new processing techniques, such as machine learning, fog computing, and blockchain, to leapfrog some of those obstacles.
Doing so would significantly expand the number of healthcare-focused use cases for internet-enabled devices and other IoE components, allowing organizations to monitor and proactively address a broad range of issues inside and outside the clinic walls.
---
How Fog Computing May Power the Healthcare Internet of Things
---
Real-time location systems (RTLS) could be a game-changer for patient safety, supply chain management, and patient flow concerns, allowing administrators to track the whereabouts and movements of assets using embedded tags.
Powered by technologies including Bluetooth, GPS, and radio-frequency ID (RFID), providers can flag and track everything from tablets, crash carts, and controlled substances to nurses, patients, wheelchairs, and specimens headed to the lab.
Assigning labels, badges, or bracelets to physical assets, staff members, visitors, and patients can create an entirely new ecosystem of data to answer questions that previously seemed beyond an organization's control.
With RTLS technology in staff badges, a hospital could learn how long it takes a nurse to visit all her assigned patients on a certain floor, how much time she spends doubling back to access the EHR on a stationary desktop computer, and if a mobile device could reduce that wasted effort.
Patient flow technologies are already helping to reduce wait times for admissions and emergency treatment by monitoring traffic patterns, utilization trends, and someday, providers may even be able to seamlessly adjust their appointment schedules there's an accident on the highway and a patient's car signals he will be running late.
Patients could be kept safer by allowing clinicians to monitor dementia cases prone to wandering or elderly patients at high risk of injury from a fall, and internet-enabled hand sanitation stations can monitor staff hygiene practices, leading to reduced rates of hospital-acquired infections.
Real-time access control connected to a centralized security center can ensure a more secure environment for all, while expensive products, devices, and medications are significantly less likely to walk out the door when they can trigger an alarm.
Patients can benefit from the Internet of Everything in their home, work, and recreational environments, too.
Smart home devices, such as thermostats, CO2 monitors, smoke alarms, motion sensors, and automated lighting systems can create comfortable, adaptable and secure living situations for frail or homebound patients, who can control their surroundings through voice-activated personal assistant hubs linked to their suite of IoE tools.
Bluetooth scales, blood pressure cuffs, and glucometers are already in wide usage for home monitoring and patient engagement, but soon enough, Internet-enabled refrigerators could even give providers a glimpse into a patient's dietary choices, helping them to tailor weight loss programs or food restrictions to their habits and needs.
Ultimately, all of this data could open up new opportunities for delivering preventive, proactive, and cost-effective care.
As value-based reimbursement starts to emphasize the importance of promoting wellness across all facets of patients' lives, environmental and socioeconomic data is becoming significantly more valuable in the clinical setting, and the Internet of Everything is poised to become the primary source of this important data.
What are the industry's next steps for embracing the IoE?
The Honeywell survey ranked healthcare organizations as some of the most pragmatic and measured Internet of Everything investors.
While they have made real progress in developing smart tools and monitoring systems for the physical environment, they also recognize that there is much more to do in order to create truly intelligent systems that can bring useful insight to the development of new strategies for business efficiencies and patient care.
The first task for grabbing a piece of that $7 trillion pie is to define which use cases are actually within the grasp of current or near-future technologies – and which ones will produce the maximum return on investment.
At the moment, IoT initiatives have focused on increasing patient engagement by motivating consumers, especially those with chronic diseases, to track and manage their own health. While some of these initiatives have fallen short due to loss of interest from participants or a perception that the deluge of data is not optimized to produce improvements, a few tweaks to these technologies could produce more promising results.
One study currently underway at Partners HealthCare in Massachusetts is exploring the use of a connected home monitoring platform that may keep patients with heart failure, pneumonia, COPD, cellulitis or serious UTIs out of the hospital.
Wireless biosensor patches will monitor vital signs and transmit data back to the hospital. Clinicians will stay in daily contact with patients to assess their needs and make adjustments to their treatment plans as necessary.
"The evolution of digital medicine makes us even more confident in the home hospital model for our patients," said David Levine, MD, a General and Internal Medicine Fellow at Brigham and Women's and the study's principal investigator.
---
Can Healthcare's Internet of Things Move from Froth to Function?
---
"We are in a very exciting era of medicine where clinical-grade biosensors and analytics are capable of delivering continuous physiological insight that was traditionally only available in the hospital environment."
At Memorial Sloan Kettering Cancer Center in New York, another study will test how wearable fitness monitors can illuminate weight loss trends for patients recently diagnosed with breast cancer. The researchers will use the data to examine the impact of exercise and weight loss on survival rates.
And at St. Joseph Mercy Oakland, "smart beds" that detect potential pressure ulcers and reduce fall risks helped land the hospital on the 2015 "Most Wired" list.
"[Our smart beds] are integrated with our nurse call system as well as our EHR," explained Dr. Fabian Fregoli, Chief Medical Information Officer and VP of Clinical Quality and Patient Safety at St. Joseph Mercy Oakland to HealthITAnalytics.com.
"The beds help us do things like weigh our patients on a daily basis, and that data is transmitted to the EHR. They are also important for our fall prevention strategy. All of our staff carry an iPhone on their shift that has integration points with the nurse call system and the smart bed. We have seen some really tremendous outcomes with this."
These targeted applications of IoE tools are helping these organizations gain experience with how to develop, visualize, and report on new types of patient data, and may give them a competitive edge over peers who are more reluctant to experiment with use cases.
Providers who are looking to explore the potential of the Internet of Everything should consider their high-value targets, such as diabetes management, hospital-acquired conditions, or readmissions, and create a roadmap for brining IoE tools to bear on the costs and patient-facing impacts of these issues.
As the market for IoT and IoE technologies expands and vendors start to create innovative offerings to generate, integrate, and analyze big data from mobile devices, wearables, and environmental sensors, healthcare organizations may soon find it simpler to identify promising opportunities and purchase the infrastructure to make improvements possible.
If healthcare organizations continue along the path towards developing their Internet of Everything competencies, they may find that connected devices, people, processes, and data will generate untold opportunities to become more efficient, more effective, and better able to deliver a new level of quality care.