Big Data Analytics, Digital Health M&A May Profit Health Systems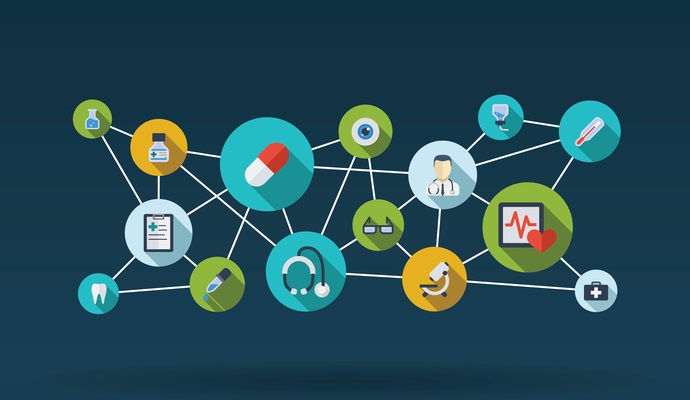 - Healthcare systems that proactively acquire or invest in digital health service providers in addition to their traditional merger and acquisition targets are more likely to create profitable, diversified portfolios of complementary holdings, indicates a new report by Accenture.
Instead of focusing solely on growing market share by scooping up competing local hospitals and physician providers, health systems should consider developing vertical strategies for long-term growth and innovation if they wish to avoid leaving up to ten percent of potential profit on the table.
Startups and digital health services companies that offer big data analytics, population health management, practice management, and patient engagement solutions are prime investment opportunities for health systems that see the benefit in managing as many operational development activities as possible under its own corporate umbrella.
"To deal effectively with greater complexity, higher volumes and other changes resulting from increased acquisitions, industry providers will need to manage their businesses with the mindset of a portfolio manager," said Kristin Ficery, managing director of health provider consulting at Accenture.
"Rather than viewing deals as one-off opportunities, the best-prepared executives will systematically manage a potential deal as a product of the whole."
Digital health investment is at an all-time high, says new research from The Brookings Institution, with more than $5 billion spent on deals and investments in 2014 – close to six times more than funding levels in 2009.
Over the past six years, investors have lavished approximately $15.4 billion on 2349 venture deals as demand for healthcare big data analytics software and services rises rapidly in the provider community.
The big data analytics market could be worth close to $19 billion by the end of the decade, and health systems can have their own larger slice of that pie if they make the right acquisitions now, Accenture says.
"Healthcare mergers and acquisitions (M&A) in the US reached $241B by May 2015, the highest year-to-date volume ever recorded," the report says. Many of these activities included more traditional hospital-to-hospital mergers and purchases of smaller facilities by larger health systems as organization expand horizontally across their regional marketplace.
"Healthcare providers are making these acquisitions to gain economies of scale; shift from volume-based to value-based care; address local market characteristics to remain competitive; better appeal to consumer wants and needs; and expand their digital health and eHealth capabilities."
"While this new tidal wave of M&A expands the set of strategic options available to healthcare providers, it also creates management complexity comparable to a game of three-dimensional chess," the report continues. "In the current environment, providers must view opportunities and threats from both horizontal and vertical perspectives, as well as a rapidly emerging digital health dimension."
Health systems are increasingly acquiring payers to support accountable care and population health management programs, as well as non-acute care providers to supplement revenue by keeping a broader range of clinical services in-network.
"The share of non-acute acquisitions as a portion of total provider acquisition volume increased from 64 percent in 2006-2010 to 74 percent in 2011- 2014, while horizontal [hospital-to-hospital] acquisitions decreased from 32 percent to 21 percent in the same timeframes," the report states.
In order to take advantage of digital health investment opportunities, healthcare systems should plan ahead to strategize most effectively, Accenture suggests. Organizations should establish targets for growth, think about the long-term implications of bringing digital health services in-house, and periodically assess M&A activities to ensure that strong performance and profitability result from the organization's efforts.
"Ensuring that a given transaction is a good fit with a healthcare provider's strategy requires executives to step back and view it in light of other potential targets on the market and current business lines within a health system. Every level of analysis and decision making should be rigorous – using all available data, stress testing multiple scenarios and developing clear plans of implementation," the report concludes.
"There are, of course, no guarantees of success, and individual acquisitions may still go wrong. However, a portfolio approach will improve the chances that the broader business survives and grows and a transaction generates the value that was intended."